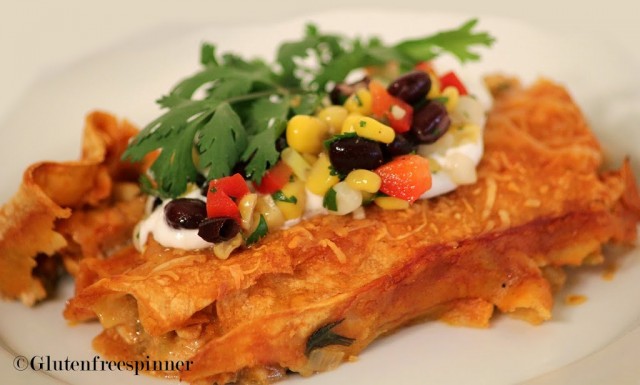 Turkey and Spinach Enchiladas
I hesitated posting this recipe simply because I wasn't happy with the picture. We were so hungry that evening and the entire house smelled like an authentic Mexican Cantina so taking time to snap pictures wasn't on my mind (my apologies). Let me try to describe wh

at these looked like just as I took them out of the oven. Hot, melted, bubbly, cheesy, crispy, flavorful goodness oozing with spinach and turkey filling. How's that? Oh, and the topping of black bean salsa and sour cream put these enchiladas over the edge. YUM!
I made these enchiladas ahead of time, covered, and kept them in the refrigerator 2 hours before baking. To my surprise (a wonderful one at that) when I removed them to bake, the corn tortillas had soaked up the enchilada sauce. Normally I like more sauce on my enchiladas, so I wondered what the result would be after baking. It added amazing flavor and texture to the entire dish! Corn tortillas can be tough and lacking flavor, but these came out so much better! They were still moist and retained some of the sauce, really really good. My recommendation is making them ahead.
Also, the sauce can be as easy as opening the cans; you don't need to add the additional spices – I just like a little more flavor and a hint of sweetness in my enchilada sauce.
So here's my recipe…give them a try and enjoy the image coming from your own oven. I hope you enjoy and there's no doubt I'll be making them again soon with the promise of a better picture.
Ingredients:
1 pkg 12 count natural yellow corn tortilla's (I buy the extra thin)

1.25 lbs. ground turkey breast

Olive oil

1 tsp Emeril's Southwest Seasoning

1 tsp Urban Accents Mesa Chipotle Seasoning

1 tsp Cumin

1 tsp salt

1 medium onion, chopped

1 – 4 oz can fire roasted chopped green chilis

5 cups fresh spinach leaves – chopped

½ cup (4 oz) light sour cream (daisy brand is gluten free)

2 cups shredded Mexican cheese – divided – (1 cup in enchiladas and 1 cup for top)
Sauce:
2 – 10 oz cans Old El Paso Enchilada Sauce (*be sure to read the ingredients on back of can…I had an old can (still within expiration date) and the label said it contained traces of wheat whereas the newly purchased did not contain wheat – only soy)

½ tsp cumin

½ tsp Urban Accents Mesa Chipotle Seasoning

½ tsp garlic powder

½ tsp Agave nectar ( or sugar)
Directions:
Preheat oven to 350 degrees. Prepare a 13×9 pan with non stick spray.
Brown turkey breast in the olive oil and season with Emeril, chipotle, cumin and salt while cooking. Add the chopped onions and green chili's and cook until onions become tender, about 4 minutes. Over medium low heat, spread the spinach leaves on top of meat mixture and cover with lid for 2 minutes to wilt. Stir to combine the spinach and meat mixture. Add the sour cream and Mexican cheese and stir until the cheese is melted. Remove from heat.

In a separate sauté pan, add the sauce ingredients and combine heating over low heat just until warm. Turn off heat.

Here's the messy part…
Take a corn tortilla and dunk into the sauce – both sides. Lay the sauce-soaked tortilla on top of the turkey mixture in the pan (just for the ease of it as they are messy) and fill with filing. Roll up and place seam side down in prepared pan. They won't be perfectly folded and some will crack…that's ok, just fill them quickly and place in pan. Continue until all 12 tortillas are filled.

Top the tortillas with any remaining filling and pour the remaining sauce over top. Top with the remaining 1 cup of cheese. **see notes

** I found this recipe is best made ahead and kept in refrigerator until ready to bake (even if it's just an hour before). The enchilada sauce soaks into the corn tortillas and makes it amazingly moist without being soupy. Otherwise, if baking right away, you can adjust the amount of sauce you pour over the top depending on your preference.

Cover pan with foil and place in 350 degree oven for 50 minutes. Remove foil and allow to bake another 8-10 minutes until brown and bubbly. Remove and allow to sit for 10 minutes before serving. Really really good. Serve with sour cream and black bean salsa. (The black bean salsa I made was delicious! The recipe is from my Quinoa Southwest Salad and you make it as listed omitting the quinoa…so easy!)