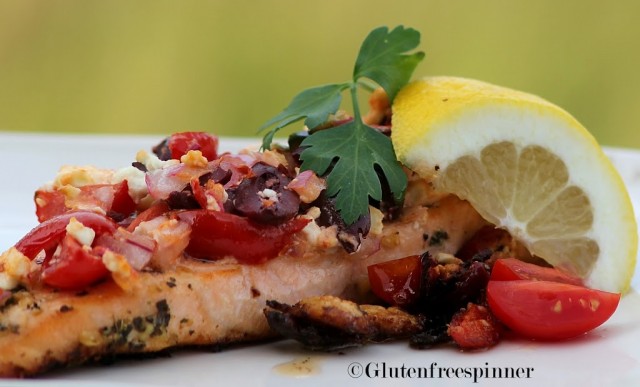 I love the flavors of the Mediterranean, and the health benefits they offer make it my favorite ethnic food. Some of the recipes I've previously listed are Greek salad, Greek chicken, lamb chops, chicken souvlaki, and tzatziki sauce (listed with the chicken souvlaki). With Salmon being one of my other favorite foods, it only made sense to put the two together. My first attempt was with a Greek dressing I found when I first learned of my gluten allergy, Seeds of Change Greek Feta Vinaigrette. I used it as a marinade and roasted the salmon in the oven…ooops, big mistake. I almost ruined my love of that dressing as it overtook the salmon and wasn't good.
Next I decided to combine the classic Greek flavors found in Mediterranean dishes and keep them in a fresh preparation to enhance the salmon, and it worked. First, I used a very good blend of Greek seasonings (McCormick) combined with olive oil, garlic, lemon and pepper as a rub on the salmon. Then a simple sear on both sides before topping the fillets with a Greek salsa and roasting them in the oven to finish. The tomatoes, red onions, Kalamata olives, and feta adds a punch of flavor that rounds out the entire dish. Serve with a side of brown rice, risotto, or white beans and you've got a Mediterranean

Masterpiece with heart-healthy benefits. Really delicious.
Ingredients
2 boneless skinless salmon filets, rinsed and patted dry with paper towel

1 Tbsp Olive oil

1 Tbsp butter
Rub:
1 tsp McCormick Greek Seasoning (or Mediterranean – both are good)

¼ tsp lemon pepper

¼ tsp fresh ground black pepper

½ tsp minced garlic

1 Tbsp olive oil
Greek Salsa topping:
6-8 Grape tomatoes sliced in quarters

6-8 Kalamata olives sliced in quarters

2 Tbsp red onion – thinly sliced and cut into small pieces

¼ cup good Greek Feta Cheese, crumbled

½ fresh lemon
Directions
Preheat oven to 350 degrees
Heat the olive oil and butter over medium heat in oven proof sauté pan and sear both sides of the salmon for 1 minute each side…no longer. Turn off heat and top with the greek salsa and squeeze fresh lemon over top. Transfer to preheated oven and bake for 14-18 minutes or until fish flakes easily with fork.
Let sit for 5 minutes before serving. Squeeze fresh lemon over and serve with risotto, white beans, or brown rice.