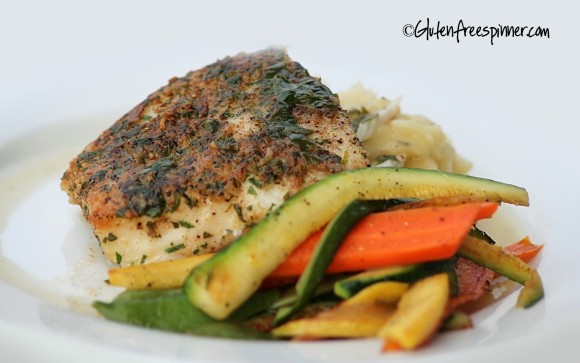 Herb Crusted Halibut
I'm always looking for new ways to make halibut.  With fresh thyme, oregano, and parsley in my vegetable drawer nearing their final days, I decided to use them in an herb rub.  By simply adding grated Parmesan cheese, dry bread crumbs, lemon pepper and garlic powder I ended up with a beautiful herb rub.
If you don't have fresh herbs, reduce the amount of dry herbs to 1 tsp of the three fresh herbs mentioned.  The pan sauce is wonderful drizzled over the top with a side of mashed potatoes and lightly sauteed zucchini, carrots, and pea pods.
Ingredients:
2 – 7 or 8 oz Halibut fillets, skinless
salt and pepper fillets on both sides
2 Tbsp butter
1 Tbsp olive oil
Herb Rub:
1 Tbsp fresh chopped thyme leaves (1 tsp dried)
1 Tbsp fresh chopped oregano leaves (1 tsp dried)
1 Tbsp fresh chopped Italian parsley leaves
2 Tbsp grated Parmesan cheese
2 Tbsp dry bread crumbs (Glutino are good)
1 tsp lemon pepper
½ tsp garlic powder
Pan Sauce
1/4 cup white wine
1/2 cup chicken broth
3 Tbsp butter
Fresh black pepper to finish
Chopped fresh parsley
Directions
Preheat oven to 375 degrees
Rinse halibut fillets and pat dry with paper towel.  Lightly salt and pepper both sides of the fillets.
Combine the herb rub ingredients and coat both sides of the fillets, pressing into the fish.  At this point you can cover with plastic wrap and refrigerate until ready to prepare.
In a large skillet on med-high, heat the 1 Tbsp olive oil and 2 Tbsp butter until bubbly and hot (careful not to burn).  Place each fillet in the hot butter and sear for 2-3 minutes until a brown crust forms.  Flip the fillets and repeat on the other side (no longer than 5  minutes total).  Remove from skillet and replace on the baking sheet and bake in the preheated 375 oven for 9-12 minutes, checking for doneness (when the fish flakes easily).
While the fish is baking, start the butter wine sauce by removing any crumbs from skillet and returning to heat on med-high.  When hot, add the wine first and let bubble for 30 seconds.  Next add the chicken broth and butter and reduce heat to medium cooking gently until a smooth sauce consistency (5 min) and remove from heat (if the sauce doesn't seem to be thick enough, add another Tbsp of butter before removing from heat).
Season with fresh black pepper and drizzle over the halibut filets.  Garnish with fresh chopped parsley.