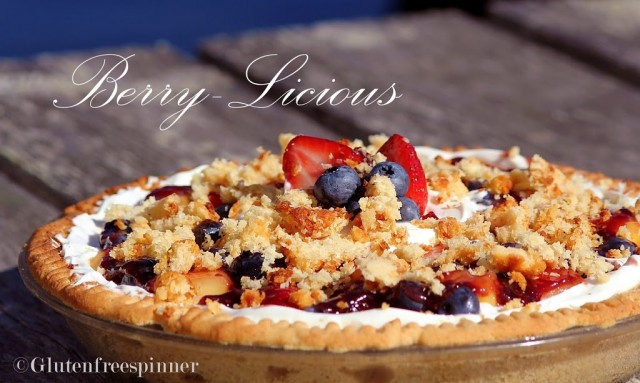 This no-bake fruit pie is absolutely Berry-Licious! Spending time at the cabin over the Labor Day Weekend led me to create this easy no-bake fruit pie. With a cooler full of fresh fruit nearing it's peak and no dessert on the menu, I looked to Pamela's baking mix for an easy crust to start. This crust is flaky, easy to work with, and only bakes for 12 minutes. Once cool, the sweet creamy filling lightly coats the crust while blueberries, strawberries, and fresh cut pineapple take the stage. Raspberry glaze adds a sweet-tart coating and the final macaroon crumble finishes this irresistible summer-easy pie. Try with variations of fruit such as peaches, raspberries and blackberries, being mindful of the juice content so you don't end up with a soggy crust.
Pie Crust – this recipe was taken from Pamela's
1-1/2 cups Pamela's Baking & Pancake Mix

2 teaspoons sugar

4 tablespoons unsalted butter

2 tablespoons oil

1/4 cup ice water
Yield: one, 9-inch pie crust; preheat oven to 350 degrees
Combine Pamela's Baking Mix and sugar in a bowl. Cut butter into flour mixture with two knives until butter is in very small pieces. Add oil, then ice water, slowly until dough comes together, not sticky. You may not need all of the water. Roll dough between sheets of parchment or wax paper to about 1/8-inch (it will puff and swell when in bakes). Peel the top paper off and invert into a pie dish. Peel off the second sheet of paper and arrange, fix crust edge. Or instead of rolling out, press dough into pan with fingers, the thinner the better. Bake at 350º for 12 to 15 minutes. Cool.
8 oz cream cheese, room temp

1/3 cup sugar

Juice of 1/2 fresh lemon (1-2 Tbsp to taste)

1 Tbsp dark rum (or 1 tsp vanilla or almond extract)
Beat the cream cheese and sugar until smooth and creamy. Add the lemon juice and rum (or vanilla/almond extract) and beat until combined. Taste for sweetness/flavor and if you want a little more zing, add just a tsp or so of the juice from fresh cut fruit. Be careful though, you don't want the filling too thin as it needs to set in crust.
Spread the filling in cooled crust lining the bottom and sides. Reserve 1/4 cup for the top.
Fruit
1 cup fresh blueberries, rinsed and checked for stems

1 cup fresh Strawberries, sliced

1/3 cup fresh cut pineapple – small 1/2″ pieces
Prepare the fruit in a medium bowl and toss together. With a slotted spoon so as not to add the juice to pie, arrange fruit on top of cream filled crust. Top the middle of pie with the reserved 1/4 cup of filling. Melt the raspberry jam in microwave just until spreadable (not hot) and drizzle over top of all. Crumble the macaroon cookies over top. Refrigerate at least 2 hours before serving.