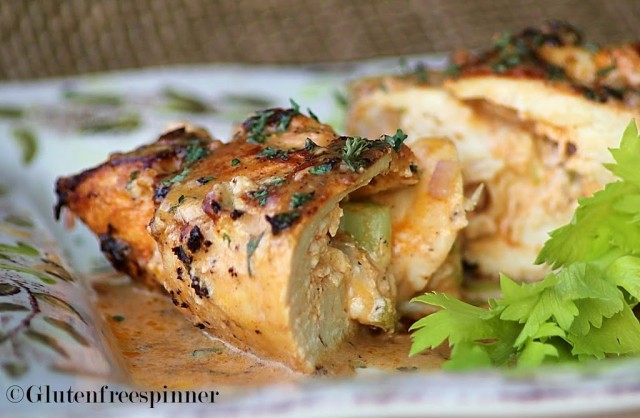 If you like buffalo wings dipped in bleu-cheese dressing, you'll love these chicken roll-ups. Chicken breasts are pounded thin and marinated in Buffalo hot Sauce before wrapping in a Gorgonzola cheese blend then topped with red onions, celery, and cheddar jack cheese.
These bundles of buffalo tastiness are golden brown on the outside and once cut into, the creamy cheese filling and celery (still crisp) flows onto your plate melding with the light cream sauce. Neither my husband nor I are big fans of bleu cheese on it's own, but I once learned from a chef that Gorgonzola and Bleu Cheese are the same thing and his preference was Gorgonzola as he felt it had better flavor. You can use either, and definitely use more if you like bleu cheese.
4 boneless skinless chicken breasts

Frank's original buffalo wing sauce

¼ cup whipped cream cheese (use less if you don't have whipped)

¼ cup Boursin garlic and herb cheese

2-3 Tbsp Gorgonzola cheese (add to your liking)
2 Tbsp Cardini's Parmesan Ranch dressing

1 cup chopped celery

Finely sliced red onion, chopped in thirds

½ cup Grated cheddar jack cheese

Fresh ground black pepper

4 Tbsp heavy cream
Directions
Pound the chicken breasts between two sheets of plastic wrap or inside a zip lock bag until ¼" thick. Some chicken breasts are really big, you can cut these into two if you feel they are too large (you'll have enough filling). Place the 4 pounded breasts in a zip lock bag and pour the hot pepper sauce over ensuring to cover all 4 breasts. Move the chicken around to coat and squeeze out all air. Refrigerate for at least 2 hours.

Mix the cream cheese, boursin cheese, Gorgonzola, and ranch dressing in a small bowl until creamy and smooth. (If making ahead, refrigerate until ready to prepare.)

To assemble:
Lay the chicken breasts on a baking sheet (or clean surface – it's messy) and spread each with the cream cheese mixture. Top with fresh ground black pepper, then some of the red onion, then the celery, and finally the grated cheese. Starting at one end, roll up the chicken breast and secure with toothpick. Dust the top with black pepper. Repeat with the remaining chicken breasts. You may have extra filling ingredients.

Either cover with plastic wrap and refrigerate until ready to prepare or follow cooking directions below:

In a large skillet, heat the olive oil and butter over medium high and when butter bubbles, add the chicken bundles – seam side down – with a pair of tongs. Sprinkle with fresh black pepper and sear for 5-6 minutes. Gently turn to sear the other side and sprinkle with pepper. Cover the pan and cook for an additional 6-8 minutes. The size of the chicken breast will determine the time…use your judgment.

Remove the bundles from pan and place on serving tray covered with foil. Add 4 Tbsp heavy whipping cream to the pan and swirl around to coat with drippings for a sauce. Drizzle over top of each chicken roll-up. Serve with a side salad.