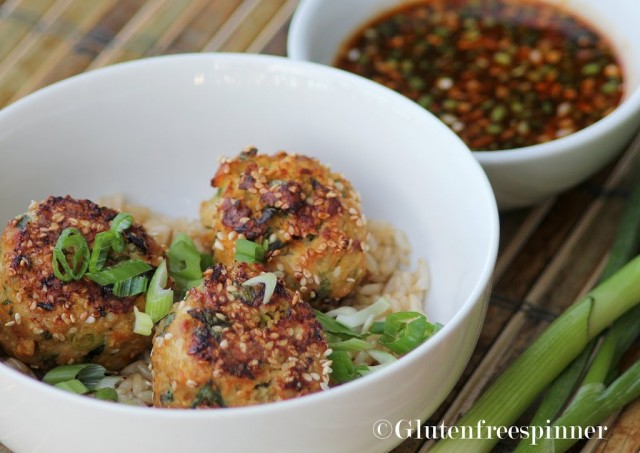 Asian Turkey Meatballs
Healthy and delicious turkey meatballs highlighting the Asian flavors of soy, ginger, and sesame enhanced by a spicy-sweet dipping sauce. Serve as a main course with brown rice or as a brag-worthy appetizer with smaller meatballs. Either way, it's a winner.
The dipping sauce is strong and flavorful and adds the punch to these meatballs. Did I mention easy? Roasting the meatballs in the oven while you prepare the dipping sauce
allows for easy preparation. The meatballs are served golden brown and dusted with chopped green onions for a beautiful presentation. Serve on bamboo placemat's with chopsticks for a fun and don't forget the chilled Sauvignon Blanc.
Ingredients:
1 pkg ground turkey breast (1.25 lbs)

4 green onions finely chopped (white and green)

1 egg

¼ cup Glutino gluten free bread crumbs

1 carrot – finely shredded

¼ cup fresh chopped parsley or cilantro

2 cloves garlic – finely minced

1 Tbsp chopped fresh or pickled ginger

1 tsp Urban Accents Asian Pepper Market seasoning

½ tsp crushed red pepper

1 tsp sea salt

1 Tbsp Organic Tamari reduced sodium wheat free soy sauce

1 tsp sesame oil

2-3 Tbsp sesame seeds
Directions:
Preheat oven to 450 degrees. Spray baking sheet with non-stick spray-ensuring to cover entire bottom or the meatballs will stick.

Combine all meatball ingredients (except sesame seeds) in a large bowl with clean hands, ensuring all ingredients are evenly combined – without over-mixing . Form into 3" meat balls and roll in the sesame seeds. Place on prepared baking sheet and bake 450 degrees for 15-18 minutes. (You can form into 1" balls for an appetizer – be sure to adjust baking time.) Gently turn the meatballs with tongs halfway through cooking time to brown both sides. Remove from oven and cover with foil for 8 minutes before serving.

Dipping Sauce
1 tsp sesame oil

2 Tbsp Organic Tamari reduced sodium wheat free soy sauce

2 Tbsp rice vinegar

1 Tbsp Chile paste

1-2 tsp honey to taste

1 Tbsp chopped green onion

1 clove garlic finely minced

1 tsp ginger

1 Tbsp Orange Marmalade (optional)
Combine all ingredients with a whisk and set aside.