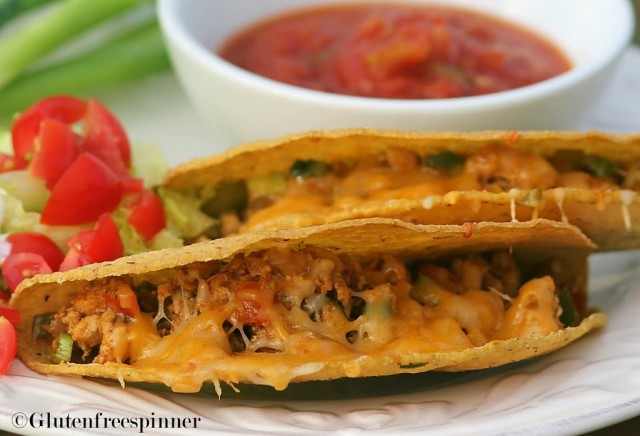 My sister has been at me to get this recipe online as it's become one of her favorites. We shared a weekend at our cabin in northern MN with her and her husband and this was on the lunch menu one afternoon. I created this recipe for the 4th of July Holiday weekend while celebrating with our children at the cabin. My daughter was on a strict diet void of any preservatives or additives. Previously, my turkey taco's consisted of browning the

turkey, opening a seasoning packet, and adding water. Yet as easy as that sounds, this is equally quick and easy and oh so much better! That seasoning packet hasn't made it's way into my shopping cart since.
Ground turkey needs flavor as it can be very bland on it's own, so don't be afraid of the spice measurements. The fresh flavors of bell peppers and green onions share the applause with the smokey chipotle chili powder and green chili's. The taco shells are made of whole grain corn and are stuffed with the meat and cheese prior to grilling or baking. This gives them a "chewy crunch"

(as my husband says) and adds to the overall flavor and texture of this meal. And don't forget the toppings, they are fresh, cool, creamy, and spicy, depending on your choice of ingredients.
Ingredients:
Meat Filling:
2 Tbsp olive oil

1 pkg turkey store ground turkey breast

2 Tsp sea salt

1 – 4oz can diced green chili's

1 medium onion, chopped

½ green bell pepper, chopped

½ red bell pepper, chopped

1 clove of garlic, minced

4 green onions, chopped (green and white parts)

1 Tbsp Urban Accents Mesa Rosa Chipotle seasoning

½ Tbsp Emeril's Southwest seasoning

1 tsp onion powder

1 tsp garlic powder

2 tsp fresh black pepper

2 Tbsp Ortega Medium Taco Sauce
Directions:
Heat the olive oil in skillet and add the ground turkey breast. Break the turkey breast into small crumbles with a spatula while browning in the olive oil and add the sea salt. On medium heat add the remaining ingredients and continue to sauté until the onions and peppers are tender and turkey is no longer pink.

Fill the taco shells with the meat mixture and sprinkle each with shredded cheese. Place on a cookie sheet and either bake them in the oven on 375 or place cookie sheet on a preheated grill until the cheese is melted.

Serve with the suggested toppings:
Shredded Mexican style cheese

Chopped fresh lettuce

Chopped fresh tomatoes

Guacamole

Sour Cream

Salsa or hot sauce