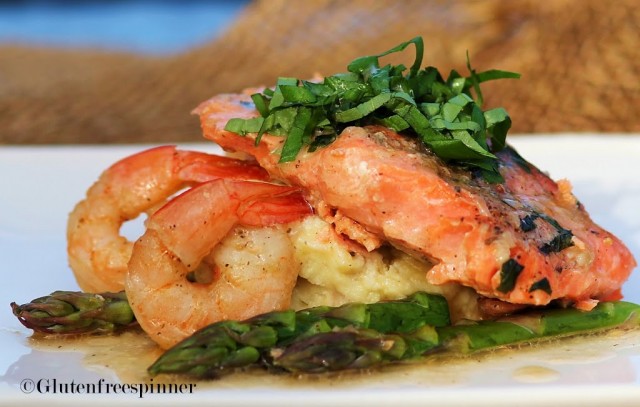 Salmon and Shrimp in Basil Butter Wine Sauce
One of my favorite places to eat is Biaggi's. They have a full gluten free menu of which I've only ordered two items in the dozens of times I've been there. The reason? I order their Salmon and Shrimp Milanese most every time. I absolutely love it and I've set out to re-create it at home.
When I looked up the basic's of a Milanese dish (which is traditionally chicken), every recipe came up breaded. The dish at Biaggi's isn't breaded nor does it contain the main ingredients in a Milanese dish, so I'm not sure where the name came from (regardless, it's amazing). So when I created this dish, I just couldn't get myself to call it Milanese. The menu at Biaggi's describes the salmon as a fennel and peppercorn seasoning. Hmmm, off to my spice wheel I went, and happily, I nailed it. The combination of spices I put together perfectly enhances the salmon and shrimp, and the basil butter wine sauce puts it over the edge. Really. Serve the salmon over a bed of mashed potatoes or risotto, arrange the shrimp around the edges and add crisp asparagus spears for the finishing touch.
Ingredients
4 boneless skinless salmon fillets, rinsed and patted dry

16 shrimp, 31-40 count, thawed and patted dry

16-20 Asparagus stalks, ends removed, rinsed, and cut in half

Mashed potatoes or Risotto
Seasoning
½ tsp fennel seed

½ tsp green peppercorns

1 tsp fresh ground black pepper

½ tsp garlic powder

½ tsp onion powder

½ lemon pepper

½ dried basil

¼ tsp sea salt
1/3 cup chopped onion

2 cloves of garlic – crushed in garlic press

4 Tbsp butter cut into 4 equal pats, plus 2 more Tbsp to finish

1/3 cup white wine

3 Tbsp fresh shredded Basil

Directions
Grind all seasonings (fennel seed through sea salt) with a mortar and pestle or in a spice grinder ensuring the peppercorns are ground. Sprinkle just enough to lightly season the prepared salmon fillets and shrimp. (You may have left over spice, just store in a small re-sealable bag for another use.)

At this point you can cover salmon and shrimp with plastic wrap and refrigerate until ready to prepare.

In a large skillet, heat 2 Tbsp olive oil over medium high heat. Saute the 1/3 cup onion until it starts to become tender and add the 2 cloves of crushed garlic. Saute for about 1 minute and push the onion garlic mixture to the outer edges of pan to make room for the salmon fillets. Saute the salmon, searing on the one side for 2-3 minutes. Flip salmon to sauté the other side and add the shrimp, arranging the shrimp to lay on hot pan surface. Saute both salmon and shrimp for another 2-3 minutes.

Add the 4 Tbs Butter, arranging each pat between the salmon and shrimp. As the butter melts, shimmy the pan to distribute the butter around the pan creating a sauce. When pats are melted, add the white wine and swirl around in pan. As the wine bubbles, it will reduce a bit. Add the final 2 pats of butter , swirling again as they melt, finishing as a loose creamy pan sauce. Add the shredded basil and remove from heat. It will not be a thick gravy, it's meant to be a pan sauce.

Plate the salmon over a bed of mashed potatoes or risotto, arrange the shrimp around the salmon and pour just enough of the pan sauce over the top to glaze the dish. Finish with the asparagus spears and fresh shredded basil for a truly fabulous dish.
* You can also grill the salmon if you prefer and make the shrimp and sauce as directed.