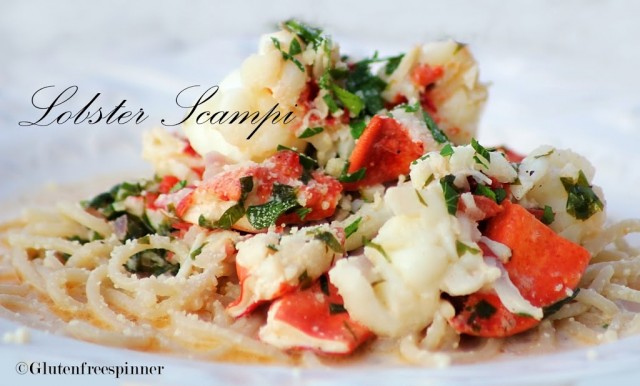 Absolutely decadent. A good friend of mine is from Maine and she sent live lobster's for my birthday this past weekend. What a beautifully decadent surprise! They arrived in a cooler-type box labeled "Live Seafood – Open Immediately". Being we had previously scheduled dinner plans that evening, I made a phone call to the company to ask if they could be stored in the refrigerator until the following day. It was a definite "no".
The lobster's needed to be cooked that evening so into the pot they went. Feeling horrible that we wouldn't be enjoying these beautiful 1 1/2 lb creatures as they are meant to be eaten, I knew I had a challenge ahead of me the following day. How would I prepare this sweet, rich, delicate seafood ensuring the lobster was the "Maine" attraction.
Lobster Scampi…what a wonderful choice it was. I couldn't think of a better way to let the lobster be showcased in the meal with butter, wine, garlic and parsley. We easily decided it was better than the traditional preparation and clanked our wine glasses together with a cheer to my friend for sending such a special gift. You can certainly prepare this dish with shrimp for the classic shrimp scampi, but treat yourself sometime to the lobster version, it will be memorable.
Ingredients
1 stick butter

2 garlic cloves (chopped)

¼ tsp red pepper flakes

Juice of half a lemon

2 Tbsp chopped fresh parsley

2 Tbsp chopped shallots or red onion

Salt and freshly ground black pepper

1 Roma tomato (seeded and chopped)

½ cup heavy cream

1/4-1/2 cup dry white wine

1 lb. fresh lobster meat

Gluten Free spaghetti noodles – cooked, rinsed, and drained

Grated Parmesan Cheese as needed
Directions


Heat butter in a medium skillet over low to medium heat. Add garlic and shallots, saute until light brown. Add tomatoes, parsley, salt, pepper, red pepper flakes and the wine. Cook until tender, about 4 to 5 minutes. Add lobster meat and stir. Finish with heavy cream and lemon juice. Simmer until lobster meat is heated through. The sauce will be thin.

Serve over spaghetti noodles and top with Parmesan and fresh parsley.