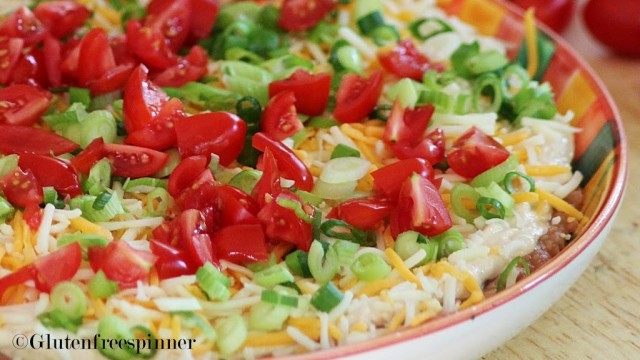 Layered Taco Dip
A recent happy hour at the cabin with neighbors prompted me to make this classic favorite appetizer that's naturally gluten free. The hearty refried beans meet the creamy blend of sour cream, cream cheese, and Mexican cheese and it's all topped off with fresh green onions and firm grape tomatoes. Serve with a side of Picante Sauce rather than pouring it over the

top (which often leads to watery dip). Add your favorite corn tortilla chips and you've got a beautiful, delicious, colorful appetizer to share. So easy.
Ingredients:
1 – 16 oz can refried beans with tomatoes and green chilis

8 oz cream cheese, softened

½ cup sour cream (I prefer Daisy Light)

1 pkg gluten free taco seasoning (I like Ortega)

1 – 4 oz can chopped fire roasted chili's

1 cup Shredded Mexican style cheese

½ cup chopped fresh green onions

1 cup chopped fresh grape tomatoes (regular are fine too)

Favorite gluten free corn tortilla chips
Directions:
Stir the refried beans to make creamy and spread on a large decorative serving dish or platter to create the bottom layer. (Because the refried beans are already seasoned with tomatoes and chili's there's no need to add anything to them). In a medium glass bowl, combine the cream cheese, sour cream, taco seasoning, and fire roasted chili's and beat together with hand mixer until smooth and creamy. Spread over the refried bean layer.
Top with the shredded cheese, green onions, and tomatoes. You can also add black olives if you like them. I serve this layered dip with my favorite picante sauce on the side with a decorative spoon. If you pour the sauce over the top it tends to make the dip watery as it sits. This can be made ahead of time and is so very easy. Serve with your favorite corn tortilla chips.