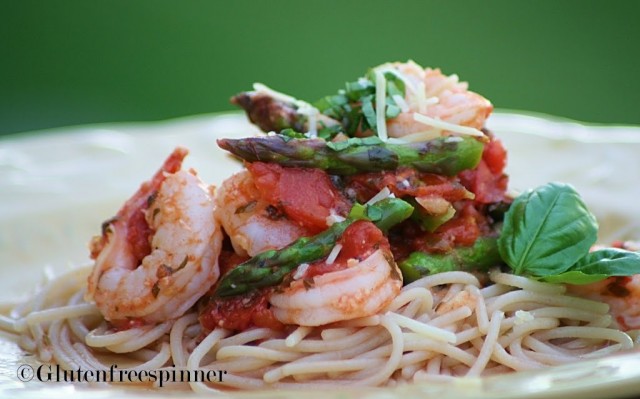 Shrimp Scampi with Asparagus
A friend called yesterday to say she was making my Shrimp Scampi and Asparagus recipe and how much her family enjoys it every time. Funny how you forget your classics when developing new! What a wonderful addition to my blog today, I had almost forgot about this one. Again, naturally gluten free.
I started with classic Shrimp Scampi, added fire roasted tomatoes and asparagus, and ended up with one of our favorite dishes! It's light and full of flavor. Enjoy!
Ingredients:
1 Tblsp Butter

1 Tblsp Olive Oil

4 fresh cloves of garlic – minced

1/4 cup chopped fresh Italian parsley

1 1/2 Tblsp fresh lemon juice

1/2 cup dry white wine

Pinch of dried hot red-pepper flakes

1 roma tomato diced

1 – 14.5 oz can Muir Glen fire roasted diced tomatoes

2 Tbsp chopped fresh basil

Salt and Pepper to taste

1/2 tsp sugar

8 stalks Asparagus, ends removed and cut in half

Parmesan/Asiago blend shredded cheese (about 1/4 cup)

1 lb large shrimp shelled and deveined (lightly tossed in salt just before adding)

Tinkyada brown rice spaghetti noodles cooked to package directions
Directions:
Heat butter and oil in a heavy skillet over medium heat until foam subsides. Add garlic and parsley and saute for 1-2 minutes. Add the wine, Lemon juice, chopped roma tomato, pepper flakes and simmer for 3-4 minutes. Add the fire roasted tomatoes, salt and pepper, sugar, and fresh basil. Bring to a simmer on medium low for 3 minutes. Add the asparagus pieces, cover and simmer on medium low for 3 more minutes. Add the shrimp and continue cooking for 4-6 minutes until shrimp are pink.
Remove from heat and top with Parmesean/Asiago cheese. Serve over a bed of spaghetti and sprinkle with chopped Basil for garnish. Yummmy and sooo healthy.