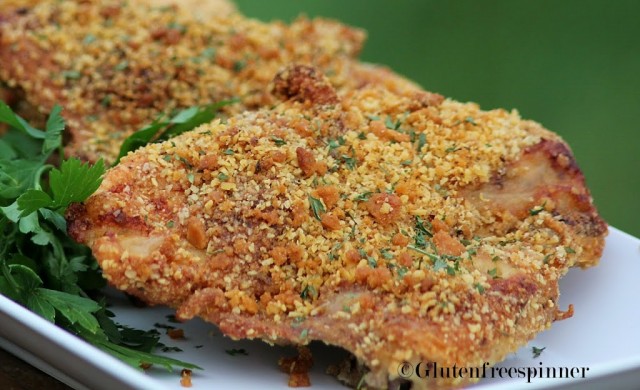 Grilling has been the method of cooking these past couple of months and tonight I was craving one of my favorite winter meals, baked chicken. Every time I make this recipe my house fills with savory aroma's and we can hardly wait to eat. This is one of the easiest recipes for bone-in chicken with very few ingredients. When choosing a table cracker for

this, best not to use the traditional gluten free rice cracker as it won't give the flaky texture. Schar makes a great table cracker that works well with this recipe. If you are not gluten free, use a Ritz or similar. The Glutino Bread Crumbs have a unique texture that adds to the crunch of the coating, and although I don't use them for traditional bread crumb recipes, they are wonderful with this coating. Serve with a side of corn on the cob or a baked potato. Make extra…it's great the next day too.
Preheat oven to 350 degrees
Ingredients:
4 bone-in chicken breasts

Salt and pepper
Coating
½ cup crushed gluten free table crackers (I used Schar)

½ cup Glutino gluten free breadcrumbs

¼ cup grated Parmesan cheese

1 tsp onion powder

1 tsp garlic powder

1 Tbsp Emeril Essence Original
Directions
Spray baking sheet with non-stick spray.
Rinse chicken breasts with cold water and pat dry. Lightly season both sides with salt and pepper.
Combine the coating ingredients in a large plastic zipper bag. Drop one chicken breast in the plastic bag and press the coating onto both sides of the breast. Place on prepared baking sheet. Repeat with the three remaining breasts. Drizzle the tops of all with olive oil.
Bake at 350 for one hour – to one hour and 15 minutes depending on the size of the chicken breasts. Serve with a side of corn on the cob or baked potato.