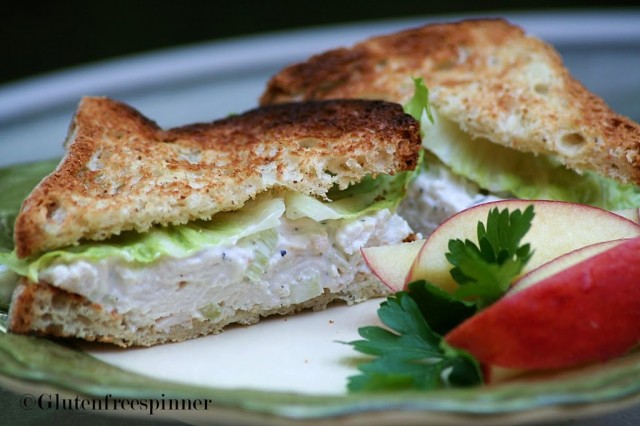 This recipe dates back to 1987 when four of us couples headed to Lutzen, MN for a weekend getaway. We divided the meals between the four couples and part of the fun was the unspoken competition in whose was the best. On that hot summer day in July I tempted their taste buds with Turkey Salad Croissants and it's been a favored summer lunch ever since. It's recipe's like these that bring back treasured memories of special times with great friends. The creamy dressing combined with savory herbs and tender pulled turkey breast was traditionally served on a buttery croissant, however we found it just as flavorful on toasted whole grain gluten free sandwich bread.
Ingredients
2 cups Cooked Turkey Breast, shredded

2 stalks celery, chopped

2 green onions – chopped with greens

¾ cup real mayo (not miracle whip)

1 Tbsp Dijon Mustard

3 Tbsp Cardini's Parmesan Ranch Dressing

2 Tbsp fresh squeezed lemon juice

¼ tsp garlic salt

¼ tsp lemon pepper

½ tsp dried basil

¼ tsp thyme

Fresh ground black pepper

1 Tbsp grated parmesan cheese
Directions
Combine turkey, celery, and onions in a bowl. Mix the remaining ingredients in a small bowl and taste for seasoning. Add to the turkey mixture and blend all ingredients. Serve on fresh whole grain gluten free bread (I prefer Udi's) or for those eating gluten, a buttery croissant. This is also a wonderful salad to serve at a party on small turkey buns or petite breads.