The best part of fishing in Northern Minnesota is enjoying your fresh catch the next day. These beautiful fillets are Sunfish and they're a perfect size for fish sticks.
I serve these crispy strips with a side salad that's simply tossed with the squeeze of a fresh lime. The dipping sauce is a southwest sour cream that adds a refreshing finish to the entire dish.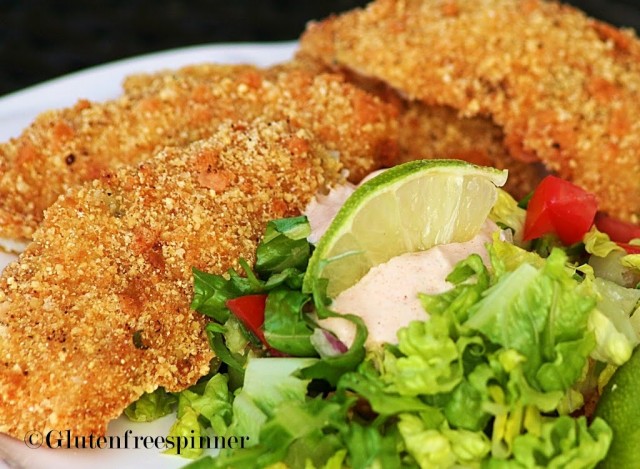 Ingredients:
8-10 fresh fish fillets (I used sunfish but you can substitute your favorite catch or tilapia)

1-2 Tbsp sea salt

1/2 Tbsp Emeril's Southwest Seasoning

1/3 cup white rice flour

2 eggs, beaten and 3 Tbsp water added

1 1/2 cups crushed cracker crumbs (Glutino and Schar brands are good)

1/4 cup Parmesan cheese

1/4 cup Glutino Bread Crumbs

Peanut Oil for Fryer

Salt and Pepper
Southwest Sour Cream
1 Cup Daisy Lite Sour Cream

2-3 Tbsp taco seasoning mix (check ingredients for gluten free)

Juice of 1/2 lime (add more to your taste but start with this)

2 Tbsp Cardini's Parmesan Ranch Dressing

2 Tbsp chopped Fresh Cilantro

Combine all ingredients and serve on the side with tossed salad
Tossed Salad
Romaine lettuce

Chopped red onion

Chopped cilantro

Chopped green onions

Chopped tomatoes

Juice of 1-2 limes – depending on the size of your salad

Combine all ingredients and toss with the juice of lime. Line a platter with the salad and place crispy fillets on top.
Directions
Heat the peanut oil in your deep fryer.
Meanwhile, cut the fillets into 1 1/2 – 2″ sticks and lay flat on baking sheet. Sprinkle both sides of each fish stick with a light dusting of sea salt and Emeril's southwest seasoning. In three separate bowls/plates, fill one with the white rice flour and one with the beaten egg and water. In the third bowl, add the cracker crumbs, Parmesan and bread crumbs and combine.
Dip each fillet in the rice flour, then the egg wash, and lastly the cracker crumb mixture. Prepare all fillets laying them on baking sheet to take to fryer.
Fry the fish sticks 2-3 at a time so as not to lower the temperature of oil and when golden brown and crispy, remove to another baking sheet lined with paper towels. Salt and pepper each fillet as you remove them.
Serve with tossed salad and southwest dipping sauce.