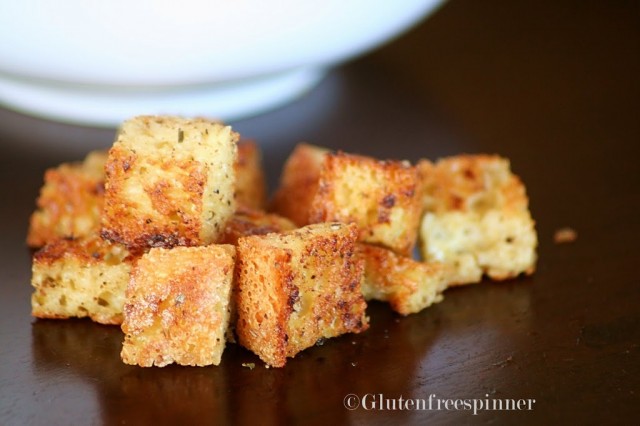 Croutons!
Never before my gluten-free days did I savor a simple crouton like I do now. The pre-made gluten free croutons in stores are tasteless and resemble cardboard so I used to forego croutons all together.  And let's talk about Caesar Salad….is it even legal to have one without the crunch of a buttery garlic crouton?  Heavens No!  So with a little effort you can make these thick, herbal, buttery, CRUNCHY croutons and start enjoying them in salads, soups, and even as a snack.  They are SO very good!! 

Did I mention how easy they are?  You start with your favorite gluten free bread, whether it's homemade or one of the many available store-bought that are actually worth eating now.  One of my go-to's is Udi's brand as it most closely resembles "normal" bread.  But you can use any gluten free bread you prefer, including GF buns, bagels, or even leftover GF waffles.  (The bagel croutons are to die for!)  It's the sauteeing in a skillet with butter, olive oil, garlic, Parmesan, and herbs that makes them so good.

Enjoy!
Croutons
Author:
Gluten Free Spinner
Ingredients
2 cups 1" thick cut cubes of gluten free bread
1 Tbsp olive oil
2-3 Tbsp butter
¼ tsp each of dried basil, rosemary, thyme - ground together with mortar/pestle
¼ tsp garlic powder (or fresh...just be careful not to burn)
4 tsp onion powder
1 Tbsp grated Parmesan cheese
Fresh ground black pepper
Sea salt
Instructions
In a medium skillet, heat the olive oil, butter, herbs, garlic powder and onion powder until bubbly. Toss in the bread cubes and continue tossing until all are coated. Sprinkle with the Parmesan cheese and toast them until lightly browned to your liking then transfer to a paper towel lined plate when done. Season immediately with fresh black pepper and sea salt. Allow to cool - don't put a baggie or cover with plastic as they will become soggy. Best eaten within' 1-2 hours.
Tip:
Once toasted to your liking, remove the pan from heat and leave them in the pan on back burner for up to 1 hour before serving. They get even crispier!