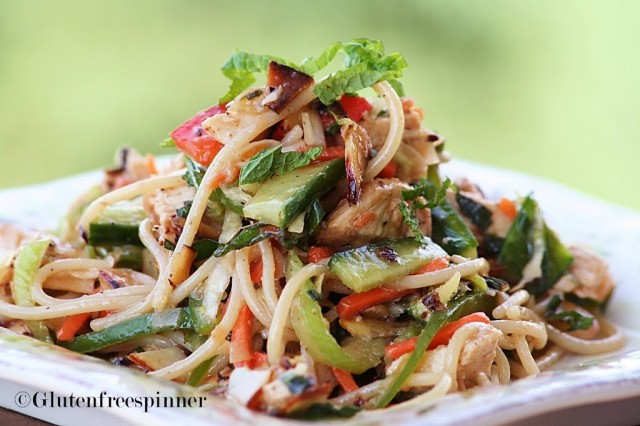 Asian Chicken Noodle Salad
Crisp veggies and tender noodles tossed with a garlic-ginger infused sauce with notes of lime and honey. Don't substitute olive oil for the canola oil in this recipe as the Asian flavors don't pair well with the rich olive undertones.

Control your preferred sweetness in this dressing with the addition of more honey, but don't over-sweeten or you'll lose the gentle spice.
Ingredients:
The dressing:
¼ cup Hoisen Sauce

1 Tbsp pickled ginger – chopped

1 tsp chopped Garlic

1 Tbsp rice vinegar

1 Tbsp gluten free soy sauce

4 Tbsp canola oil

2 tsp sesame oil

2-3 Tbsp water (to desired consistency)

1 tsp hot chili sauce

1 Tbsp honey

Juice from ½ Lime
The Salad:
4 oz Tinkyada brown rice noodles

1 ½ cups cooked shredded chicken breast

1 cup shredded cabbage

¼ cup chopped green onions

2 Tbsp chopped cilantro leaves or mint leaves

½ cup matchstick carrots

2 stalks celery cut at an angle

1 red bell pepper, seeded and sliced into strips (use ½ if a large pepper)

Pea pods sliced long ways

¼ cup seedless cucumber sliced in 2" strips (optional)

Toasted almond slices or Cashews
Directions
Cook noodles according to package directions, drain and rinse well under cold water.

Whisk together the dressing ingredients until thoroughly combined.
In a large glass bowl, toss together the noodles, chicken, and vegetables and gradually add the prepared dressing…little at a time while tossing to coat all ingredients. You may not need all the dressing, so don't add all at once. Chill until ready to serve.