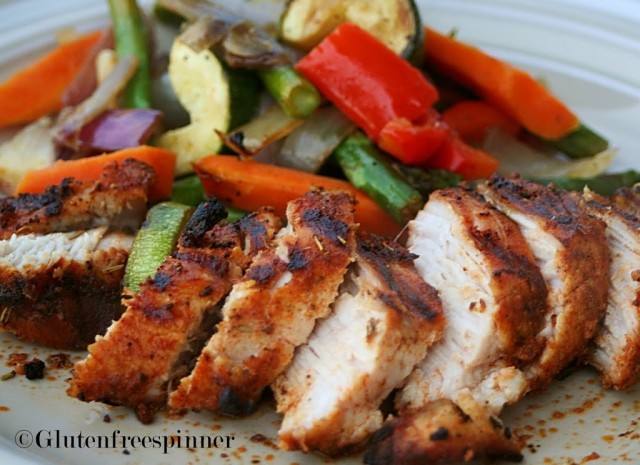 Grilled Turkey Tenderloin
When I extended an invitation to a good friend to make her a birthday dinner of choice, her only request was "grilled veggies and protein"
. She's following a new diet closely, and hey, I'm a wizz at helping those with challenging diets! This one was easy. I chose turkey

tenderloins as the protein. Lean and tender white turkey tenders seasoned with a savory rub and grilled to a golden brown crust. The grilled veggies were equally delicious with a combination of asparagus, yellow and green zucchini, red peppers, red onions, and carrots. The colors and flavors of this birthday meal were a celebration on a plate!
3 Turkey Tenderloins (try Turkey Store Brand) – about 1 ½-2" diameter each

1 Tbsp Sweet Paprika

1 Tbsp Rubbed Sage

½ Tbsp Dried Rosemary

½ Tbsp Garlic Powder

1 tsp Onion Powder

½ tsp Lemon pepper

¼ tsp Cayenne pepper

½ tsp Salt

1 tsp Freshly Ground Black Pepper

2-3 Tbsp Olive oil
Directions
Combine all the spices with a mortar and pestle to ensure they are ground together. Place the tenderloins in a gallon sized plastic zipper-close bag and sprinkle some of the seasonings into bag (don't use all right away). Shake the tenderloins around in bag to get even coverage and rub the seasonings into the turkey to incorporate. You may not need all the spice…don't over-season, but cover the entire surface of each tenderloin. Sprinkle olive oil into the bag and move the tenders around until covered with oil. Squeeze out the air and zip closed. Refrigerate for at least 2 hours. Remove turkey from refrigerator 15 minutes prior to grilling.

Preheat the grill on high. When it reaches temp, reduce to medium high and place the tenders on the grates. Close lid and cook 6 minutes. Turn the tenderloins and cook additional 6 minutes. Remove and cover with foil for 10 minutes. To serve, you can slice the tenderloins and place on a patter or serve 1 tenderloin per person.