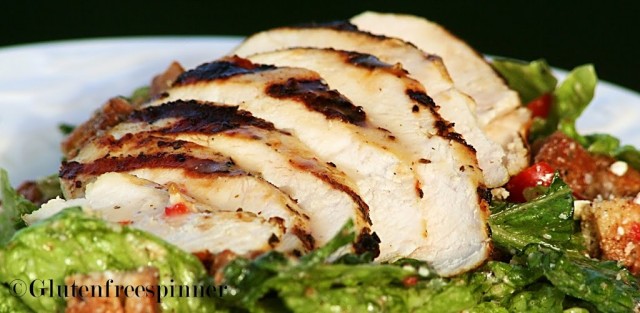 For Mother's Day, the choice for dinner was mine, and nothing sounded better than Greek Chicken. I love the fresh flavors of Mediterranean food and the health benefits are an added bonus. I created this marinade by blending all the flavors of a Greek Salad and marinating the chicken overnight. The chicken was tender with robust flavors of garlic,

lemon, oregano, and a hint of sweetness from the honey. The grill added beautiful char-marks which added to the presentation of this light and healthy Mother's Day Meal.
(For the gluten eaters) Sliced and placed inside grilled Naan bread with Greek Salad and Tzatiki Sauce. I really need to learn how to make gluten free Naan. (Next mission.)
Ingredients
6-8 boneless skinless chicken breasts (remove fat and "bunk")

1/2 cup olive oil

3 cloves garlic, chopped

1 Tbsp Greek Seasoning Blend by McCormick (a really good one)

(If you cannot find, you can substitute: 1 tsp rosemary, 1 tsp thyme, 1 tsp oregano)
1/8 tsp Red pepper flakes

1 tsp sea salt

½ tsp fresh black pepper

2 Tbsp Grated Parmesan

1 lemon juiced – (if it seems to be a "dry" lemon, use two) or 2 Tbsp total

1 Tbsp honey
Directions
In a small glass bowl, add the olive oil, chopped garlic, lemon juice and honey. With a mortar and pestle (or a fork and small ramekin) combine the Greek seasoning, red pepper flakes, salt, pepper, and Parmesan, mix well. Add to the olive oil mixture and blend all together.

Place the prepared chicken breasts in a gallon size zipper bag. Pour the marinade over all and squeeze out air. Move the chicken around to coat all pieces with marinade. Refrigerate 8 hours or overnight….turning the bag a few times to re-distribute the marinade.

Pre-heat grill on high. Reduce to Medium, cook 6-7 minutes on each side. Remove and cover with foil for 8-10 minutes before serving.

Slice chicken and place on a bed of Greek Salad. Drizzle Greek dressing down center of chicken slices.