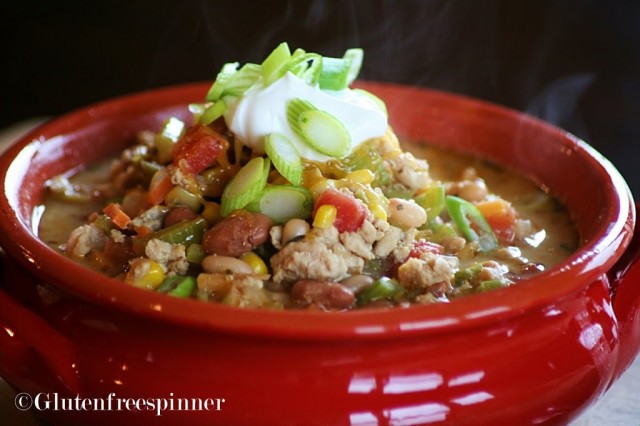 I woke this morning to rumbling thunder amidst the "chilly" Spring air which prompted me to make a steamy bowl of white turkey chili. Two kinds of beans and crisp vegetables surrounded by a light broth of smokey-sweet spicy goodness. It's hearty, filling, and real
comfort food for this lazy Saturday afternoon. The recipe looks to have many ingredients, but most of them are the ever-flavorful spices.
2 Tbsp Olive oil

1- 20 oz pkg Jennie O ground turkey breast

1 Tbsp grill seasoning

1/2 tsp sea salt

1/2 tsp black pepper

1 Tbsp ground cumin

1 tsp onion powder

1 tsp garlic powder

1 tsp ancho chili powder

1 tsp coriander

1 tsp dried oregano

2 tsp urban accents mesa chipotle seasoning

1 medium onion diced

2 tsp minced garlic

1 diced green pepper

1 diced pablano pepper

1/2 cup matchstick carrots, chopped

2-3 stalks celery with tops – chopped

1 can white beans (I like the little white navy beans) – drained and rinsed

1 can pinto beans – drained and rinsed

1 cup frozen corn

1 Qt free range chicken broth

1 can Ro-Tel diced tomatoes and green chilis

2 slices of American cheese

1/4 cup heavy cream

1 Tbsp chopped cilantro

Garnish with chopped green onions, sour cream and cheddar cheese
In a large heavy soup pot, heat the olive oil over medium-high heat and add the ground turkey breast. Begin chopping the turkey up into little chunks. Add the spices to the meat and continue chopping and mixing until thoroughly combined. Adding the spices at this times infuses them into the meat giving the most flavor possible. Reduce heat to medium and add the onion, garlic, peppers, carrots and celery. Continue cooking for about 4 minutes, stirring often.
Add the beans, corn, broth, tomatoes and American cheese. Stir well to combine all spices, meat, and beans. Bring to a slow simmer for 5 minutes and add the heavy cream and cilantro. Continue heating for another 10 minutes. Serve with sour cream, chopped green onions, and cheddar cheese.