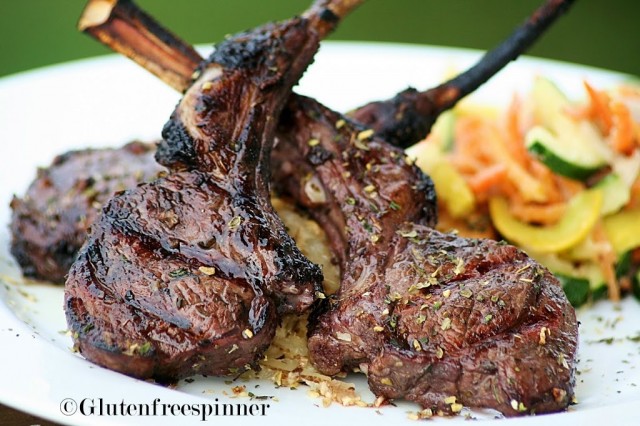 Kudos to my hubby who made dinner this evening. He grilled these Lamb Chops, and if you've never had them, this is the perfect recipe to try. Our first experience was at the prompting of my son who bought us a Lamb Chop marinade for Christmas. We've been hooked ever since. This marinade has a Greek influence with Oregano, Garlic, and Red
Wine (we used Malbec). It's easy, delicious, and makes for a beautiful presentation. We served ours with Creamy Au-gratin Potatoes and sauteed zucchini and carrots. Another great option would be to serve these with a Greek Salad. Yum.
Ingredients
8 lamb chops, French cut

½ cup dry red wine

¼ cup olive oil

2 Tbsp red wine vinegar

6-8 cloves of garlic – chopped

1 Tbsp dried Oregano

½ tsp sea salt

½ tsp ground black pepper
Directions
Mix all marinade ingredients and pour over lamb chops in zip-lock bag. Marinate for at least 1 hour in refrigerator – preferably 3 hours. Remove from refrigerator 20 minutes before grilling.
Heat grill on High. When preheated, reduce to Medium-high and grill chops 4 minutes per side. Remove from grill and cover with foil for 6 minutes before serving.
No sauce is needed for these tasty chops….they are fabulous right off the grill.