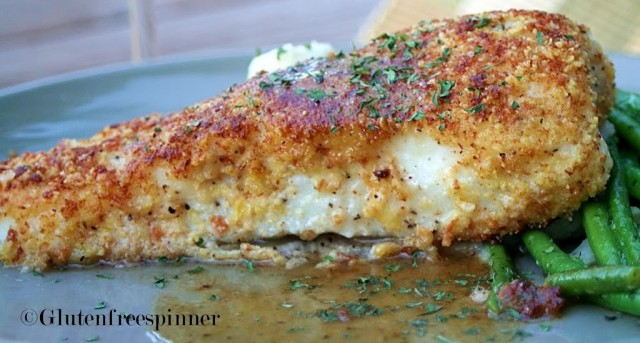 Pan Seared Halibut with Wine Sauce
1 1/2

lbs halibut – skin removed and cut into 4 fillets

1/4 tsp lemon pepper

1/2 tsp kosher salt

1/2 tsp fresh ground black pepper

1/4 tsp onion powder

1/4 tsp garlic powder

3/4 cup rice flour

1 beaten egg and 1 Tbsp water combined

1 cup dry gluten free bread crumbs

1 Tbsp olive oil

2 Tbsp butter

1/4 cup white wine

1/2 cup chicken broth

3 Tbsp butter

Fresh black pepper to finish

Chopped fresh parsley
Preheat oven to 375 degrees
Directions:

Rinse the fillets under cold water and pat dry on paper towels. Combine the lemon pepper, salt, pepper, onion powder and garlic powder until blended and sprinkle over both sides of the fish. Using three separate plates or shallow bowls, make a breading station with the first plate the flour, next the egg wash, next the bread crumbs. Take one of the fillets and dredge in the flour (pressing to stick), next dip in the egg wash, and lastly the bread crumbs. Place the breaded fillet on a lightly sprayed baking sheet and repeat with the next three fillets.



In a large skillet on med-high, heat the 1 Tbsp olive oil and 2 Tbsp butter until bubbly and very hot (careful not to burn). Place each fillet in the hot butter and sear for 2-3 minutes until a brown crust forms. Flip the fillets and repeat for the other side (no longer than 5 minutes total). Remove from skillet and replace on the baking sheet and bake in the preheated 375 oven for 9-12 minutes, checking for doneness (when the fish flakes easily).
While the fish is baking, start the butter wine sauce by removing any crumbs from skillet and returning to heat on med-high. When hot, add the wine first and let bubble for 30 seconds. Next add the chicken broth and butter and reduce heat to medium cooking gently until a smooth sauce consistency (5 min) and remove from heat (if the sauce doesn't seem to be thick enough, add another Tbsp of butter before removing from heat).
Salt and pepper to taste. Plate the fillets on a bed of mashed potatoes and drizzle the sauce over all. Garnish with chopped parsley and serve with fresh green beans.