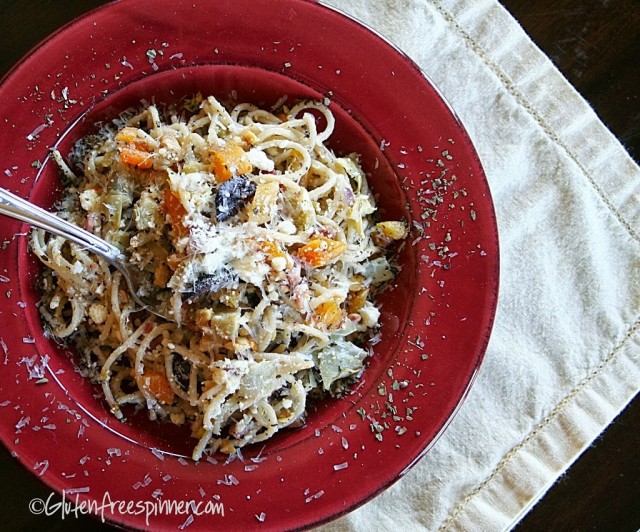 3/4 lb Tinkyada Pasta Joy Spagetti

2-4 Tbsp Olive Oil

4 – 1/2 inch thick slices of cure 81 ham – cubed into 1/2 inch pieces

1/4 cup red onion sliced thin and cut into 1″ pieces

3-4 cloves of fresh garlic, minced

1 – 10 oz pkg frozen artichoke hearts, thawed and chopped to 1/2 " pieces

2 tsp dried basil

1/4 tsp lemon pepper

1/2 cup dried apricots chopped

2 Tbsp Seeds of Change Greek Feta Vinaigrette

1/4 cup feta cheese

1/4 cup pitted kalamata olives sliced in half

1/4 cup chopped toasted walnuts

1/2 cup shredded parmigiano-reggiano cheese

Sea salt and freshly ground black pepper to taste
Bring a large pot of water and 1 Tbsp sea salt to a rolling boil. Add the Tinkyada pasta and cook according to the package directions until al dente. Check after 10 minutes for doneness.
While the pasta is cooking, heat 1 Tbsp of the olive oil over medium heat in a large skillet and add the ham cubes. Cook until lightly browned. Remove and set aside. Add another Tbsp olive oil, the garlic, and red onion; stir just until the garlic begins to soften and turns golden. Add the chopped artichokes and stir. When the artichokes soften, add the basil, lemon pepper, and salt and pepper to taste. Add the ham, apricots, Greek vinaigrette, along with the cooked and drained pasta and toss until the pasta is well coated, adding a splash of olive oil if needed.
Toss in the Feta, Parmesan, and the toasted walnuts and top with fresh black pepper. Spoon into pasta plates and serve immediately. Makes 2-3 servings as a main dish or 4 as a side dish. Enjoy!