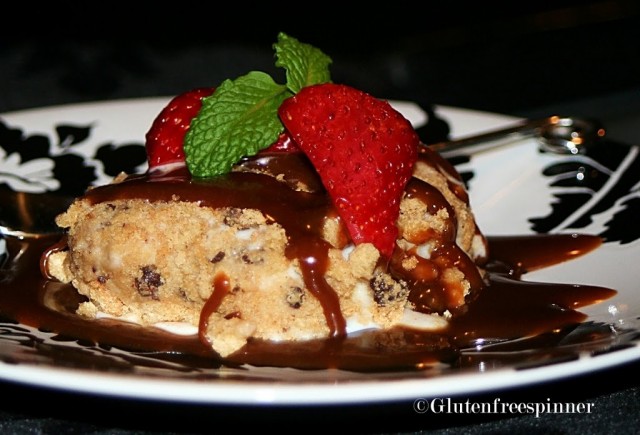 with Milk Chocolate Drizzle
This guilt-free gluten-free indulgence is absolutely heaven. Imagine a creamy base of low-fat frozen vanilla yogurt wrapped in crispy sweet chocolate chip cookies and

smothered with a drizzle of fudgey gooey milk chocolate goodness. Seriously.
Haagen-Dazs 14 oz container low fat frozen vanilla yogurt (don't substitute – only the best)
Pamela's Simplebites chocolate chip mini cookies

Hot Fudge Milk Chocolate Dessert Topping (check ingredients for gluten free)

Strawberries for garnish
Directions:
Crush12-15 cookies and put the crumbs in shallow bowl or plate.
Let the frozen yogurt thaw a bit in container so it's workable. Using an ice-cream scoop, mold two balls of the frozen yogurt to resemble a snowball. Roll the frozen yogurt balls in the cookie crumbs, pressing the crumbs into the yogurt until completely covered. Then, one at a time, gently press the top of the ball with the palm of your hand until it resembles a hockey puck (about 1″ thickness). Return to freezer, covered, at least two hours.
Remove from freezer about 5-7 minutes before serving and arrange on dessert plate. Heat the fudge sauce in microwave until pourable. Drizzle over the top of each dessert and garnish with strawberries. Oh Yum.