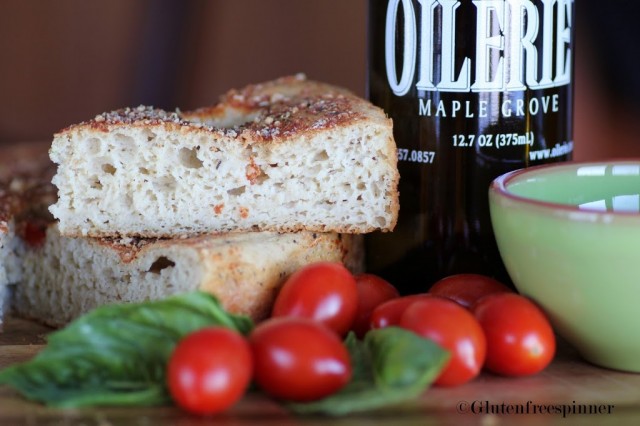 Focaccia Bread with Tomatoes
I'm so excited to share this post with you!  Remember when I said I would post a really good bread recipe once I perfected it?  Well, this is my REALLY good focaccia bread recipe, and it's super yumm. My inspiration for heading back into the test kitchen was a gift of Basil Olive Oil.  I received it as a hostess gift from a good friend who purchased it at a new local store called the "Oilerie".  She has asked me twice how I like the oil, but I didn't have a bread worthy of an honest try.  This was motivation number one for creating a yummy loaf of Focaccia Bread with Tomatoes.
Another push to make this loaf was dining with friends at the much talked about Bar La Grassa.  I was secretly drooling as they brought a basket of bread to the table with our wine.  (Umm, bread + wine = heaven.)  But what finally put me over the edge was the butternut squash soup…I wanted to delve into that basket and dunk a few pieces of each variety.  So goes motivation number two.   
When dining out, I encourage friends to order all the wonderful bruschetta's and flatbreads that we've always loved…and I mean it when I say I don't care.  Do I wish I could enjoy them again?  You bet.  But it motivates me to create them gluten free, both for myself…and to share with you on glutenfreespinner.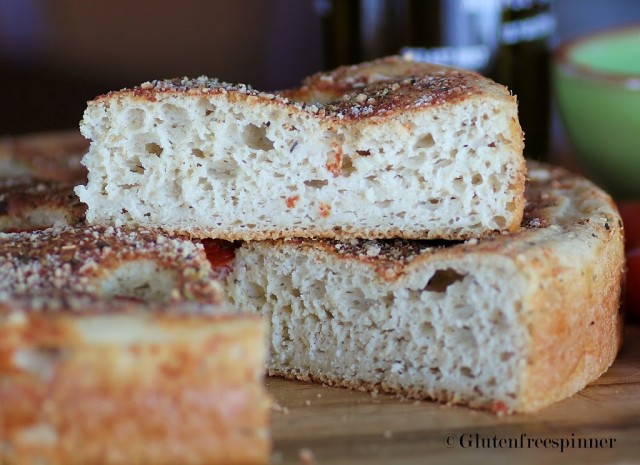 So let me tell you about the bread.  As you can see from the pictures, it's light, airy, and moist, but it's also full of flavor and needs nothing but a knife.  I could barely contain myself from cutting into the loaf as it cooled because the aroma's were intoxicating.  Parmesan cheese, Italian seasoning, and roasted tomatoes filled my kitchen with temptation.  
And that Oilerie Basil Olive Oil.  It's a beautiful color with full basil aroma when opened, but it seemed a little too perfumed.  They have specific oils called "dipping oils", and this particular one isn't listed as a dipping oil, so it might just be for cooking.  I also wonder if having kitchen hand soap called 'Basil Blue Sage' attributes to finding it perfumed(?).  Regardless, I kept in mind that basil is very strong on it's own so I added grated Parmesan and fresh black pepper in a dipping bowl and proceeded to eat 1/4 of the loaf…truly yum.  It was good, but I'm anxious to try the other varieties as well.
There's one last thing…I have to tell you about the presentation of this gift, lovely.  It came in an olive green textured paper gift bag the same size as the bottle with olive branch detail running up the side.  The bottle itself is a dark amber glass with an engraved metal tag noting the flavor, which is a nice touch.  Check out their store if there's one near you or order online for yourself or a special gift.
I'm excited for you to give my Focaccia Bread with Tomatoes a try.  Grab a nice bottle of wine and your favorite cheese; you no longer have to live without.
Dry Ingredients:
1 cup sweet white sorghum flour 

¼ cup plus 3 Tbsp all purpose gluten free flour 

½ cup tapioca starch

2 tsp Guar gum

2 ½ tsp Rapid Rise Yeast

½ tsp salt

½ tsp garlic powder

½ tsp onion powder

½ tsp Italian Seasoning
Whisk the dry ingredients together in a medium mixing bowl and set aside.
Wet Ingredients:
1 cup water 

2 Tbsp Organic Blue Agave

1 tsp cider vinegar

2 Tbsp Olive Oil

2 Eggs

Dusting of Italian seasoning and grated Parmesan cheese for top

Sliced  grape tomatoes (optional)
Directions:
Combine wet ingredients in a medium sized glass measuring cup (or bowl) and whisk to combine.  With an electric mixer (hand or stand alone) gradually add the wet ingredients to the dry until well blended.  Beat on medium/high speed for 3 minutes ensuring to blend all ingredients together well.  It will become thicker as you blend.
Spray a 9" round cake pan with non-stick spray.  Pour the batter into the pan and spread around to smooth.  Top with sliced tomatoes, Parmesan, and Italian Seasoning.  Place in warm spot and allow to rest for 45 minutes.  (My kitchen is chilly so I preheated oven to 170 to warm and turned off.)
Once the dough has rested, (remove from oven if you warmed in oven) and preheat oven to 375 degrees.  Place in pre-heated oven for 24 minutes.  Remove and allow to cool 30 minutes before removing from pan.  Cool before slicing.