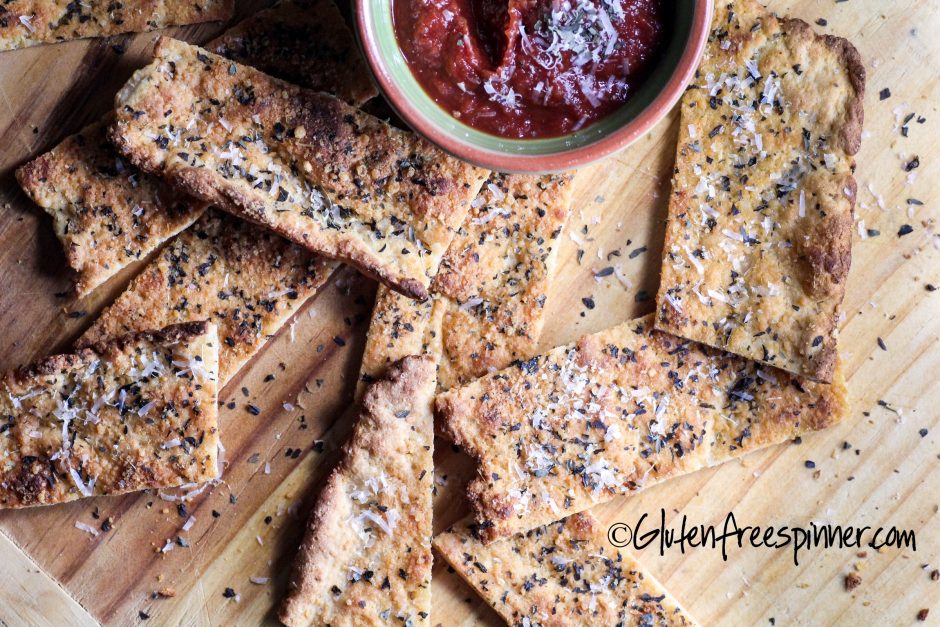 Flatbread with Herbs and Parmesan
Absolutely, positively, hands-down to die for.
Don't miss-it anymore my friends, just make it.  And you won't believe how easy it is until you make it yourself.
My inspiration?  Last Friday I witnessed my son-in-law eating the most delicious looking flatbread pizza I'd ever seen.  I could smell the garlic and olive oil infused into the crust as he cut a few pieces for my grandsons.  They were dipping it in a marinara sauce and I thought I'd die just watching.  I wanted some!!  I was drooling as I ate my salad he so graciously went out of his way to get me.  I thought about that flatbread all…………day……….long.  Seriously.
But…as you know…..it's what drives me to experiment until I've succeeded in making it gluten free.   And to succeed, it has to be amazing.
My successful attempt was Sunday afternoon during the football game.  Mr. Spinner was drawn into the kitchen by the intoxicating aromas of a pizzeria.  Olive oil, garlic, Parmesan, basil, and oregano were baked into the thin cracker-like crust.  But I could see his hesitation as most GF pizza/flatbread crusts are spongy with a strange rubber-like texture.  I didn't say a word even though I had already tasted my flatbread and knew it was aaaa-mazing.  He ate the whole piece and said, "that……..is really good Mare……….really good!"  Ahhhhhh!!!!!   Yes, yes it is.
So here's my recipe.  Please follow it to the T as the baking method is the key to the crisp.  Also…….don't skip the step in letting it sit for 5 minutes!  As hard as it is, it needs to sit to gain the crunch.
Enjoy!!

Flatbread with Herbs and Parmesan
Author:
Gluten Free Spinner
Recipe type:
Appetizer / Snack / Bread
Ingredients
½ cup potato flour (not starch)
½ cup tapioca starch
4 oz (1/3 less fat) cream cheese
½ cup skim milk (or coconut milk, almond milk)
1 egg, lightly beaten
1 tsp garlic powder - divided
1-2 Tbsp Light Olive oil
Sea Salt
Pepper
Italian Seasoning (Basil, Oregano, Marjoram)
¼ cup Grated Parmesan cheese
Instructions
Preheat the oven to 425 degrees and line a 15" baking sheet with parchment paper.
In a large glass mixing bowl, combine the potato flour, tapioca starch, cream cheese, milk, egg, and ½ tsp garlic powder with beater (hand or standing) until it comes together and a dough forms.
Pour out onto the parchment lined baking sheet and drizzle with olive oil.
With your hands, push the dough out forming a flat thin crust. Try to get it as thin as possible.
If you get holes, simply meld them together and continue until the dough covers most of the pan.
Drizzle a little olive oil over all and spread around...not too much, just give it a little sheen.
Sprinkle remaining garlic powder, Parmesan, Italian seasonings, Sea salt, and pepper
Bake on lowest rack for 15 minutes at 425 until it begins to brown.
Take out and using the parchment paper as handles, flip the crust over onto the pan and remove the parchment.
Return to the oven baking the bottom side up for about 8-12 minutes, or until you feel it's nice and crispy.
Remove from oven and add a light sprinkle of freshly grated Parmesan over top and ALLOW TO COOL for 5-7 minutes. I know it's hard, but if you don't allow to cool it won't be crispy.
Cut into random pieces and serve with a marinara or pizza sauce.
Best served immediately. Can store leftovers in a paper towel-lined baggie but you'll need to reheat the flatbread in the oven to make it crisp again.