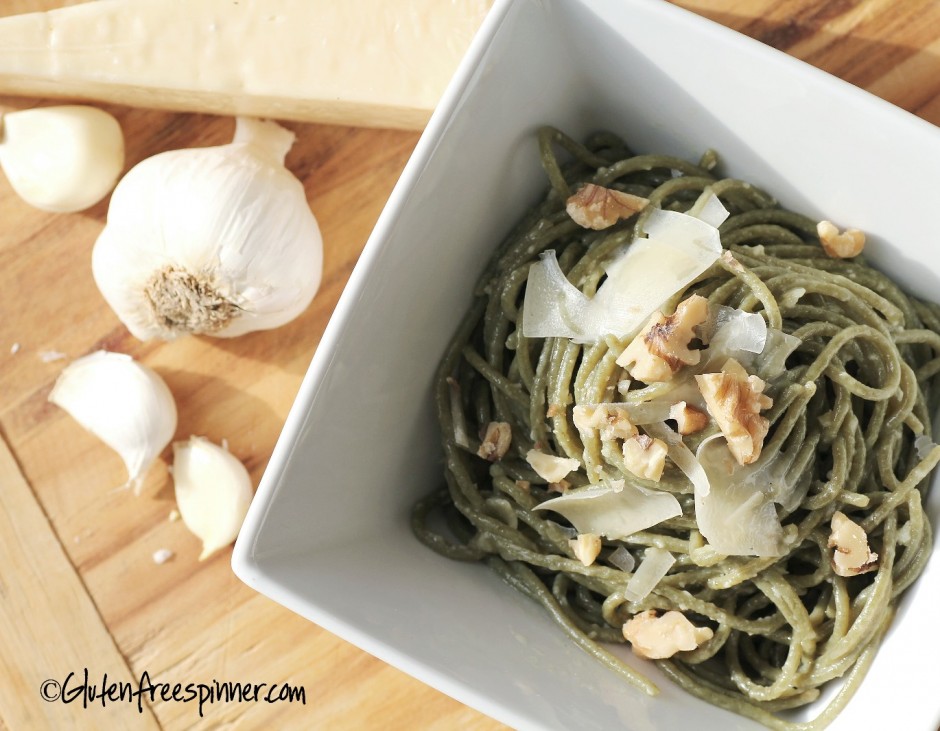 Spinach Pasta with Garlic and Olive Oil
Today I'm sharing one of the tastiest and easiest pasta dishes you'll ever have…little moans of "mmmmm" and passionate eye rolling are expected with each twirl of the fork.  And…there are only five ingredients.
This recipe is a 'no-recipe' dish that I recently had while visiting beautiful Puerto Morelos Riviera Maya Mexico.  It was served to me as a single serving so I'm recreating the same.  But it's easily adaptable to as many servings as you feel like inhaling…whoops, I mean sharing.
We stayed at the Iberostar Grand Paraiso which is within The Grand Collection of their resorts and was the third time vacationing at one of their properties.  Last year we went to Jamaica and the year prior we went to Punta Cana.  Check out both posts, I share a favorite dish from each one and give a little detail on both places.  The number one reason we continue to stay with this chain is their knowledge and attention to those restricted to a gluten free diet.  They offer almost anything I could imagine enjoying, and the Chef takes the time to detail what is safe and what isn't.  I personally don't like a lot of attention to my restrictions once I'm there, I meet with the Chef the first day and learn what to look for and what to ask for, then I'm on my own.  But they will walk you through each day if you need.  They give you a letter to show your server that notes you are 'Alergica Al Gluten' and the rest is taken care of.  It's that easy.
So one sunny afternoon as we visited the indoor grill for lunch I noticed a pasta station with cooked-to-order dishes.  They offered four different pastas and a variety of add-in's like veggies, meats, and sauces, so it certainly couldn't hurt to ask, right?  I showed my letter to the chef and asked if they had gluten free pasta……without hesitation, they said they would have to make it separately in the kitchen and would bring it out in 12-15 minutes.  Sweet!  When he asked what I wanted with the pasta I simply said, olive oil, garlic, and Parmesan.
Minutes later, to my surprise, he brought out gluten free spinach pasta beautifully presented in a white dish with freshly shaved Parmesan.  Really?!  Yay!!   The aroma of garlic and Parmesan filled our table and my mouth watered as I anticipated the first bite.
I cannot tell you how good it was…seriously…such a simple dish yet so full of flavor.  The noodles were perfectly cooked al dente', tender with just enough chew.  The fresh garlic and olive oil is also important in flavoring this dish, and the shaved Parmesan added the right amount of salty bite.  With just a few ingredients in this dish, they needed to be the best…and they were.
I ordered it each day at lunch and savored every last bite.  My friend who is not gluten free witnessed my total love affair with it and started ordering it each day as well.  Ha!  So to that I say take that big beautiful crusty loaf of Italian bread and stuff it in your sock, I don't care anymore!  I've got this amazing pasta and I am satisfied….who needs crusty bread?
Oh!  Wait…speaking of bread, they had gf bread too!  One morning they brought a cut loaf of gluten free bread and jam with my coffee.  I was hesitant to eat it because it looked "real", I mean seriously, look at it!  So I called room service to double check and they verified it was gluten free…Yipppee!!  So I dove in.  YUM!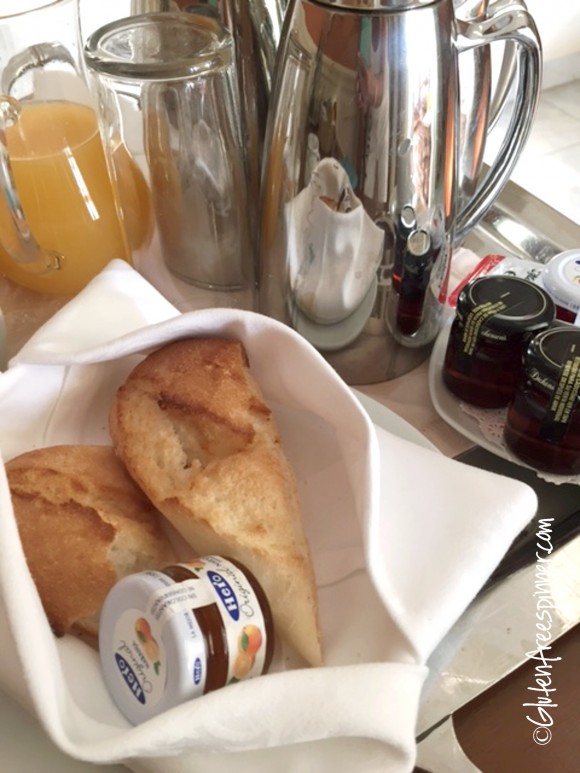 I was one happy girl.
For us, we vacation each year to relax and unwind, which includes no laundry, cleaning, dishes, shopping, cooking, traffic, rush, and….no work for a week!   So when choosing a destination we look for these amenities and the service is important to us.  At the Iberostar Grand Collection the service is impeccable. They pamper you and everything is first class….the price is a little higher, but we find it worth the splurge because… hey…who doesn't enjoy a little extra love once a year?
But most importantly, for those of us with diet restrictions, there's no worry of becoming sick or settling for a piece of cheese and a cucumber each meal…nope, not here.  You will wine and dine like everyone else and your tummy will stay happy and healthy.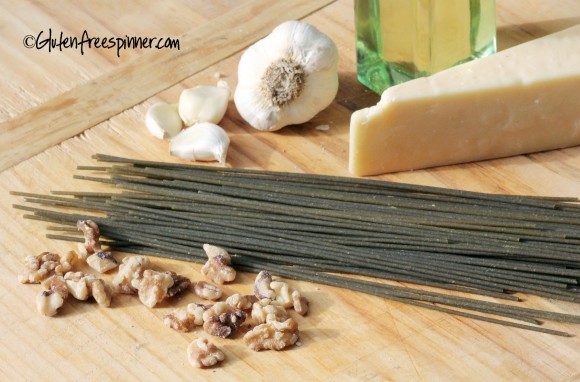 Now…for that amazing pasta dish!  Did I mention easy?  It comes together quickly with these few ingredients.  I added a few chopped walnuts for texture but they are totally optional.
Enjoy!
Spinach Pasta with Garlic and Olive Oil
This recipe is based on one (1) healthy lunch serving or two (2) smaller - Alter amounts for each additional serving or if serving as a side dish.
Author:
Gluten Free Spinner
Yield:
1-2 (about 2 cups)
Ingredients
4 oz Brown Rice Spinach Spaghetti Style Pasta (Tinkyada)
3-4 Tbsp Extra virgin olive oil
2-3 Fresh garlic cloves, minced or pressed (depending on size of garlic clove...more the better!)
¼ cup Freshly shaved Parmesan cheese (more to your taste)
Ground black Pepper
chopped raw walnuts (optional)
Instructions
Cook the pasta according to package directions and stir often...it's done when tender but still a little bite. Drain pasta but don't rinse. (Time the draining close to adding to skillet so pasta stays warm)
When pasta is almost done, heat a medium saute pan on medium heat and add the olive oil. When the oil is heated, just a minute or two, add the garlic and saute while stirring for 1 minute...don't burn the garlic, you just want it tender and flavoring the oil.
Turn off heat.
Add the cooked pasta to the skillet and toss to coat with tongs picking up the oil and garlic as you toss.
Add the Parmesan and fresh black pepper and toss.
Serve in white bowls and garnish with more Parmesan and optional chopped walnuts. If it seems a little dry, add a swirl of olive oil.