Tiramisu
Tiramisu….oh for the Love of Dessert.
And speaking of Love, how about Tiramisu for Valentines Day!  A beautiful dessert filled with layers of lovely decadence.
And although this dessert is heavy on the calories, it's as light as a cloud with every bite.  It's dreamy….like a cloud, a big heart shaped cloud….airy and light….on Valentines Day.
Even the Italian translation for 'Tiramisu' is fitting…
"Pick me up" or "lift me up"
Aaah yes, a perfect Valentines Dessert.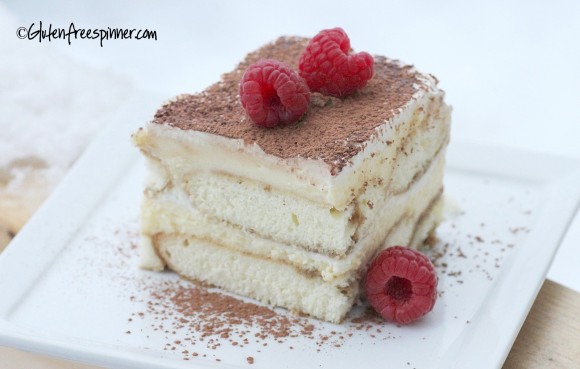 So what exactly is Tiramisu?  It's layers of Italian sponge cookies called Ladyfingers (I used Schar Brand) soaked in a coffee and rum mixture then laced with the incredible fluffiness of a dreamy rich custard and a mascarpone & whipping cream mousse.  A gentle dusting of cocoa powder and a few fresh raspberries give this special dessert it's final taaa-daaaa, and yes, it's all gluten free.
There's another plus to this Dessert for Valentines Day….you can make it the day before!  So while you're prepping that special meal and setting a glamorous table, or maybe you're primping in front of the mirror for those dinner reservations instead…whatever your plan, your heart can be still knowing Dessert is ready and waiting.
Whomever you choose as your valentine, maybe even your beautiful self, enjoy this day of hearts to spread some love….

Tiramisu
Ingredients:
6 egg yolks
3/4 cup white sugar
2/3 cup milk
16 oz mascarpone cheese (2-8 oz pkgs)
1 1/4 cups heavy cream
1 tsp vanilla extract
1/2 cup strong brewed coffee, cooled
1/4 cup good rum
1 tsp vanilla extract
6 oz gluten free ladyfinger cookies (2-3 ounce packages)
1 Tbsp unsweetened cocoa powder
Fresh raspberries for garnish
Directions:
Whisk together the egg yolks and sugar in a medium sized saucepan until well blended.  Whisk in the milk and cook over just medium heat, stirring constantly, it will become fluffy and voluminous, about 5-7 minutes, until the mixture begins to boil.  Boil gently for 1 minute and remove from the heat allowing to cool slightly.  Pour into a glass bowl and cover tightly with plastic wrap and chill in refrigerator for 1 hour.
After the 1 hour:
In a medium bowl with electric mixer, beat the heavy cream and 1 tsp vanilla until stiff peaks form.  Set aside.
With electric mixer, blend the mascarpone cheese with the egg yolk mixture until smooth.  Set aside.
Combine the coffee, rum, and 1 tsp vanilla.  On a large sheet pan, arrange the ladyfingers in a single layer and drizzle the coffee mixture over all the ladyfingers.  Shake the pan to distribute the mixture onto all the cookies.  Flip the cookies once to allow the other side to sit in the coffee.
In the bottom of a 7×11 or similar sized dish with at least 2 1/2 inches depth, arrange half the soaked ladyfingers in a single layer.  Spread half of the mascarpone mixture over the lady fingers, then half the whipped cream over that.  Repeat the layers and sprinkle the cocoa over the top of all.  Cover with plastic wrap and refrigerate at least 5 hours….overnight if possible.
Cut into squares and garnish with fresh raspberries.