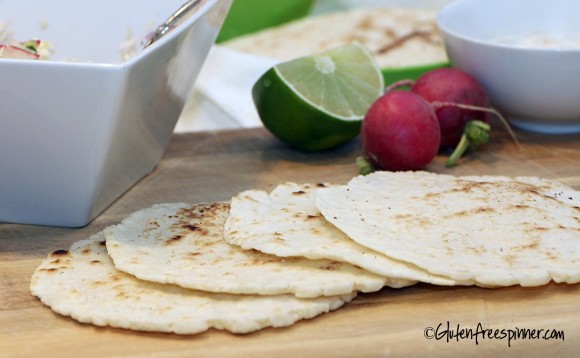 Flour Tortillas
I couldn't wait to post my review this morning of these amazing gluten free flour tortillas!
I purchased a tortilla press over the holidays as one of my "must-do's"  for 2015 was to make gluten free flour tortillas.  I love corn tortillas, thankfully, as that's pretty much the only edible option when looking for a gluten free tortilla.  But I really miss a flour tortilla for the flavor, softness, folding ability, and option for gyro's and flatbreads.  Thankfully, I found this incredibly easy and delicious recipe from Jeanne's Art of Gluten Free Baking.
My fellow blogger, Shirley Braden, of the site Gluten Free Easily (aka: gfe) is a great resource and she posted  The Top 30 Best Gluten Free Tortilla's and Wraps, to which I was honored to have my Soft and Wrapable Focaccia Wraps included in her list.  Well Jeanne's flour tortilla recipe was also included in that list and I gave them a try last night.  Amaaaaaaazing!
First I must tell you it was EASY…which is one of the reasons I hesitated making them until now…they seemed so labor intensive.  Her recipe comes together quickly using a food processor and there are only 5 ingredients (6 for me as I added Xanthan Gum).  Yum-Yum!   Follow her recipe exactly, I found both the measurements and methods to be spot on.  The only change I made to the method was using a piece of plastic wrap for the bottom and top of my dough ball before pressing.  No messy flours and no sticking.  It worked perfectly and released from the wrap directly to my cast iron griddle pan.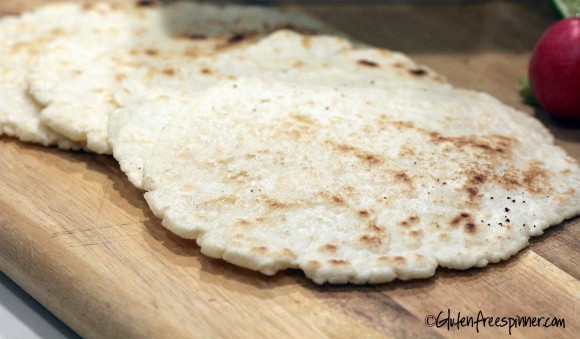 They are thin and soft yet have a nice outer crust, they press out easily and without breaking apart; deliciously beautiful.
I ate two by themselves before dinner as I was so excited to 'taste' a flour tortilla again, to rip into the soft texture of this thin flatbread disk of gorgeous gluten free yumminess.  (Ok, yes I'm excited!)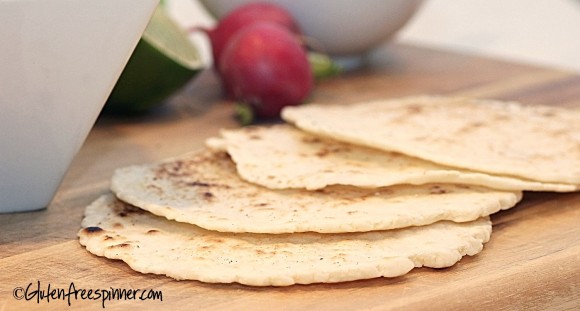 Look at each one…golden with the signature 'burned' bubbles and ultra thin edges.   I could tell Mr. Spinner was dreading the feedback report I would soon be asking him for.  He knows all too well the horrible GF Flour Tortillas available on the market….which quickly found their home in the trash.
With hesitation, he ripped off a small piece and was equally thrilled!  (And may I say relieved.  Hee-he.) He thought the texture and flavor was like authentic flour tortillas, and we all know the true taste-test of a gluten free recipe is the reaction from a gluten-eating loved one…they tend to be our greatest critic.
We enjoyed a light and flavorful dinner wrapping them around simple grilled chicken breast chunks topped with my radish slaw and crema sauce.  They were so good and a new addition to our menu.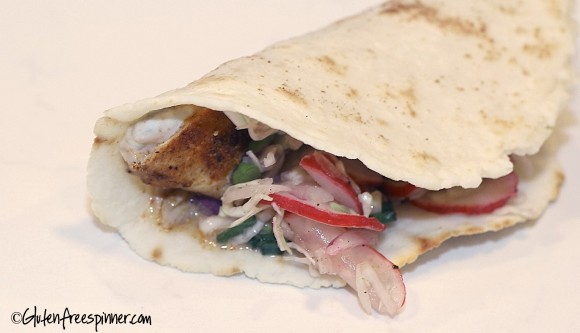 Look how easily the tortilla folds over the ingredients…see how thin it is?  And no cracks.
Absolutely delightful.  I used Mama's Coconut Blend All Purpose Flour as one of my readers, Jeanne, graciously sent me a sample to try and I've found it to be a wonderful blend for many recipes.  (Thank you Jeanne!!)  I added 3/4 tsp Xanthan Gum since it's not included in the mix….don't forget to add this if your blend doesn't include it.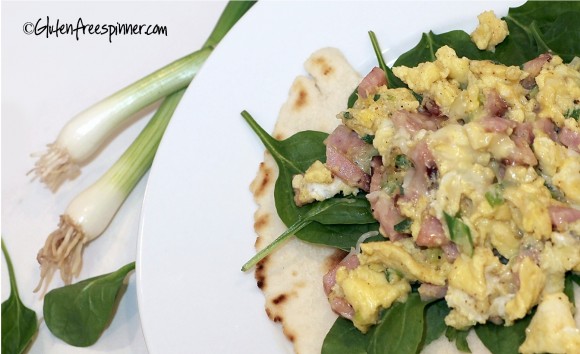 And guess what?  I used a leftover tortilla this morning to make a spinach and green onion scramble wrap for breakfast.  It was fabulous as well.  I wrapped the tortilla in a just-slightly damp paper towel and microwaved it for 10 seconds.  It wrapped and folded again.  Bravo Jeanne!
Here's the link to Jeanne's recipe for Gluten Free Flour Tortillas.  Give them a try and experience a whole new world of flour tortillas again!