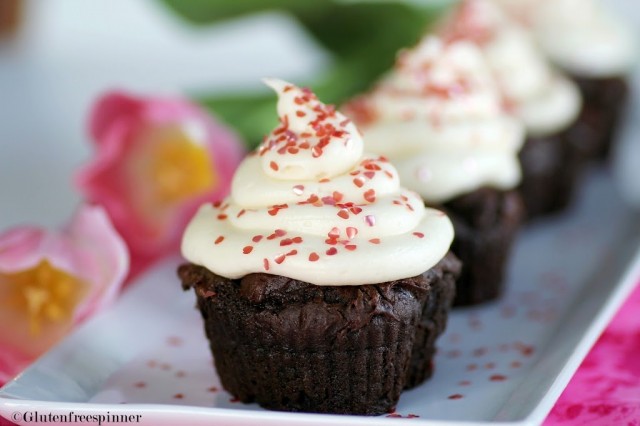 Very Naughty Valentine Cupcakes
The name says it all in my Valentine Cupcakes…they are Very Naughty.
When I set out to create these pillows of heaven I decided that if I'm going to indulge in a cupcake, they would be worth every bite.
The cake would need to deliver a deep rich chocolate flavor while remaining soft, moist, and


fluffy as it bounces back after each bite.
The frosting would have to be thick and creamy with a slight tang to enhance the sweetness.
The two would pair beautifully…
Like Wine and Cheese
Like Bubbles and Glitter
Like Chocolate and Vanilla
Sunshine and Margarita's
Like…
You and your Valentine.
And the presentation? A simple piped cloud topped with edible glitter…irresistible.
And all of this would make…
A Very….Naughty…Cupcake.
The naughtiness of these cupcakes is the sugar, cream, butter, shortening, and cream cheese…nothing low-cal here, just all the wonderful things we love about baked goods. They fulfilled my desires beyond expectation, and further rewarded me by staying moist and fluffy on the second and third day.
Love to you on this Valentines Day with hopes for a little Naughtiness too.
Ingredients:
Dry:
½ cup sweet white Rice Flour

½ cup tapioca starch

½ cup sorghum flour

1 cup cocoa powder

3 tsp Guar gum

2 tsp baking powder

1 tsp baking soda
Wet:
½ cup butter, softened

¼ cup Crisco butter flavor baking sticks

½ cup brown sugar

1 cup white sugar

3 eggs

1 ½ tsp vanilla

1 container

Y

oplait original french vanilla yogurt (or your choice)

1 cup half and half
Directions:
Preheat oven to 350 degrees and prepare 24 muffin tins with paper liners or spray with non-stick spray.

Combine dry ingredients in a glass bowl and whisk to blend. Set aside.

In a large mixing bowl, cream the butter and Crisco and add both sugars slowly, whipping until light and fluffy. Beat in the eggs, one at a time, beating as it becomes creamy.

Add the vanilla and yogurt and beat until thoroughly combined. With the mixer on lowest speed, slowly alternate the dry mixture and the half and half, beating on low to combine. So not overbeat as this will make the cakes dense, just enough to blend the ingredients. The batter will be rich and thick.

Scoop the batter into the prepared muffin tins (24) dividing evenly. Bake for 18-22 minutes, testing with a toothpick or touch for bounce-back. Remove and allow to cool.

Buttercream Cream Cheese Frosting
(a traditional frosting from one of those old wire-back books)
1 (8-ounce) package cream cheese, room temperature

1/2 cup (1 stick) butter, room temperature

4 cups confectioners' sugar

1 teaspoon pure vanilla extract
Directions
Beat the cream cheese and butter in a medium bowl with hand mixer until creamy. Slowly add the powdered sugar, scraping down the sides as necessary to combine all ingredients. Add the vanilla and increase mixer speed to medium. Blend until frosting is fluffy, about 1 minute.
I also tried a Raspberry Almond Buttercream Cheese Frosting:
Almond extract instead of vanilla

Good quality Raspberry jam