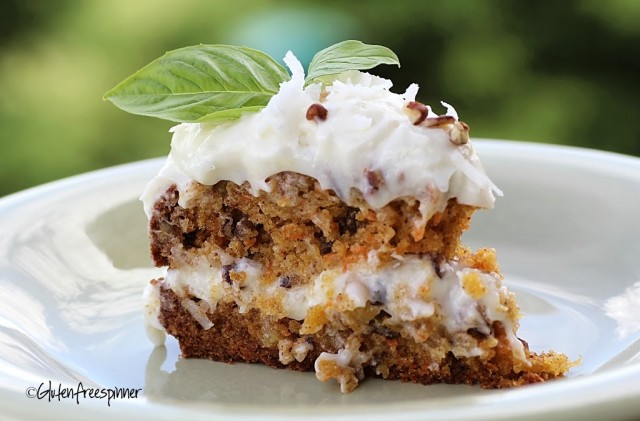 Dreamy Carrot Cake
I love carrot cake…especially with cream cheese frosting, but I've never made it from scratch – even in my gluten eating days.  Remember, I wasn't much of a baker then, but with my gluten free motto, "don't miss it…make it!", I was spinning all day until I got it right.  And ohhh boy is this right (or maybe wrong)…but dreamy to be sure.
I used my favorite gluten free all purpose flour blend (which is listed below).  You'll see this blend in many gluten free recipes and I keep it on hand at all times.  I also reduced the baking temperature partway through the baking time as the top started to brown quickly.  The ingredients are moisture-filled so I figured reducing the temperature would ensure the middle cooked through while keeping the top golden brown.  It proved a good decision as it came out beautifully. 
The cake is soft and moist from the pineapple and carrots and the hint of cinnamon adds a warm spice.  Sweet nutty pecans were my choice over walnuts and the creamy finish is lemony cream cheese frosting.
I used an 8″ springform pan then cut the cake in half so I could add more frosting.  You can also use two round cake pans and avoid cutting the cake….be sure to adjust your baking time.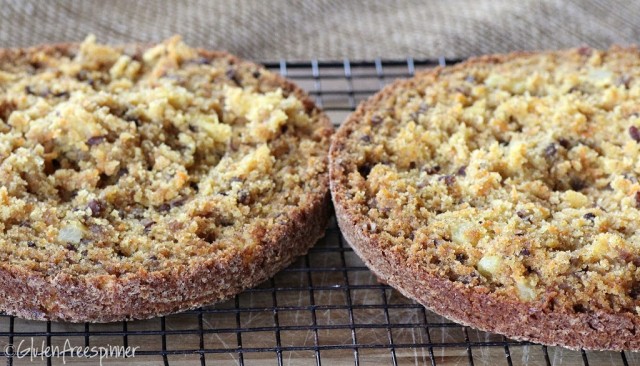 After assembling the layers, the frosting oozed down the sides and looked so pretty… I just left it that way.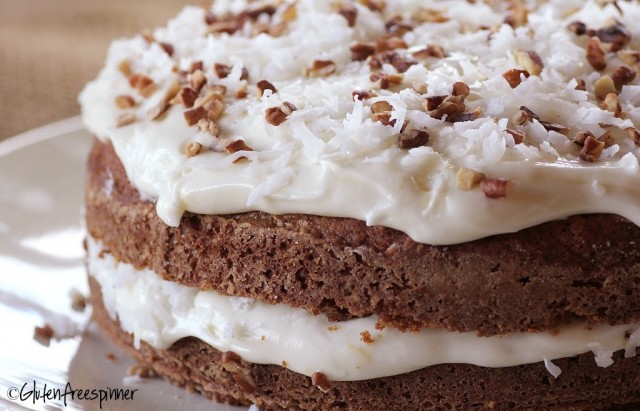 Mmm, carrot cake…even better than I remember.
 XO….. Mary 
Ingredients
2/3 cup canola oil

2 large eggs

1 tsp vanilla extract

1 (8 oz) can crushed pineapple, drained

1 1/3 cups finely grated carrot

2/3 cup chopped pecans

1 1/3 cup white sugar

1 2/3 cup GF all purpose flour

1 tsp baking soda

½ tsp baking powder

½ tsp guar gum * (see note below)

¼

  tsp salt

1 tsp cinnamon

Extra chopped nuts for topping

1 ½ cups shredded coconut for topping
* If you are using a purchased GF All purpose flour blend, check the ingredients for Xanthan Gum or Guar Gum and don't add more if it already contains one of these.  To make your own all purpose gluten free flour blend, this is my all time favorite go to for baking:
All Purpose Gluten Free Flour Blend:
Combine with a whisk and store in container with tight-fitting lid.  Be sure to add 1/2 tsp guar gum or xanthan gum per about every 1 1/2 cups you use (or to your recipe's specifications).

2 3/4 cups white rice flour (sometimes I use sweet white rice flour for cakes)

1 1/4 cups potato starch

1/3 cup tapioca flour/starch
Directions for Carrot Cake:
Preheat oven to 350 degrees and prepare an 8" round springform pan sprayed with non-stick spray and dusted with GF flour.  You can also use two round cake pans to avoid cutting the cake in half.  Just be sure to adjust the baking time by half and check for doneness.
With a whisk, combine the flour, soda, baking powder, guar gum, salt, and cinnamon in a medium bowl until blended.  Set aside.
In a large glass mixing bowl add the oil, eggs, vanilla, pineapple, carrots, pecans, and sugar.  Mix on lowest speed until combined (or by hand). 
Slowly add the flour mixture on low speed until fully blended.
Pour into prepared pan.  Bake for 25 minutes at 350 degrees then reduce heat to 325 and bake for additional 26-28 minutes…or when the cake springs back to the touch and toothpick comes clean.  Cool on rack.  When cooled, gently use a serrated knife to cut through the middle of the side of the cake to create two layers.  Spread the frosting over one of the layers (I used quite a bit for the middle so it would ooze) then top with the other.  Spread more frosting over the top and sprinkle with the flaked coconut and chopped pecans.  Yumm!
Lemon Cream Cheese frosting
1 (8 oz) pkg 1/3 less fat cream cheese

1 stick butter (1/2 cup) softened

2 Tbsp lemonade

1 Tbsp lemon zest

4 cups confectioners sugar
Cream together the cream cheese, butter, lemonade, and lemon zest until creamy.  Blend in the confectioners sugar a cup at a time until all is incorporated.