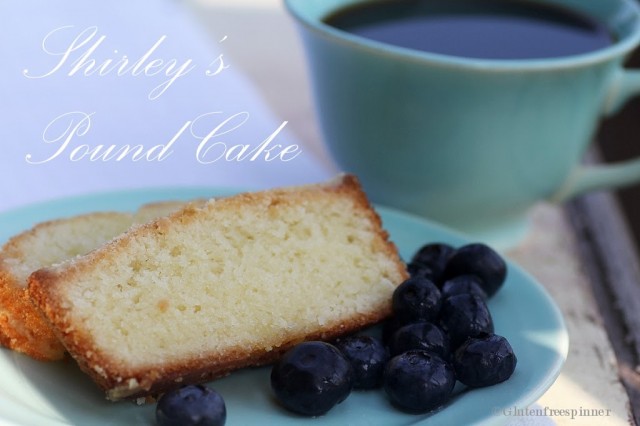 Shirley's Pound Cake
It's not 'adopt a blogger' day, but it is Shirley Braden's Pound Cake Recipe Day!
I was looking for a good gluten free pound cake to serve with a pint of blueberries and Shirley's recipe sounded exactly what I was looking for.
Just reading the introduction to her "Perfect Pound Cake" had me hooked; I had to make it:
"When I was growing up, pound cake was a family favorite. Bake a good pound cake and you were loved by all. Seriously. There was no gift I could give my grandmother (my dad's mom) that she would have preferred over my pound cake. Grandma loved pound cake, and she said mine were the best."
She also mentions that she loves the crunchy edges of this pound cake and I have to agree, the cake is tender, soft, and moist inside while the edges have a slightly crunchy outer
crust….oh my! So amazingly good! Better than any 'normal' pound cake I've ever tasted. I drizzled an orange juice and powdered sugar glaze over the top of my cakes and it added another level of yummyness (if that's possible).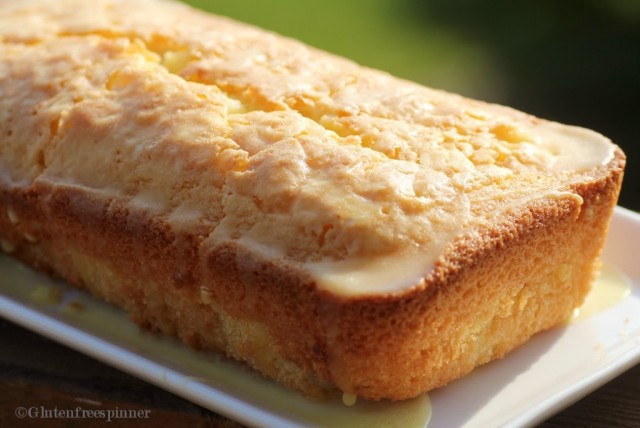 There are two other wonderful finds with Shirley's Pound Cake, the flour mix and the use of coconut milk, which are now staples in my pantry. I like the combination of her all purpose gluten free flour blend as it's light, white, airy, and seems like the flour of old gluten days. And only two ingredients? Wow, I love that. Her blend is 3 parts Asian white rice flour combined with 2 parts cornstarch. Brilliant. I chose to use sweet white rice flour combined with cornstarch and it will be my new all purpose blend. Thank you Shirley! And I had never used coconut milk before to replace dairy…really a good alternative.
Not that you need yet another confirmation on how good this pound cake is, but I have to share her son's comments she posted, I totally agree with him:
"My son was home for the weekend and ended up eating almost one entire loaf by himself, and then more later. He told me I should sell this cake in individual slices for $4 or $5 … "Mom, I'm serious. You could make a fortune." (And, he's mentioned his love of this cake and his entrepreneurial ideas for me several times since.)"
I'm in 100% agreement, Shirley! You must sell these! How wonderful it would be to purchase a gluten free pound cake that is this AMAZING! As he mentioned, sell them per slice in deli's and coffee shops….but also be sure to sell them as whole cakes for the convenience and deliciousness they would provide! (And Minnesota would be the first distribution spot, yes? wink-wink)
I truly want to thank Shirley for sharing this recipe with all of us so we can enjoy the fresh baked goodness of these pound cakes in our own homes.
To view the recipe, click here: