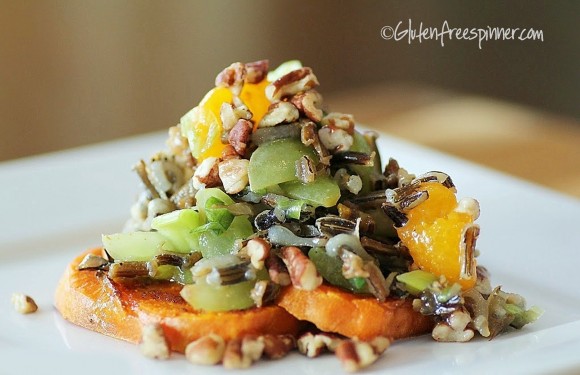 Wild Rice Grape Salad with sweet Potato Medallions
Do any of you eat differently when your husband/wife is out of town?  I certainly do and I always know the first thing on the menu, Salmon.  We are in the process of building a new cabin on the same lake we own our current cabin.  In 2001 we stumbled upon an opportunity to purchase our cabin and it's become our home away from home.
Mr. Spinner is heading north to work on the new one while I stay in the cities to work on the cabinetry plans and details.  While he heads out for the weekend with groceries consisting of burgers, brats, sausage, buns, pizza, and frozen Jimmy Dean breakfast sandwiches, I immediately load up on salmon, veggies and rice…all of which he only eats because I make it, but prefers a much different menu.  And I'm not complaining, he lives gluten free with me by default and without protest.  He learns to enjoy much healthier foods and I learn to convert many old recipes to gluten free.  It's a pretty good compromise for both of us.
So as I headed home from the grocery store overjoyed with my car full of produce (and salmon) I was talking to my daughter and laughing as I told her.  My two bags consisted of fresh spinach, portabella mushrooms (he absolutely will not eat), beautiful Brussel sprouts, (I wasn't one of those poor souls with a childhood horror story involving Brussel sprouts, but Mr. Spinner was), butternut squash, plump green grapes, sweet potatoes, zucchini, and yes, salmon.  Oh, and a beautiful bottle of Pinot Toi.  Yum!  Girls night in!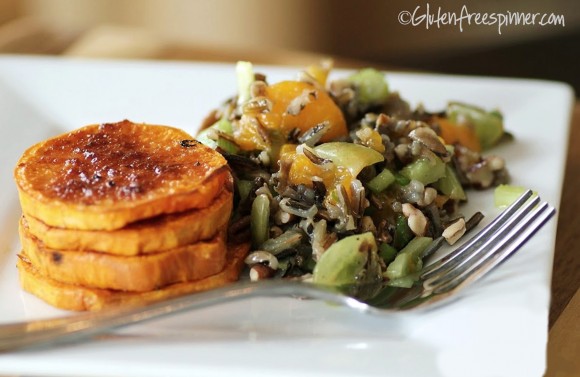 I've been craving the nutty texture of wild rice…in a salad.  One of our favorite summer salads is a recipe I make with roasted chicken breast and red grapes, but it's a mayo based salad and I wanted something light.  I decided to blend the wild rice with sweet juicy green grapes and mandarin oranges and toss it all in a light dressing.  I added chopped pecans and crunchy celery which ended up making one of the most flavorful crunchy-nutty-fruit-sweet salads I've yet to prepare.  It's hearty…yet light.
I added sweet potato medallions that I roasted with a little Mesa Rosa Chipotle Chili seasoning and olive oil for added texture and depth to the meal.  The combination was a winner.  So much so, that next time I'll dice the sweet potato in chunks before roasting instead of medallions and toss them into the salad.
For the dressing, I used a unique Mimosa Jelly from Cherith Valley Gardens that I received from a friend, but you can use a low sugar orange or apricot jelly which will be equally good.  The Dijon mustard and raspberry balsamic vinegar add the right amount of zing to balance the entire salad.  A chilled glass of Pinot Toi and I'm a pretty happy girl.
So tonight I'll miss my hubby yet enjoy a girls night in with some of my favorite foods and a chick flick.  Tomorrow I'll reach for the salmon and Brussel sprouts and savor every bite.
Here's to you and all your favorite foods on a girls night in.
Enjoy.

Wild Rice Grape Salad with Sweet Potato Medallions
Author:
Gluten Free Spinner
Cuisine:
Lighter Option/Salad
Ingredients
½ cup raw wild rice, cooked
1 cup diced celery
½ cup diced green onion
1 cup quartered green grapes
¾ cup chopped pecans
1 (15 oz) can mandarin oranges, drained
Dressing:
½ cup low sugar orange or apricot jelly
¼ cup raspberry balsamic vinegar
1-2 tsp Dijon mustard (to taste)
3 Tbsp olive oil
Salt and pepper
1 large or 2 small sweet potatoes
Mesa Rosa Chipotle Seasoning (or other Chipotle)
¼ cup brown sugar
Olive oil drizzle
Instructions
Add the raw wild rice to a sauce pan with 2 cups salted water and bring to boil. Reduce heat, cover, and simmer for 45 minutes or until the rice is tender and popped from shells.
Rinse and drain well. Pour into a medium glass bowl.
Add the celery, green onion, grapes, and pecans and toss to combine. (You will add the mandarin oranges last.)
In a small bowl, whisk the jelly, vinegar and Dijon mustard together. Gradually whisk in the olive oil until combined. (It will be thick). Season to taste with salt and pepper.
Toss the dressing into the rice mixture coating all ingredients. Add the mandarin oranges last, lightly folding into the salad.
Chill until ready to serve.
Sweet Potato Medallians or Dice :
Slice sweet potatoes into ¼ " coins and toss with Mesa Rosa Chipotle Seasoning, sprinkle of brown sugar, and olive oil. Lay in single slices on parchment lined baking sheet and roast in 400 degree oven for 12-14 minutes or until tender. Allow to cool for a few minutes and serve either on the side or under the salad. Alternately, you can dice the sweet potatoes, add the Mesa Rosa Chipotle Seasoning, brown sugar, and olive oil and roast for 8-12 minutes or until tender. Cool and toss into salad.