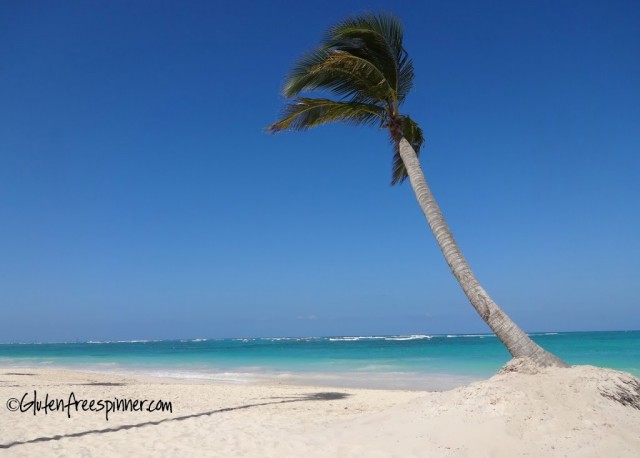 Travel Tips Living Gluten Free
With a few tips and ideas for making it easier, you no longer have to struggle to travel and enjoy EVERYTHING!  Following a few guidelines for what to watch out for and what to substitute is helpful in learning how to eat and live as you enjoy any destination.
 Plan Ahead – Bring a GF Restaurant Card (printable)
The most important thing you can do before leaving for a trip is to PLAN AHEAD.  Make a few calls to the hotel/destination and alert them you are celiac/gluten intolerant.  Most often they will have accommodations to meet your needs and put you at ease.  When you travel out of the country, some resorts/hotels may present you with a formal letter to bring to restaurants explaining your dietary needs.  This is helpful especially when there's a language barrier.When I traveled to Punta Cana where the official language is Spanish, I saved a phrase in my phone that said I was allergic to wheat and gluten.  I heard there was a language barrier and it would be difficult to communicate my dietary needs.  As we were seated, I either showed them the phrase or made an attempt at saying it.  It proved a great introduction to the rest of the evening to ensure they knew.  It helps them – so they can help you. If you're traveling where Spanish is spoken, here's the phrase:
"Soy alérgico al trigo y gluten."  (I am allergic to wheat and gluten.)
I made a GF Dining Card to bring with me when I travel or when I'm going somewhere unfamiliar.  I was sure to detail an important clause, "or foods containing traces of these in the seasonings or mix" as so many servers forget to think about the seasonings or coatings that can have gluten in them too.  Feel free to click the card and print as many copies as needed.  Here's a smaller version too.  Bring with you when traveling and have them in your car/luggage/purse/briefcase.
**  If you are traveling where there's a language barrier,  celiactravel.com has cards available in various languages.  So helpful!
Bring Snacks
Pack snacks you can take with you that don't have to be refrigerated and travel easy.  When you're on the plane it's unlikely you'll find anything worthwhile putting in your healthy belly.  While everyone is munching away, you'll be glad you brought something in your carry on. Snacks are also great for those excursions, walks, shopping trips, etc.
Here are a few ideas.  Pack in snack sized baggies or seal individually in food saver bags.
Nuts, raisins, pumpkin seeds, sunflower seeds, cranberries, dried apples, cherries, granola.
GF protein bars, candy bar, peanut butter and jelly sandwich on gf bread, apple, pear, grapes, banana, dark chocolate, carrots or celery, corn chips, gf pretzels, kale chips, veggie straws, etc.
Lite Mini Babybell cheese, Old Wisconsin Turkey Links (GF and no need for refrig)
When ordering off a menu, the best place to start is what you CAN have – Naturally Gluten Free!
There are so many foods that are naturally gluten free it makes the list of can't have's less daunting.  Most whole foods…the basics such as fruit, vegetables, eggs, potatoes, meat, fresh non-seasoned or coated poultry, pork, fish, and seafood, fresh herbs and spices, raw or simply salted nuts, and most organic dairy products including natural cheeses (be careful of flavored feta and bleu cheese).  Some of the grains include rice, corn, millet, wild rice, quinoa, and teff.
Alcoholic Beverages:
Spirits and Wine:
The general rule for gluten free alcoholic beverages is that distilled spirits are gluten free, noting the distillation period kills any gluten. (**The distillation process can be inconsistent so use discretion in choosing which alcoholic beverages you choose.)  I am, however,  sensitive to many whiskey's and bourbon's (which are often made from Rye, Barley, and corn) so I steer clear.   Read this article on  distillation processes so you are better informed with your choices.  Luckily I'm not much of a spirits drinker, except for my favorite margarita's!  (Silver Tequila is  gluten free), with white wine being my drink of choice…thankfully, it's gluten free.   Now this doesn't mean flavored, sweetened, or blended spirits are gluten free, you must check each of those for gluten containing ingredients.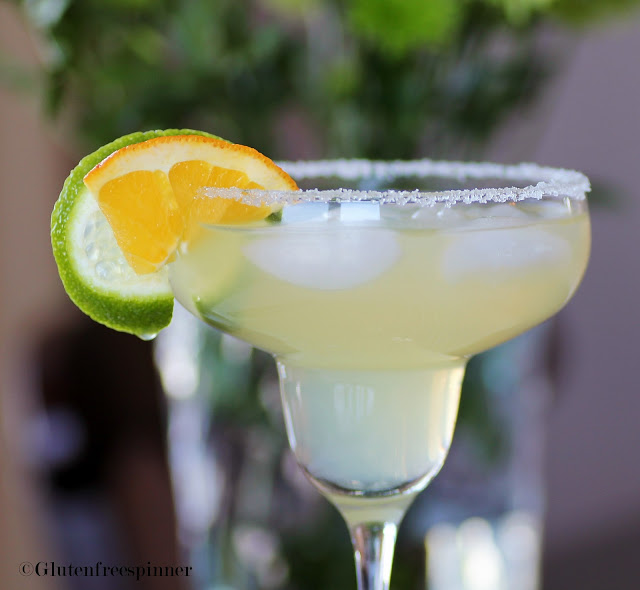 Beer:
Your safest bet is to choose only GF Beer that is labeled as such.  I can tolerate one (1) Sol or Corona Lite beer – but just one – without any problems. The gluten parts per million (ppm) are well below the recommended levels to be gluten free in these beers (FDA) which is why I can tolerate one.  But if I have two, the ppm's add up and I'm doomed.   Each person is different so you're always safest to stick with the GF brands.  ** There are many opinions and experiences with regard to tolerating low ppm beers and much debate about the FDA's 20 ppm ruling.  Please use your own discretion and as noted, best to stick with GF if you are unsure.
Foods – What to watch out for:
Most baked goods, both breads and desserts, are not gluten free.  You have to become comfortable asking the ingredients.  Watch out for any food item that is coated, dressings, condiments, sauces (BBQ, dipping, and soy sauce), white sauces or cream soups, gravy, fried items, and if able, read the menu for anything that says malted or barley, or thickener (Modified Food Starch) this is a sneaky one in many food items.  Ask if you are in doubt.
Eating out:
Eating out can be a challenge, but there are many ways to make it easier.  With a few tips and planning ahead, you're sure to enjoy yourself without making it a targeted issue. First, try to call ahead to see if they have a gluten free menu (most do now).  It's much easier to enter a dining experience being familiar with what's available and knowing you'll be able to order something on the menu.  It's also easier than trying to explain your needs to a server who possibly knows nothing about gluten intolerance.  (Here's where the GF Card comes in!)  You'll be able to focus on the time with your company instead of on what you can order.
What if they don't offer a gluten free menu?
Ask to speak with the manager.  Most likely they will suggest items to choose from or will offer to make something for you that fits your needs.  If possible, call ahead, it helps when they have notice.
If you just can't plan ahead…
If you must choose from a gluten-filled menu without many choices, like a pub or diner.  Here are a few ideas to make it a successful dining experience.
Revert back to the items you CAN have above, it's your best bet to be safe.
Use the salad bar if an option.  You'll be able to choose fresh items that you know are safe.  Lettuce, cucumbers, carrots, onions, tomatoes, peppers and cranberries or nuts.  If the dressings are in bins (and they usually are) you won't have a chance to read the ingredients so just use a fresh squeeze of lemon and salt and pepper.  It's fresh, light, and you'll be safe.
If there isn't a salad bar, look for the salads on the menu…there's sure to be an option even if only a dinner salad.  Salads can be a great choice as long as you have the option for the dressing on the side and no croutons.  Stay away from Asian salads as most often they will have soy sauce in them.  Usually you can find a poached chicken, shrimp, or salmon to have with the salad…these are good choices.
Burgers can be a good option, just ask for it without the bun. The only caution with this is many times they are cooked on the flat-top grill that had gluten products cooking prior to your burger.  Make the call…look around and see if it's a good choice or ask the server.  Remember, seasonings can also be a source of gluten, some contain malt or modified food starch.  You just have to decide from asking directly or simply making the call.
Order a baked potato and make it a loaded one.  Add broccoli, butter, sour cream, and cheese.  Whatever you prefer from the items that you know are safe.
Check the sandwich items for grilled chicken breast and make sure it's not pre-marinated or coated.  Order without the bun and ask for it on a bed of lettuce and tomato.  You can also ask for a side of salsa to go with the chicken.
Nachos are a good option as long as the chips are corn, which they usually are.  *Ask if they are homemade and share oil with gluten products.  If you have the choice of meat, be sure it isn't pre-seasoned. Cheese, jalapenos, chilies, tomatoes, and onions are all safe.  Most salsa's are safe, but you certainly can ask to be sure.  I've had the server bring the container out for me to read the ingredients.  It's worth it!
 Quesadillas on a corn tortilla are a good option as are taco's.  Be sure to ask.
Check the appetizer menu for shrimp cocktail…unbreaded, not marinated.  Just traditional shrimp cocktail.  Don't eat the cocktail sauce, most are not gluten free, but the shrimp should be fresh and you can order lemons.  It's special and you won't feel cheated.
A side of steamed or grilled veggies is also a good option and often you can get a side of rice or a potato.  Use your imagination, you can make your own meal.
Small town bars and taverns can the the trickiest as it's usually just bar food. But there are times when you will just have to figure it out. For example, snowmobiling or excursions outside of a populated area…there aren't going to be gluten free choices amidst the local bar-hop or diner.  But you have to eat something so here are a few ideas.
Nachos are often a choice if you can order them plain with real cheddar cheese on the corn chips.  Don't do the ones with the fake cheese stuff…there are thickeners and they aren't safe.  Sometimes the only option is a bag of potato chips, popcorn or peanuts, so ask for some pickles and a few slices of cheese.  It will get your through.  Best bet in this situation is to rely on your snacks that you brought…protein bars, packaged cheese squares or sticks, an apple or banana, or bag of nuts like almonds with you.  Stuff them in your jacket/beachbag/camera case – you'll be so glad you did!
Most of all, enjoy yourself and rely on the knowledge you've learned living gluten free.  You will be fine, you just have to be a little more aware.  Think of it as an adventure within your adventure!
Bon Jour…Adios….Au Revoir…Auf
Wieders