Wild Rice Grape Salad with Sweet Potato Medallions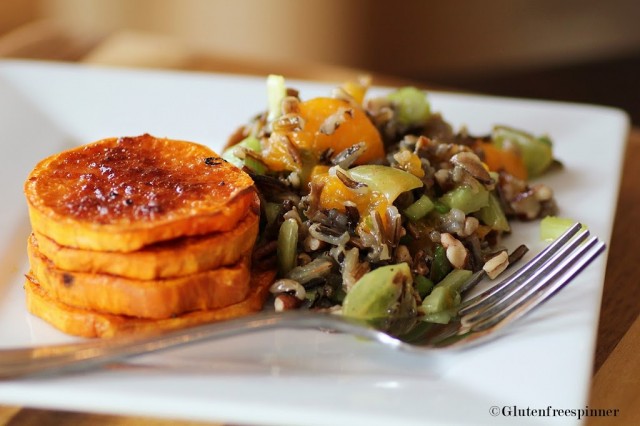 Author:
Gluten Free Spinner
Cuisine:
Lighter Option/Salad
½ cup raw wild rice, cooked
1 cup diced celery
½ cup diced green onion
1 cup quartered green grapes
¾ cup chopped pecans
1 (15 oz) can mandarin oranges, drained
½ cup low sugar orange or apricot jelly
¼ cup raspberry balsamic vinegar
1-2 tsp Dijon mustard (to taste)
3 Tbsp olive oil
Salt and pepper
1 large or 2 small sweet potatoes
Mesa Rosa Chipotle Seasoning (or other Chipotle)
¼ cup brown sugar
Olive oil drizzle
Add the raw wild rice to a sauce pan with 2 cups salted water and bring to boil. Reduce heat, cover, and simmer for 45 minutes or until the rice is tender and popped from shells.
Rinse and drain well. Pour into a medium glass bowl.
Add the celery, green onion, grapes, and pecans and toss to combine. (You will add the mandarin oranges last.)
In a small bowl, whisk the jelly, vinegar and Dijon mustard together. Gradually whisk in the olive oil until combined. (It will be thick). Season to taste with salt and pepper.
Toss the dressing into the rice mixture coating all ingredients. Add the mandarin oranges last, lightly folding into the salad.
Chill until ready to serve.
Slice sweet potatoes into ¼ " coins and toss with Mesa Rosa Chipotle Seasoning, sprinkle of brown sugar, and olive oil. Lay in single slices on parchment lined baking sheet and roast in 400 degree oven for 12-14 minutes or until tender. Allow to cool for a few minutes and serve either on the side or under the salad. Alternately, you can dice the sweet potatoes, add the Mesa Rosa Chipotle Seasoning, brown sugar, and olive oil and roast for 8-12 minutes or until tender. Cool and toss into salad.
Recipe by
Gluten Free Spinner
at http://glutenfreespinner.com/2011/03/wild-rice-grape-salad-with-sweet-potato.html