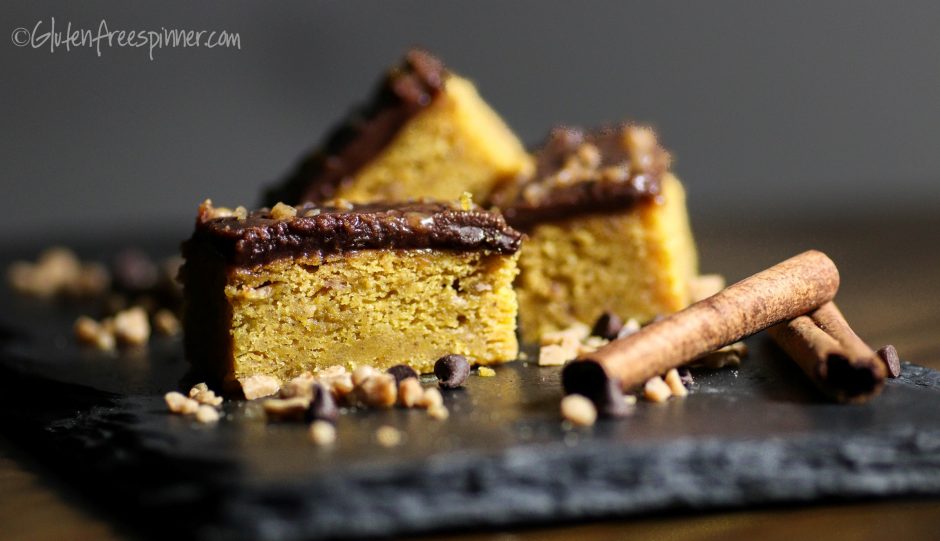 Pumpkin Spice Toffee Bars
A few weeks ago all snuggled in my flannel sheets at the cabin, I was barely awake when I opened my eyes to a foggy horizon with the sunrise peaking.  I shot out of bed, threw on my sweatshirt and jeans and grabbed my camera….there's limited time to catch the rise and the fog was an added bonus!  I hopped on the Razr and down the road I went.
It wasn't the lake I was capturing that day….it was the winding dirt road in all it's Autumn Glory.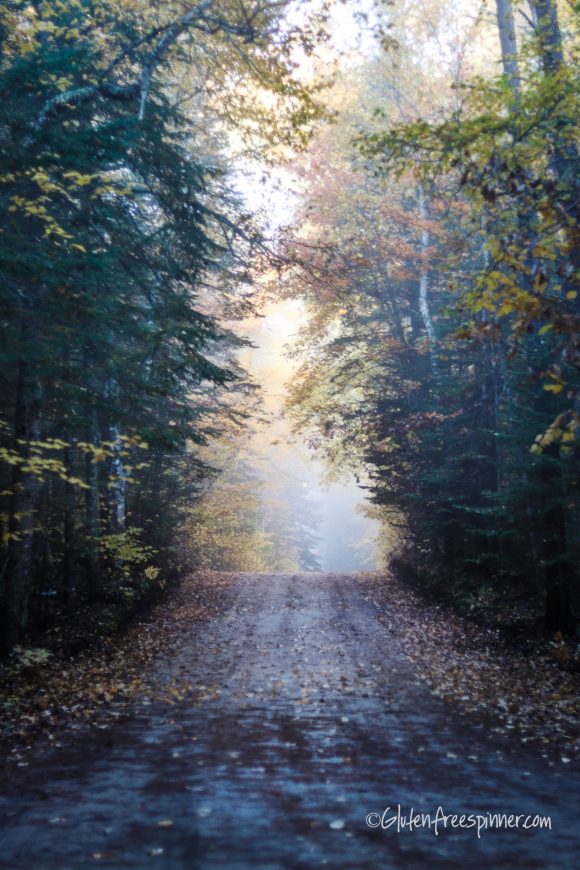 Up and over the hill I went clutching my camera between my legs.  The air was chilly, 46 degrees chilly, and my fingers were numb already.  But it's this magical time…in the morning…as the sun peeks through the trees.  The golden rays of warmth shimmer gently as the rise climbs higher by the moment.  It's like the Lords Hand bringing everything to life.  I feel it in my soul, it fills me.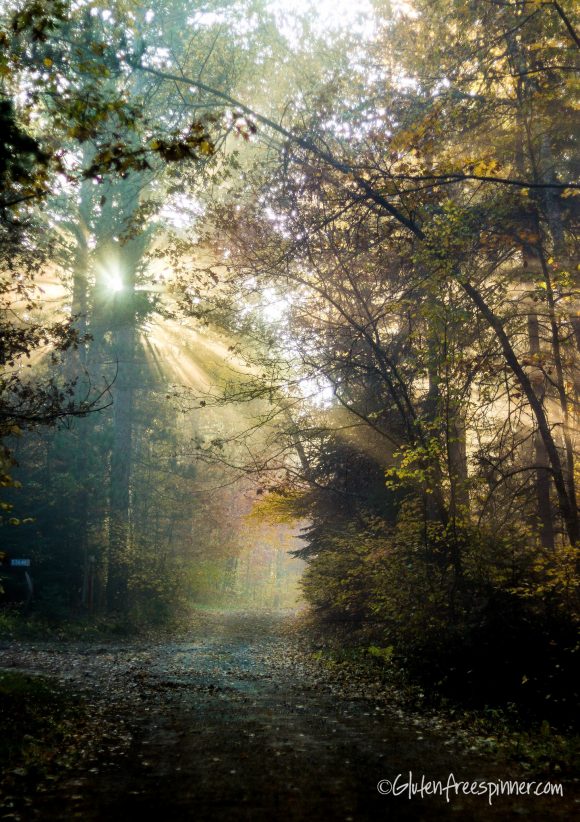 It's Breathtaking.
Autumn colors and sunrises….it's part of what makes northern Minnesota so beautiful.
Kind of like these Pumpkin Bars, sunny golden deliciousness with warm flavors of cinnamon and spice.  And the bonus here is they're incredibly easy with the help of a gluten free cake mix.
Rich and moist with buttery toffee, cinnamon, and vanilla then kissed with chocolate icing.  I know….so good.
Enjoy these crisp Autumn days with a little sweet from my Pumpkin Spice Toffee Bars.

Pumpkin Spice Toffee Bars
Author:
Gluten Free Spinner
Recipe type:
Easy / Dessert / Bars
Ingredients
1 Pkg gluten free yellow cake mix
1 can pumpkin (not pie filling)
½ cup butter melted or ½ cup light olive oil
¾ cup almond milk
1½ tsp vanilla
1½ tsp cinnamon
½ tsp powdered ginger
½ tsp pumpkin pie spice
¾ cup toffee chips
Frosting
⅓ cup milk (or almond milk)
⅓ cup butter
1¼ cups sugar
1 tsp vanilla
1 cup semi sweet chocolate chips
Instructions
Preheat oven to 350 degrees
Spray a 13x9 baking pan with non-stick and set aside
Blend all ingredients for bars except the toffee chips until fully incorporated. Fold in the toffee chips.
Spread batter into the prepared 9x13 pan and bake in preheated oven for 26-33 minutes or until the center is firm and toothpick comes clean.
Allow to cool before frosting.
To make the frosting:
Combine butter, milk, and sugar in a small saucepan
Bring to a boil over medium high heat and boil for 45 seconds
Remove from the heat and whisk in the vanilla and chocolate chips until fully melted
Pour over the bars and spread evenly
Allow to cool completely and store the bars in refrigerator for best texture and flavor.