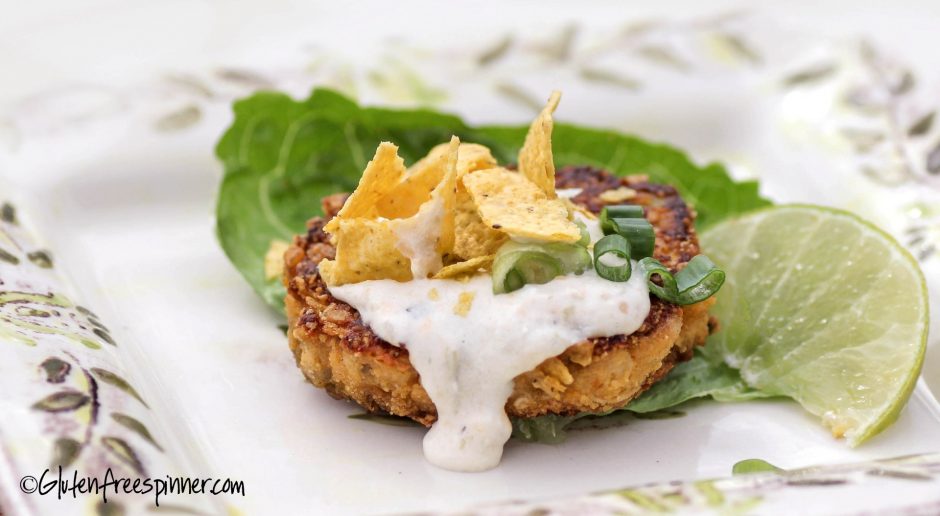 Chicken Cakes with Salsa Verde Cheese Sauce
Yep, really.  Chicken Cakes………why haven't I thought of making them before?  Does anyone make them?  I mean…..there's crab cakes, fish cakes, salmon cakes, and halibut cakes……….why not Chicken Cakes?
So I gave it a try and I'm so glad I did!
Shredded chicken with Mexican flavors of roasted chilis, green onions, Ancho chili, chipotle, and shredded cheese.  I rolled them in crushed corn tortilla chips to give them a crispy-roasted corn crust then topped them with a salsa verde cheese sauce.  Hahaaa….right?  So good!
We LOVED them….and they were even good for lunch the next day!!  Which is a huge bonus being any sort of fish cake typically tastes horrible the second day.
Delicioso!!

Chicken Cakes with Salsa Verde Cheese Sauce
Author:
Gluten Free Spinner
Recipe type:
Dinner / Main Dish
Ingredients
For the Cakes:
½ cup chopped onions
½ cup chopped celery
2 Tbsp minced garlic
2 Tbsp olive oil
3½ cups cooked shredded chicken (GF roasted from Deli is easiest!)
½ cup chopped green onions
1 (4 oz) can roasted green chilis-undraineds
1 cup crushed GF Corn Chex
¼ cup GF dry bread crumbs
¼ cup Daisy light sour cream
1 egg
½ cup finely shredded co-jack cheese
1 Tbsp Ancho Chili Seasoning
1 Tbsp Chipotle seasoning
salt and pepper to taste
For Rolling:
⅔ cup finely crushed yellow corn tortilla chips
3 Tbsp grated Parmesan cheese
2-4 Tbsp (divided) and 2-4 Tbsp butter (divided) for frying
Salsa Verde Cheese Sauce:
4 oz low fat cream cheese
½ cup GF salsa verde
¼ cup light sour cream
¼ cup shredded co-jack cheese
Squeeze fresh lime juice
Instructions
Start by sauteing the onions, celery, and garlic in a small skillet with the olive oil until just tender. Remove from heat and allow to cool.
Make the cheese sauce: Combine the cheese sauce ingredients (minus the lime) in a small sauce pan and heat on medium low stirring until all ingredients are melted together and creamy. Squeeze fresh lime juice and stir. Keep warm. You can also microwave to make it easier!
In a large glass bowl, add the cooked chicken, green onions, chilis, crushed corn Chex, bread crumbs, sour cream, egg, cheese, cooled onions and celery, and the seasonings mixing just until all is combined.
Make the coating: Combine the crushed yellow corn tortilla chips with the Parmesan in a shallow bowl large enough to coat the cakes.
Gather enough filling to form a 3" cake and pat the top and sides to form a nice round shape. Try not to work it too much, you want them light and tender. Press the cake on both sides into the coating and place on a large baking sheet to rest. Continue with the remaining cakes, you should get 8-10 total.
Once all are formed and coated, heat a large skillet with 1 Tbsp olive oil and 1 Tbsp butter over medium high heat until it starts to bubble. Saute 3-4 cakes at a time, 3 minutes on each side until nicely browned. Remove to a lettuce lined platter to rest while you make the other cakes. You will need to add more olive oil/butter between each batch.
Serve over a bed of lettuce and top with a little cheese sauce and chopped green onions.
Enjoy