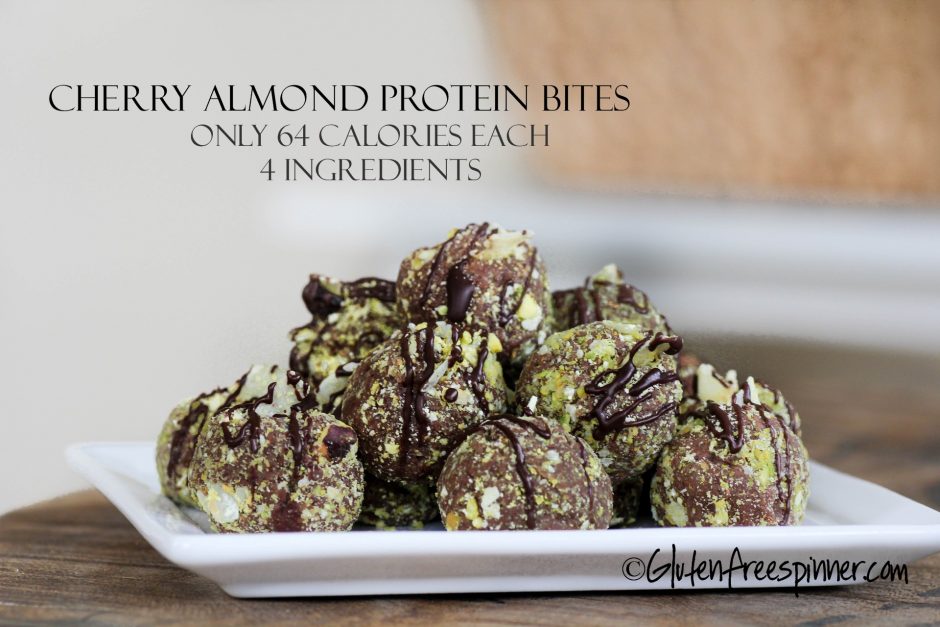 Cherry Almond Protein Bites
I'll start by telling you what Mr. Spinner said as he bit into one of these protein-packed gems……..
"What?  It's like eating fudge!"
Yes!  Yes it is.  Without the calories, refined sugars, grains, eggs, butter, or fat.
Take a look inside……………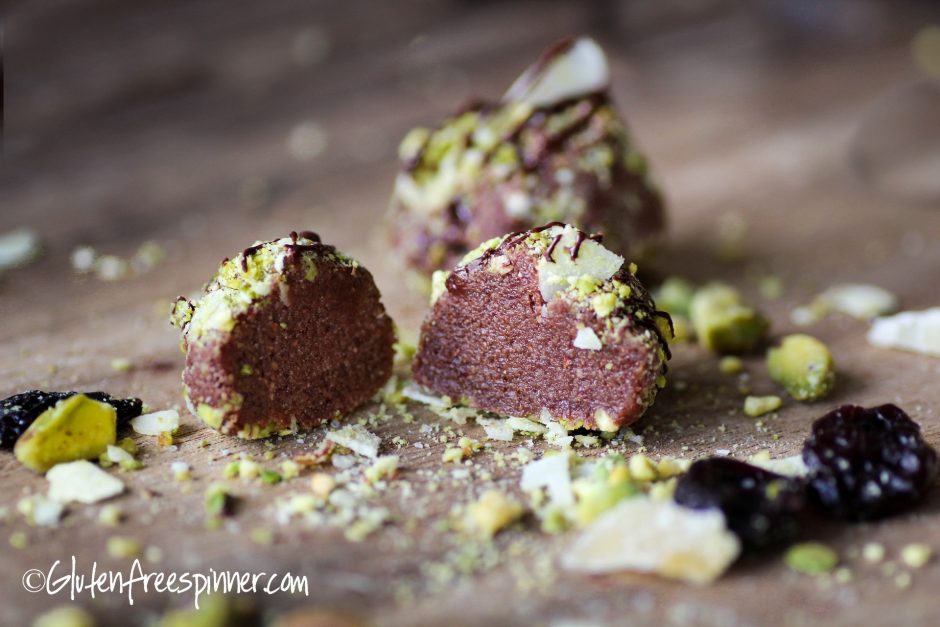 And my friends there are only 4 ingredients………four healthy and flavorful ingredients.
Dried Cherries, Roasted Almonds, Vanilla Whey Protein Powder, and Crystallized Ginger.  That's it!  Almonds and Cherries alone are to-die-for on their own, but the subtle hint of Ginger just nails it.
(For photo purposes I rolled them in super-fine ground pistachio's (almost a powder) and added a pin-drizzle of dark chocolate-6 dark choc chips total for 20 bites.  I couldn't even find a calorie count because it was such a small amount between 20 bites.)  They aren't as pretty without the bling, but the taste is the same!  Your choice.
These little bites are truly a tasty treat without the guilt.  The best part is how easy they are to make.   My Recipe involves grinding whole fresh almonds, cherries, ginger, and protein powder to make a dough.  Even as hard as almonds are, my new Nutri Ninja Auto-IQ System  grinds them to a fine paste with the cherries to give these bites a fudge-like texture.  I am not sponsored nor did I receive one of these as a gift or promotion, it was actually a Christmas gift and this thing is awesome!  I didn't get the super deluxe, I simply got the compact one for around $134.00.  I mainly use it to blend my shakes and smoothies which come out like a beautiful creamy frothy milkshake – YUM!  But it does so much more!  I've made chunky (grain-free) vegetable tabbouleh (to die for), and creamy avocado hummus.
And of course you can still make this if you don't have a high performance blender, just try your food processor or regular blender.  Be sure to pulse at the start to blend everything as it chops and you may need to add more water to bring it together.  But if you're in the market for a new super-blender, I recommend the Nutri-Ninja.
Happy Healthy Eating in 1017!  Enjoy!

Cherry Almond Protein Bites
Author:
Gluten Free Spinner
Recipe type:
Snack, Healthier Options
Cuisine:
Healthier Options
Ingredients
1 cup Roasted Almonds no salt
1 cup Montmorency Dried Cherries
1 Scoop Vanilla Whey Protein Powder
6 Crystallized Ginger Medallions
2-4 Tbsp water
¼ tsp salt
If adding Photo Bling:
1 Tbsp finely ground pistachio nuts
6-8 dark chocolate chips
Instructions
Finely process the Almonds in food processor or blender, pulsing and blending until all chunks are ground.
Add the Cherries, Ginger, and Protein Powder and process again until a smooth dough/paste.
While processing, add 2 Tbsp water or more as it processes to come together. Don't use too much...you want it super thick. Fudge-like.
When it's very smooth and all ingredients are blended, remove from the machine and work directly from the container.
With a teaspoon sized-spring scoop, make 20 balls and place on a parchment lined plate/sheet pan.
Roll between palms to form a ball and they're done!
To Add Bling:
Very finely grind pistachio nuts to almost a powder and roll them in your hand together with one of the bites until it sticks. You won't get much, just a dusting.
Next, in your smallest ramekin melt 6-8 dark chocolate chips at 50% power for 30 seconds. With the tine of a fork drizzle a very thin line of chocolate. Allow to harden.