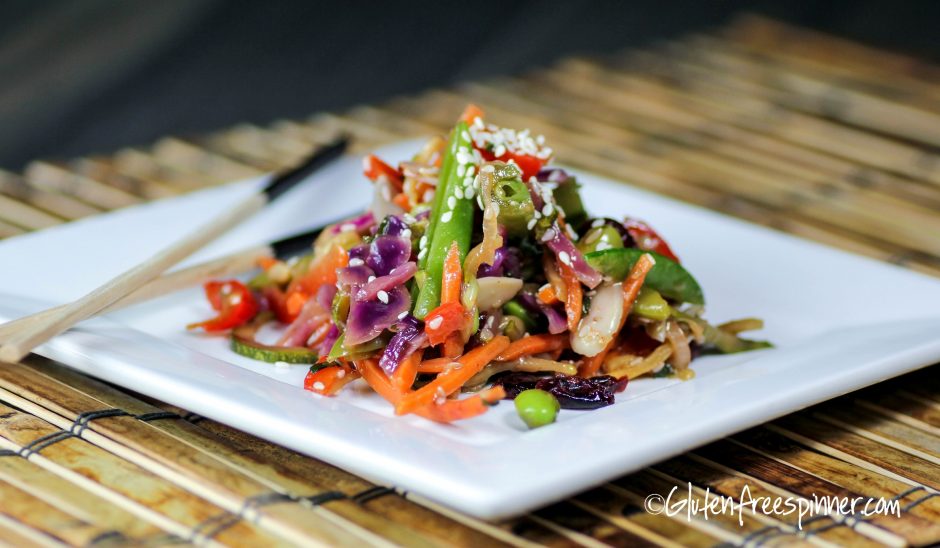 Asian Zoodle Salad
I'm Zoodled for Zoodles!  Zucchini Noodles that is………..
Fresh zucchini that's spiralized into thin tasty noodles.  Ingenious I must say.
My first affair with these tender curls of goodness was simply sauteing them in a little olive oil, butter, pepper, and Parmesan. YUM!
The first time led to more, secret forkful's in the middle of the night, sometimes….I even had them for breakfast.  I know, shameful.  I was hooked.  No going back.   I'm sorry my carb-filled rice/corn pasta, I can't help myself.
I dare you to try them…..and my newest fling is via Asian Zoodle Salad.  Sinfully Sensational.
~  Enjoy

Asian Zoodle Salad
Author:
Gluten Free Spinner
Recipe type:
Salad/Vegetable
Yield:
2 meal, 4 side dish
Ingredients
1 Tbsp olive oil
½ tsp sesame oil
2 tsp minced garlic
Salad Veggies:
1 medium zucchini, spiralized
1 cup sugar snap pea pods, sliced in half horizontal
½ cup matchbook carrots
½ cup edamame
¼ cup thinly sliced red onion
½ cup julienned red bell pepper
¼ cup chopped cilantro
1 cup shredded purple cabbage
⅓ cup dried cranberries
topping:
Sesame seeds
Sliced almonds
Green onions sliced diagonally
Dressing:
¼ cup San-J Gluten Free Tamari Ginger Asian Dressing
1 Tbsp Dynasty brand Hoisin sauce (or other GF Hoisin)
1 tsp honey
½ fresh lime, juiced
Instructions
Make the dressing by simply combining the four ingredients with a whisk and set aside.
Heat a large saute pan over medium high heat and add the two oils and garlic. Once it starts to sizzle, add all salad veggies and toss continuously for ONLY 3-4 minutes. This is just to tenderize them a bit, you still want the crispness of the veggies.
Turn off the heat and toss the dressing over all to coat.
Add the sesame seeds, sliced almonds, and green onions. Toss again, transfer to a glass bowl and refrigerate until fully chilled. 2-4 hours.
Toss before serving adding more sesame seeds to taste.
* Option: Eat this warm as is...like a stir fry or pad tai
* Option: Add all ingredients without sauteeing for a "raw" salad, it's good too, just not as tender.