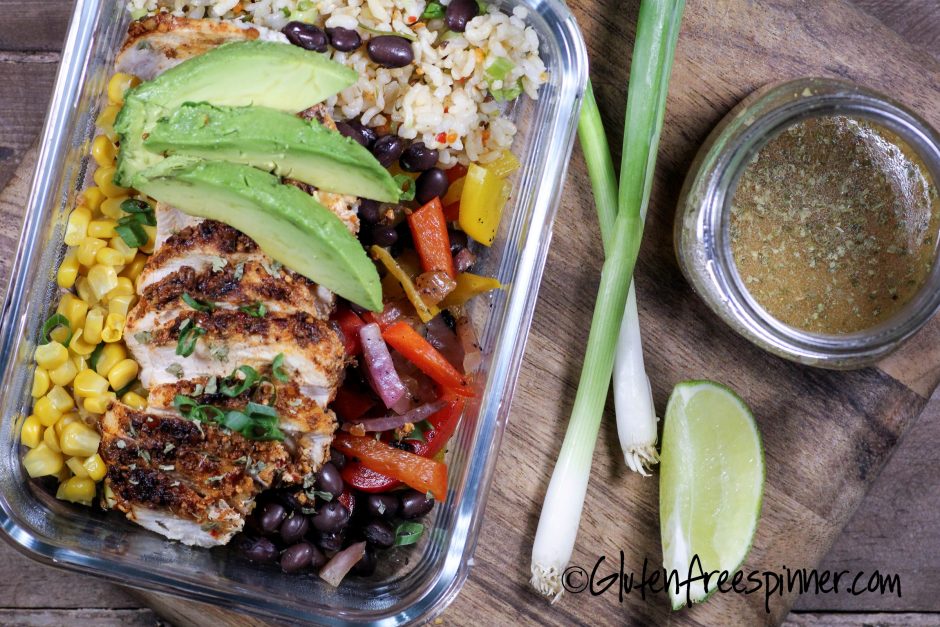 Fajita Lunch Bowls
Each Sunday this past winter I spent my afternoon making soup and began sharing it with my Mom….I call it 'Soup Sunday'.  I drop off two containers of soup Monday mornings on my way to work for she and my stepdad. I love seeing them as often as I can, so this is a perfect way to give Mom a quick hug and kiss and tell her I love her.
Sometimes I made a classic soup referencing a recipe from my site and sometimes I felt uber-creative and spun a new recipe.  I love making soup.  It's quite simply the warming-factor of creating a homemade pot of delicious love and sharing it with someone.
So this particular Soup Sunday was bright and sunny….warm and Spring-like.  I wasn't feeling the soup-vibe.  How about lunch bowls instead?  Yes, I like it…..Soup Sundays will be reserved for snowy winter days and Spring Sundays will be Lunch Bowls.  Oh the ideas spinning in my head.
My first Lunch Bowl?  A Fajita Bowl.  Grilled chicken breast on top of lime-cilantro brown rice with grilled peppers and onions, black beans, corn, and sliced avocado.  YUM!  And instead topping it off with salsa or sour cream, I drizzled my Southwest Dressing to keep it light and to balance all the flavors.  It's light, fresh, gluten free, dairy free, and sooo very good!

Fajita Lunch Bowls
Author:
Gluten Free Spinner
Recipe type:
lunch / healthy / tex mex
Ingredients
4 boneless skinless chicken breasts
Your favorite Chipotle/Southwest seasoning (GF)
1 red bell pepper, seeded and cut into ½" strips
1 yellow bell pepper, seeded and cut into ½" strips
1 sweet onion cut into strips
3 cups prepared brown rice (Trader Joes frozen is easy!)
2 Limes
Bunch of fresh cilantro leaves
3 green onions, chopped using white and green
2 cups frozen corn, thawed
1 can black beans, rinsed and drained
Avocado
Dressing
4 Tbsp fresh lime juice, or to taste
1 tsp salt
½ tsp pepper
1 tsp ground cumin
¼ cup olive oil
1 tsp honey
Instructions
Season the chicken breasts with the Chipotle/Southwest seasoning on both sides, be sure to use enough as this is the only seasoning they will have. (Check the salt on your seasoning ingredients)
Heat a cast iron grill pan on med-high until smoking hot.
Drizzle the chicken breasts with a little olive oil and place on the hot grill pan.
Cook approx. 18 minutes, turning as needed so as not to burn. When juices run clear remove from pan and allow to rest.
With the pan still hot, grill the onions and peppers, two batches at a time, searing only enough to gain a little char. Veggies should still be crisp. Remove from pan and set aside.
Slice the chicken breasts at an angle creating strips and chop the veggies into large pieces.
Make the rice:
In a medium bowl add the brown rice, juice of one whole lime, ¼ cup chopped fresh cilantro, and 1 Tsp chipotle seasoning. Toss to combine and set aside.
Make the dressing:
Add all dressing ingredients together and whisk to combine. Divide into 4 small lunch-sized dressing containers and put lids on.
Assemble the bowls:
Arrange the ingredients in each bowl so all are visible. It doesn't matter the order.
Rice, beans, corn, chopped veggies and onions, sliced chicken, and top with chopped green onions.
You can bring the avocado with you whole and slice when ready to eat or if you slice it up ahead be sure to drizzle a little lime juice over the slices to prevent browning.
When time to eat, lightly heat the entire bowl just until warm and drizzle the Southwest Dressing over all. Bring extra lime slices if you like it extra zippy.
Enjoy!