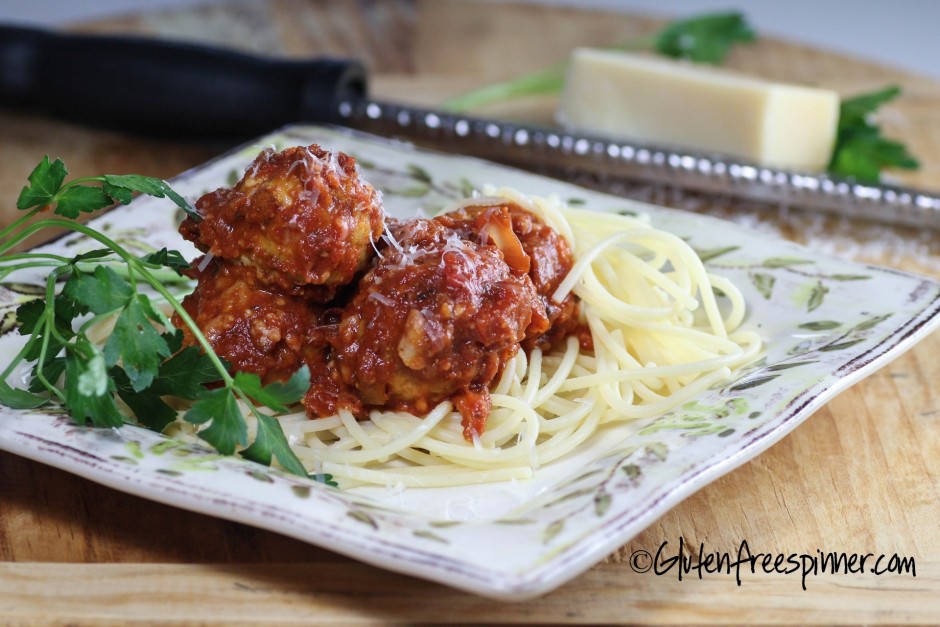 Turkey Meatballs Italian Style
I've made these at least 10 times in the last two months and they are consistently to…die…for.  I was finally able to hold off devouring them long enough to take photos so I could share with you.  Mr. Spinner says, "best ever".
I love that.
There are several things about these meatballs that make them taste so good.  They are flavorful and moist, the sauce is a compliment-not the main attraction, and they are baked not fried.  And bonus-bonus…they're so very easy!  Did I mention healthy too?  Yep, they've got it all.
Turkey meatballs can often be dry and flavorless with an odd texture.  These tender little gems pack a flavorful punch with goodies like spinach, garlic (lots of garlic!), Parmesan, Laughing Cow Cheese, and my signature Italian seasoning that I created for my Lasagna that takes it to another level.  It truly is one of the best lasagna recipes you'll ever make, gluten free or not.  It's all about flavor.
For the ground turkey, my preference is Jennie-O Brand Ground Turkey Breast, I feel it has the best texture and taste.  Our grocer seems to sell out of it quickly, so I always buy two.  It might seem pricey at $5-$6 for the 1.25 lb package, but when you consider it makes an entire dinner, it's worth every dime.
Now for the 'easy' part.  A few things make this recipe easy; a spring-load cookie dough scoop, baking on a cookie sheet instead of frying, and a jar of good pasta sauce.
First you simply saute the onions, garlic, and spinach.  Then add the Worcestershire sauce, chicken broth, and two triangles of Laughing Cow Cheese (any flavor will work) until it's all combined and saucy-like.  Then you pour it into the bowl with the ground turkey and remaining ingredients and mix gently just until all flavors are combined (too much handling can make for tough meatballs).  Then I use the spring-load cookie dough scoop to make the balls and I don't sit and roll them all pretty and round…they are just fine dropped onto the parchment paper lined baking sheet.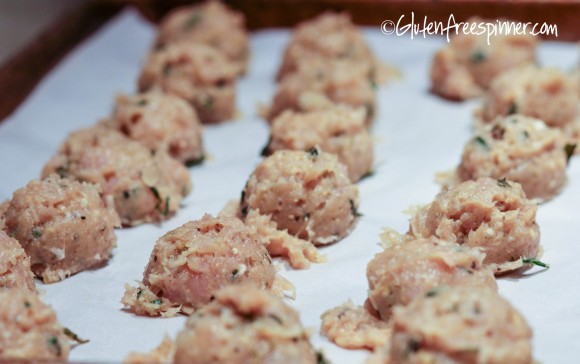 Then they are baked…375 degrees for 25 minutes until lightly golden brown.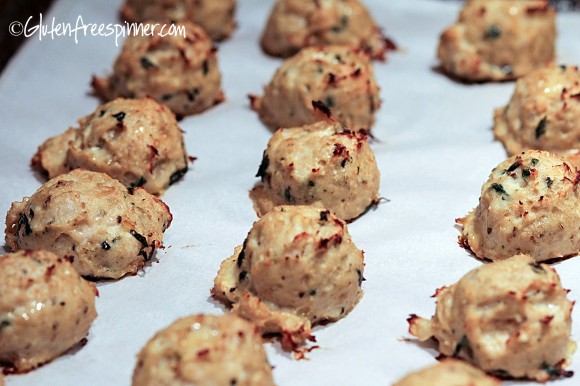 Next,  pour a little sauce in a casserole dish, add the meatballs, then pour the remaining sauce on top.  Sprinkle with grated Parmesan and bake 350 degrees for 20 minutes.  Serve with gluten free noodles and fresh grated Parmesan.  We also enjoy this dish without noodles, just eating the meatballs with the sauce and add a little dinner salad on the side.  Don't forget the glass of wine!
I often make this ahead….here's how:  After pouring the sauce over the meatballs and adding grated Parm, just cover the dish with foil and refrigerate until ready to bake.  I've made it a day ahead and it was still fantastic.  When ready to serve, preheat oven to 350 and bake covered with the foil for 25 minutes.  Remove foil and bake another 10-15 minutes until nice and bubbly.  If using noodles, boil and serve.
Enjoy!

Turkey Meatballs Italian Style
Author:
Gluten Free Spinner
Recipe type:
Main Dish - Meatballs
Ingredients
1 cup diced onion
3 cups fresh baby spinach, chopped
2 heaping Tbsp minced garlic
2 Tbsp GF Worcestershire Sauce
¼ cup chicken stock
2 triangles Laughing Cow Cheese - any flavor (or you can use cream cheese if you don't have)
1.25 lbs ground turkey breast (preferred)
2 Tbsp olive oil
1½ Tbsp my Italian Seasoning Mixture (below)
1 tsp fine sea salt
½ tsp pepper
⅓ cup GF dry bread crumbs
1 egg
¼ cup grated Parmesan
Grated Parmesan for serving
1 jar good pasta sauce (Paul Newman Sockarooni so good!)
GF Spaghetti Noodles
My Italian Seasoning Blend
2 tsp fennel seed, 1 tsp garlic powder, 1 tsp onion powder, 1 tsp dried basil, 1 tsp Italian seasoning, ½ tsp fine sea salt, 1 tsp black pepper, ½ tsp red pepper flakes.
Instructions
First make the Italian seasoning blend: Combine all ingredients with a mortar & pestle, crushing the fennel seed as you blend. Store in a sealed container.
Preheat oven to 375 degrees. Line a large baking sheet with parchment paper or foil.
In a medium saute pan add 1 Tbsp olive oil and saute the onion until it begins to tender. Add the garlic and saute another minute. Add the chopped spinach and stir until wilted. Add the Worcestershire, chicken stock, and Laughing Cow cheese. Stir until cheese is melted and all combined into a sauce and remove from heat.
In a large glass bowl add the ground turkey, olive oil, 1½ Tbsp of the Italian seasoning mixture, salt, pepper, bread crumbs, egg, and Parmesan. Pour the onion mixture over all and combine with clean hands blending all the flavors. Don't over mix.
Use a 1½" spring-load scoop to make your meatballs and drop them onto prepared baking sheet.
Bake for 25 minutes until lightly golden brown. Remove from oven and set aside.
Reduce heat to 350 degrees.
In a casserole dish, pour just enough of the pasta sauce to thinly cover the bottom. Add the meatballs to the dish and pour the remaining pasta sauce over the meatballs. Sprinkle with fresh grated Parmesan cheese and bake 350 for 20 minutes or until nice and bubbly.
Serve with or without gf spaghetti noodles. Add a side salad for a complete dinner.