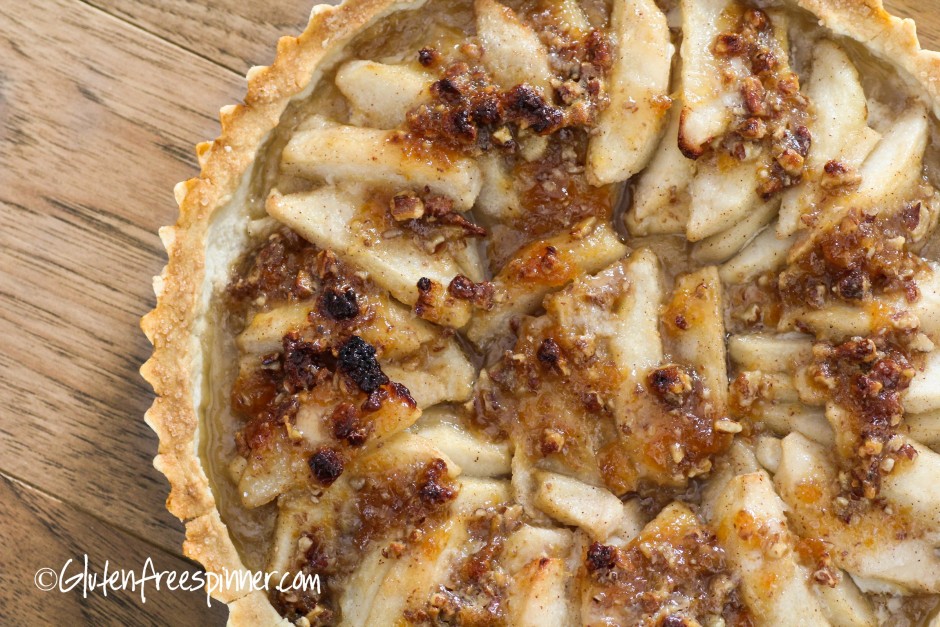 Welcome 2016!  There's still more celebrating to do and I'm a girl who likes her dessert.  So bring it on with this light and tasty pear tart delivering all the deliciousness and glamour you expect.
The crust comes together easily with a food processor and is perfect every time.   There's no rolling-out or mending torn layers, you simply mold the crust in the tart-pan and bake it to a golden flaky brown.  It's tender and slightly sweet, ensuring every last crumb will be eaten…it's that good.
There's a secret ingredient in my tart crust….ready?  Tito's Potato Vodka.  It's added last as a binding agent bringing the dough together to a perfect texture.  You can use any vodka, but I prefer GF Potato Vodka.
And we can't forget the star of this tart….Pears.  They're sweet, golden-roasted and gently scented with cinnamon and cardamom and are topped with a light apricot/pecan glaze.  And here's the last taa-daa….a slight tangy freshness of lemons surrounding the tender pears.  Yep, pretty sure it's drool-worthy.
Happy New Year!  I hope you continue to eat dessert and enjoy every…..last…..bite.
Pear Tart with Golden Flaky Crust
Author:
Gluten Free Spinner
Ingredients
Tart Crust:
1¼ cups all purpose gluten free flour
Pinch of salt
4 Tbsp cold butter cut into cubes
3 Tbsp Crisco butter flavored shortening
1 egg, beaten
2-3 Tbsp Potato Vodka
¼ cup powdered sugar for kneading/dusting
Filling:
4 pears, peeled, cored, and sliced into wedges
2 Tbsp fresh lemon juice
3-4 Tbsp brown sugar
1 Tbsp corn starch
¼ tsp cardamom
½ tsp cinnamon
Glaze:
⅓ cup Apricot preserves
1 Tbsp fresh squeezed lemon juice
¼ cup chopped pecans
2 Tbsp heavy whipping cream
Sweetened whipping cream for serving
Instructions
Preheat oven to 350 degrees and lightly spray a tart pan with non-stick.
Pulse the flour, salt, butter, and shortening in food processor until small pea like crumbles form.
Add the beaten egg and blend until totally combined into the dough.
While pulsing, add the vodka just until the dough comes together.
Dust your working surface with the ¼ cup of powdered sugar and gather the dough in to a ball. Knead the powdered sugar into the dough, not working too much, but blending.
Break the dough into pieces and distribute around the tart pan. Start pressing the dough from the middle out to cover the bottom of pan, creating a bottom 'crust' then halfway up the sides. Dust a little of the remaining powdered sugar onto the dough when done. Prick the bottom with a fork.
Bake in preheated 350 degree oven for 10 minutes. Remove and set aside to cool.
Filling:
In a medium glass bowl combine all filling ingredients and toss to combine. Arrange the pear wedges in a circular pattern in the tart shell, you'll have two layers.
Pour the remaining liquid over the pears evenly.
Glaze:
Combine the apricot preserves, lemon juice, and pecans and microwave for 30 seconds just to make it easier to glaze. Stir in the 2 Tbsp of heavy cream and combine. Pour over the top of tart covering all the pears.
Brush the edges of the crust with heavy cream to help brown.
Return to oven and bake 45 minutes until pears are tender and golden.
Allow to cool and serve with sweetened whipping cream.