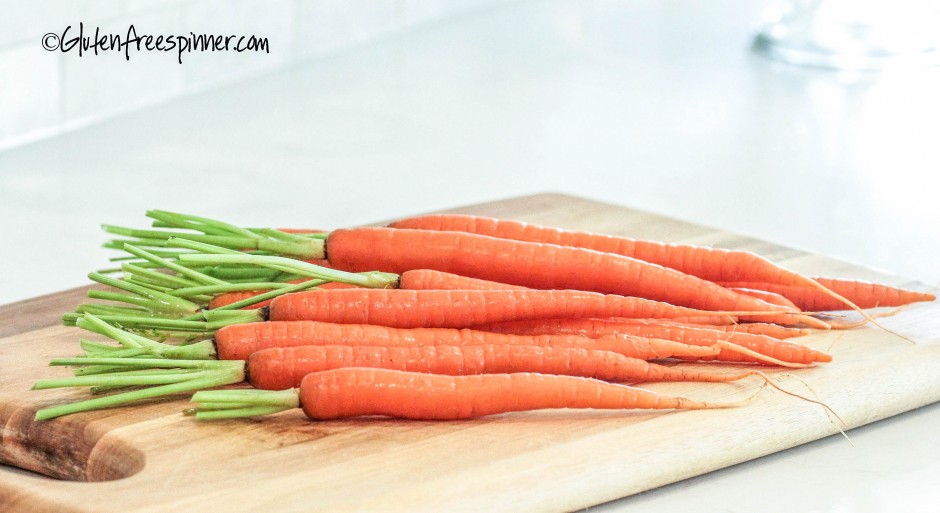 How could one of our favorite Thanksgiving Veggie Dishes be missing from my Thanksgiving Roundup?
Whole Roasted Carrots…..they're so pretty aren't they?  The greens are snipped leaving the pretty tops to keep them fancy.  They're simply roasted in the oven, covered at first until tender, then allowed to caramelize a bit in the olive oil and balsamic.  A hint of fresh thyme adds to the savory aroma and flavors.  Heavenly.
They are perfect every time and can be prepped ahead to simply pop in the oven.
YUM!
Enjoy……

Roasted Carrots
Author:
Gluten Free Spinner
Ingredients
Large bunch of fresh carrots with stems/greens still on
Olive oil (about 3 Tbsp)
1-2 Tbsp good balsamic vinegar (Fig if you have it)
1 tsp honey
2 Tbsp fresh thyme, crushed or 1 tsp dried
1 tsp garlic powder
Fine sea salt
Fresh black pepper
Instructions
Preheat oven to 400 degrees
Cut the top greens off carrots leaving a small 1" stem. Wash carrots and lightly use a peeler to remove just a thin layer.
Lay the carrots on a large baking sheet and drizzle with the olive oil, the balsamic vinegar, and honey. Toss to coat.
Dust with fine sea salt and fresh black pepper, the thyme, and garlic powder. Toss again.
Cover tightly with foil and cook for 30-40 minutes until just tender (check).
Remove the foil and cook for another 10 minutes until the carrots have browned and caramelized nicely.
** The size (width) of the carrots will determine the time to roast under the foil. Basically when they are firm but tender with a fork is the time to remove foil and cook 10 more minutes until brown.