French Silk Pie
I've been making this recipe for many-many years, traditionally for my brother on his birthday every year since we were kids.  He loves chocolate, and even though that's a reeeeeally long time ago, this pie continues to be a favorite in our home.  So being he was visiting this weekend, it was only natural to add it to the menu.  We had grilled filet mignon with my peppercorn sauce , Yukon Gold mashed potatoes, and fresh green beans.  He always brings a beautiful bottle of wine, this time a Cakebread 2009 Cabernet.  It was so very good…what a treat.
My french silk pie screams Chocolate-Chocolate-Chocolate!  And the pecan cookie crust, which is also my Signature Cookie Crust, puts this pie over the top in decadent yumminess.  It's incredibly easy to make and turns out perfect every time.  A dollop of fresh whipped cream and a few red raspberries adds to the dazzle when serving.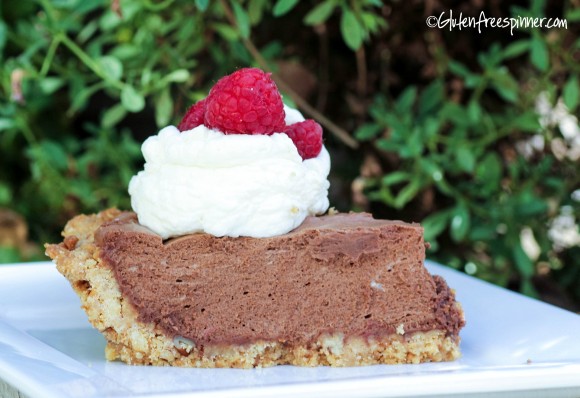 Enjoy!

French Silk Pie
Author:
Gluten Free Spinner
Ingredients
9 inch GF Graham Cracker or Cookie crust shell (My Signature Cookie Crust is amazing with this pie!)
Whipping Cream:
1 C. whipping Cream
3 Tbsp powdered sugar
1 tsp vanilla
Filling:
½ C. Butter – room temperature
¾ C. Sugar
4 (1 oz) squares Baker's Bitter Sweet Chocolate, melted
2 (1 oz) square unsweetened chocolate, melted
1 tsp. Vanilla
2 eggs
Instructions
Whip the whipping cream, powdered sugar, and vanilla until stiff peaks, set aside in frig.
Thoroughly cream the butter with the sugar.
Melt the chocolate in a glass measuring cup in microwave starting with 1 minute, stir, and return to microwave at 15 second intervals until melted. Be sure to stir each time and stop when just melted, it's very easy to ruin chocolate in the microwave so go slow and watch carefully.
Blend the melted chocolate and vanilla with the butter and sugar.
Add eggs one at a time, beating 3 minutes after each addition.
Fold ⅓ cup of the whipped cream into the chocolate mixture until blended, assuring to fold to keep the light airy texture.
Pour into cooled pie shell and chill at least 2 hours before serving. Top with whipped cream before serving.
** Remember you can substitute 3 tablespoons of unsweetened cocoa powder plus 1 tablespoon canola oil or butter to replace 1 ounce of unsweetened chocolate.