Coconut Pecan Crusted Halibut with Coconut Red Curry Sauce
A celebration with all my besties for my friend Kim's Birthday called for a new Halibut recipe.  You see, she loves all things seafood…AND she's an amazing cook.  I mention her quite often on my blog like referencing our girls weekend and her must-have cucumber dip.  Or our  trip to Maine  where she ordered cioppino one night and we cheered when it was served.  Haa-ha…foodies we are!
Kim is one of those people who watches out for everyone, who truly cares about people and just wants to enjoy life while helping others enjoy it as well.  A pretty great way to live, and I'm lucky to call her my friend.
So the pressure was on to develop a recipe that was Kim-worthy.   It's funny how cooking or baking something with a special person in mind has you adding a little more love to it.  Each step I tasted, adjusted, and tweaked until it was juuuuust right.   The final taste of my Coconut Red Curry Sauce literally had me jumping up and down.
I love when that happens!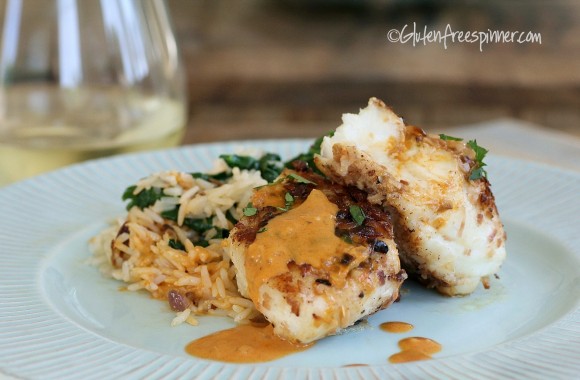 The night of the party, we all sipped wine and caught up on our daily lives.  When you've been friends for as long as we all have, the conversation flows easily and we cherish each moment.
I served the halibut with garlic mashed potatoes, fresh green beans, and a salad Kim brought to share (soon to post).  The second time I made it to post, I served with sauteed spinach and white rice.  Both are good options.  Don't be swayed by the list of sauce ingredients…it comes together super easy and most things you'll have already.  It's foolproof.
The halibut is crusted with toasted coconut, pecans, and GF breadcrumbs.  Then I lightly sear both sides and finish in the oven.  The crust comes out golden brown and has a lovely crisp while the fish stays light, flaky, and moist.  A drizzle of my Coconut Red Curry Sauce adds a wonderful touch with just enough sweetness amidst the coconut, curry and ginger.  We passed the sauce around a few times as one bite had us wanting more.  Our plates were clean and I noted the many expressions of 'yum', giving me clue it was a success.  But the real test comes from the birthday girl….
She said I nailed it…that it was "the best fish I've ever had".  Hooray!!   Happy-Happy-Joy-Joy!!
Smile from ear to ear.
Happy Thursday everybody……Cheers to birthdays, good food, new recipes, and good friends.  Enjoy Life.

Coconut Pecan Crusted Halibut with Red Curry Sauce
Author:
Gluten Free Spinner
Recipe type:
Seafood/Fish
Cuisine:
Caribbean/Thai/Curry
Ingredients
4 (6 oz) skinless halibut filets, rinsed and patted dry
sea salt and pepper
2 Tbsp coconut milk (or cream)
1 Tbsp olive oil
1 Tbsp butter
Coating:
½ cup flaked coconut
¼ cup finely chopped pecans
⅓ cup dry GF breadcrumbs
Coconut Red Curry Sauce:
1 Tbsp olive oil
1 Tbsp butter
¼ cup finely chopped red onion
1 Tbsp minced garlic
1 Tbsp minced ginger
3 rounded Tbsp red curry paste
½ cup seafood stock
½ cup chicken stock
1 cup light or full fat coconut milk
1 rounded Tbsp brown sugar
2 Tbsp finely chopped green onions
2 Tbsp chopped cilantro (or parsley)
Juice of ½ lime
Instructions
Fish:
Lightly season the halibut on both sides with sea salt and pepper. Brush filets with the 2 Tbsp of coconut milk on both sides.
In a medium saute pan, add the coconut, pecans, and the bread crumbs and lightly toast over medium heat until coconut begins to turn golden. Watch closely, burns quickly.
Coat the filets on both sides with the coconut mixture, pressing into the fish. Place on a plate and cover with plastic wrap - keep in refrigerator while making the sauce. (This step can be done a few hours ahead as well)
Coconut Red Curry Sauce
In the same pan used for the coating, saute the red onion in the olive oil and butter until tender, about 4 minutes.
Add the garlic, ginger, and red curry paste sauteing another 1-2 minutes stirring to blend.
Add the seafood and chicken stock, coconut milk, and brown sugar and whisk to combine.
On medium heat bring the sauce to a slow simmer and continue simmering on med-low as it reduces. This will take about 45 minutes bringing to a sauce consistency...whisk often.
Turn off heat and add the cilantro, green onion, and lime juice whisking to finish.
Prepare the fish:
Preheat oven to 375 degrees
In a large oven proof skillet heat the olive oil and butter until bubbly. Add the filets and sear for about 2 minutes.
Turn the filets over and sear other side for a minute. Transfer pan to preheated oven and bake 7-9 minutes or until the fish flakes apart easily.
Serve with a drizzle of sauce over top and garnish with chopped cilantro and green onions.
Serve the additional sauce on the side for extra drizzling
Plate with a side of mashed potatoes, brown/white rice, spinach, or green beans.