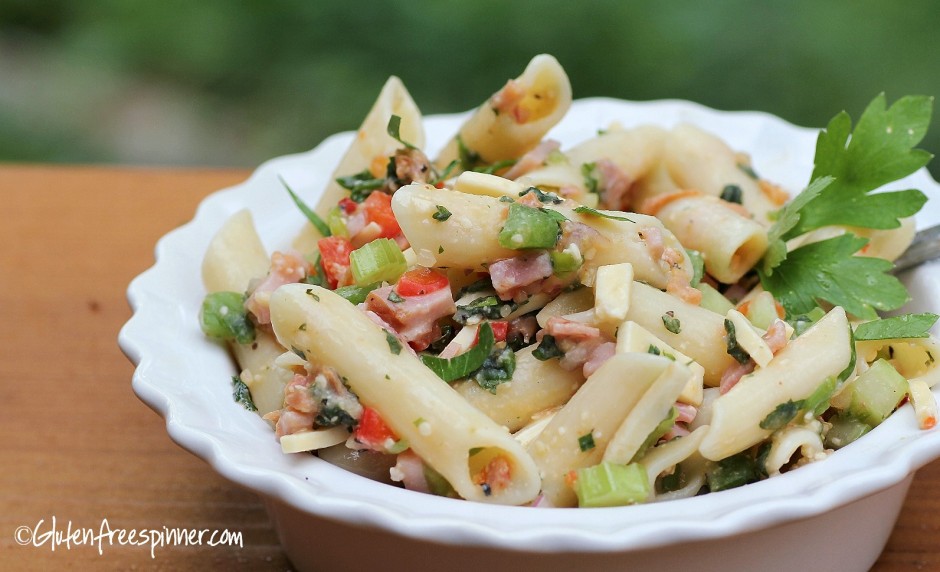 Three Meat Pasta Salad
Picnic's, BBQ's, and lunch on the deck….oh how I long for Summer.  And although we're still thawing from the last snowfall, I can't wait any longer…I'm craving Summer Pasta.
My Three Meat Pasta Salad was born at the cabin while entertaining hungry fishermen who normally bypass the salad and go straight for the grill.  But not this time, the salad was devoured well before the last bratwurst was glazed with mustard.  And what's not to love when it's packed with hard salami, thick sliced ham, and pepperoni.
But there must also be crunch, color, and zing in a pasta salad which was accomplished by adding bell peppers, Swiss cheese, and a zesty dressing.  Boom!
I'm drooling thinking about it……
Summer……soon…….come.  Until then….it's pasta in the porch wrapped in a blanket.
Enjoy.

Three Meat Pasta Salad
Author:
Gluten Free Spinner
Ingredients
12 oz GF Penne or Corkscrew pasta
½ cup GF Pepperoni slices, chopped
½ cup GF reduced fat hard salami, cut into 1" thin strips
½ cup GF thick sliced ham, ½" small cubes
½ cup diced red bell pepper
½ cup diced green bell pepper
⅓ cup finely chopped red onion
½ cup Swiss cheese slices, cut into 1" thin strips
½ cup fresh chopped parsley
Wish Bone Robusto Italian Dressing to taste, about ½ cup
Lots of grated Parmesan cheese
Fresh ground black pepper
Instructions
Cook the pasta according to package directions until al dente', then rinse in cold water and drain well.
Combine all ingredients and chill for at least 1 hour to allow flavors to blend. Add more dressing as needed upon serving if the salad becomes dry.
Keeps well and travels well as it doesn't have mayonnaise.