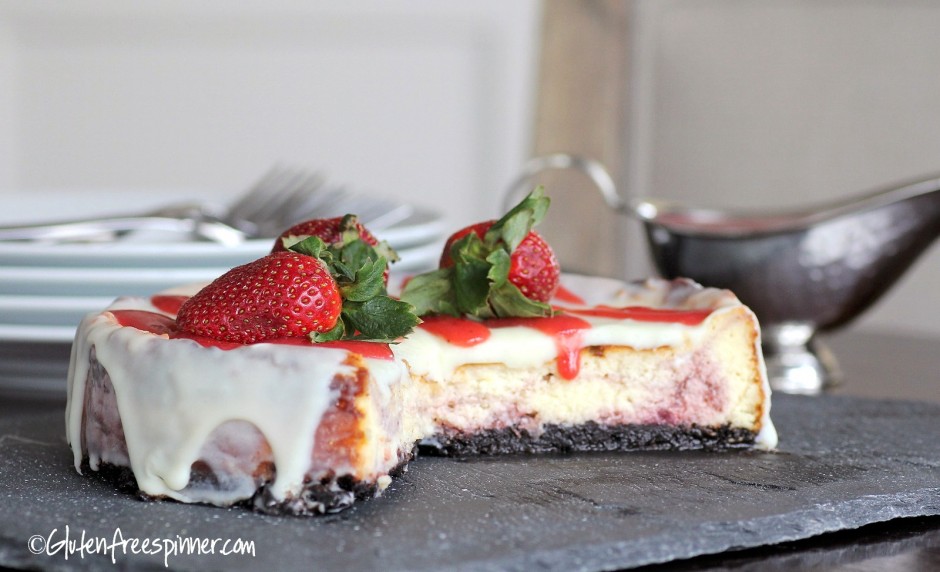 Strawberry Marble Cheesecake with White Chocolate Ganache
This cheesecake has a lot going on….
The base is a chocolate cookie crust with white chocolate cheesecake marbled with strawberries and topped with a white chocolate ganache and strawberry Coulis.  Whew!
The white chocolate ganache topping is slightly-sweet and smooth giving it a fondant-like finish.  Serve with a drizzle of strawberry coulis and a big fresh strawberry on top.  Beautifully decadent.
And friends…it is good.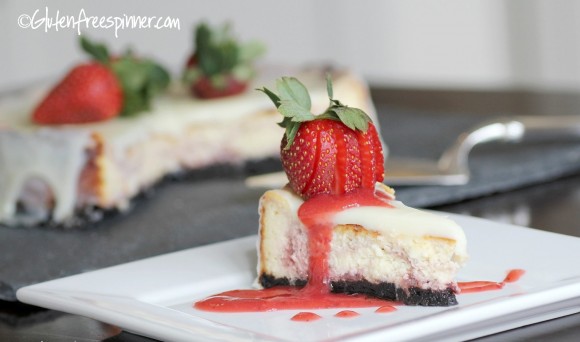 Speaking of friends, that was the inspiration behind this cheesecake, a birthday gathering for my friend, Ann.
You've heard me reference my core group of friends from waaaaay back, yes?  All the way to elementary school – yikes, that's a long time!  Which is also why I call them my 'core' friends, we know each other to the core…through all the chapters and moments in our lives.  And when you've been friends that long, it's a cherished gift.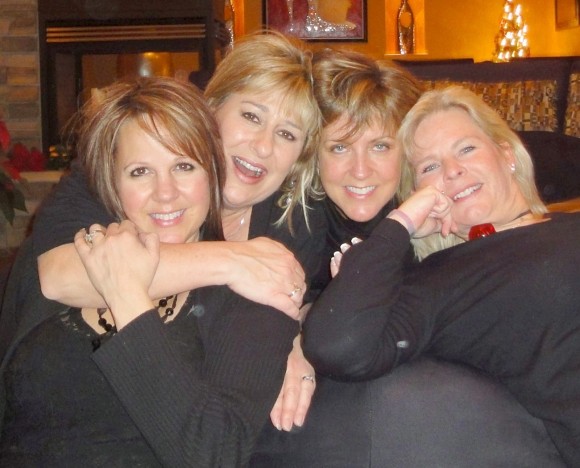 So we drank a little wine, made grilled fish taco's (yum!!), blabbed, laughed, vented, and shared another birthday celebration.  We ended the evening with a cup of decaffeinated coffee (cuz we're old now) and my Strawberry Marble Cheesecake with White Chocolate Ganache.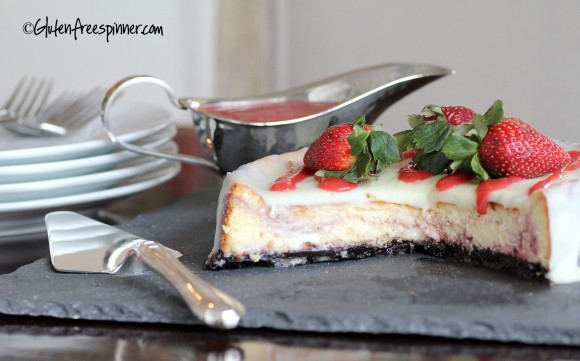 The years will keep ticking along adding new chapters on this journey we travel together, and however the tides turn, or where the winds blow, we'll be there for each other to celebrate another year as besties.
Strawberry Marble Cheesecake with White Chocolate Ganache
Author:
Gluten Free Spinner
Ingredients
Chocolate Cookie Crust
1 - 8 oz pkg GF Choc Sandwich Cookies
3 Tbsp melted butter
Cheesecake
2 - 8 oz pkg cream cheese (1/3 less fat)
⅔ cup sugar
2 eggs
6 oz white chocolate, melted
1 tsp vanilla bean paste (extract)
⅓ cup heavy cream
Strawberry Coulis
2 cups strawberries, rinsed, cored, halved
¾ cup sugar
2 Tbsp cornstarch
1 cup low sugar orange juice
½ lemon, juiced
White Chocolate Ganache
½ cup heavy cream
1 - 12 oz pkg white chocolate chips (GF)
Whole strawberries for garnish
Instructions
Preheat oven to 350 degrees. Prepare an 8" springform pan with non-stick spray
Crust:
Crush the cookies until fine and add the melted butter. Combine and press into bottom of pan.
Bake 350 degrees for 13 minutes. Remove and allow to cool.
Strawberry Coulis:
In a medium saucepan over medium heat add strawberries, sugar, cornstarch, and orange juice and stir to combine. Heat to slow boil/simmer and continue simmering for 30 minutes until strawberries are soft - stir often. Puree with immersion blender until smooth. You can use a blender too but do it in batches because it's hot, be careful. Set aside to cool.
Cheesecake:
Beat together the cream cheese and sugar until fluffy. Add the eggs, one at a time, and beat for 1 minute until fully combined.
Add the melted white chocolate, vanilla, and cream. Beat together until combined.
Pour ⅔ of the batter over the cooled crust and smooth out covering evenly.
Top with 1 cup of the strawberry coulis and smooth over the batter.
Pour remaining batter over top and smooth again.
With a table knife, cut into the batter in squiggly patterns to create marbling. Turn pan and repeat.
Bake in preheated 350 degree oven for 60-65 minutes until set in the middle. If it starts to brown too quickly, reduce heat to 325. When done, remove and allow to cool 20 minutes. Remove outer ring and refrigerate for 2 hours.
White Chocolate Ganache:
Heat the cream in a glass measuring cup in microwave just until very hot, about 1 minute - not boiling (it needs to be hot enough to melt the chocolate but don't boil).
Pour the white chocolate chips into the cream and allow to sit one minute. Stir until smooth and creamy. Allow to cool 15-20 minutes.
Pour ganache over top of the cheesecake and using a spoon drizzle some down the sides. (You might not use all, store in refrigerator if you have extra.) Return to refrigerator and allow to set about an hour.
Top with a drizzle of the coulis and garnish with whole strawberries. When serving, offer the remaining coulis in a pitcher on the side.