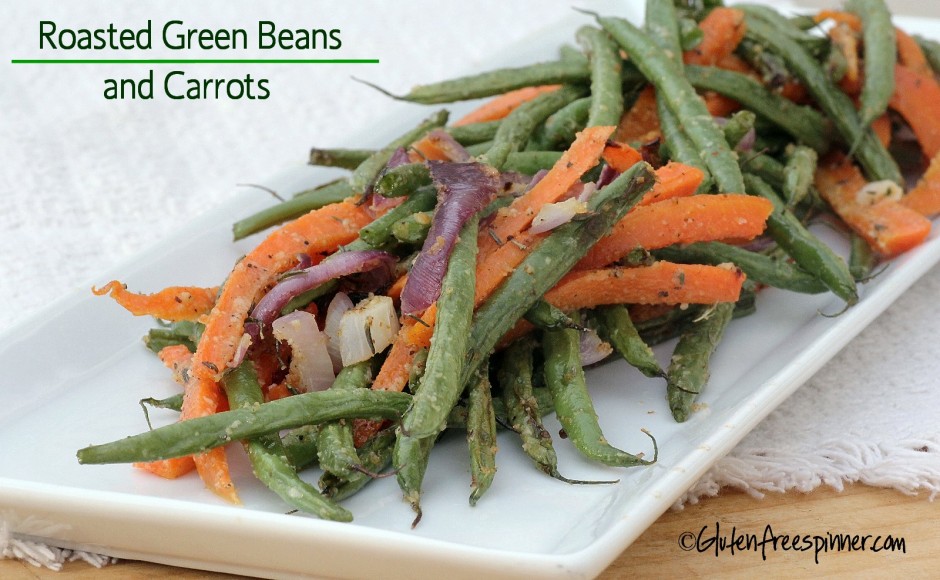 Roasted Green Beans and Carrots
I love my veggies…I'm one of those who eats her veggies first, it's my favorite part of each meal.
And not only is this an easy and beautiful side dish, it's a delicious lunch as well.
Did you know you can roast green beans?  Yep, and without par-boiling them first.  They come out slightly crisp with a caramelized roasted flavor…similar to grilling.  And the carrots!  They retain their color, become perfectly tender yet still firm.  Anything roasted just tastes better, Yum.
To add a touch of flavor I included red onion, olive oil, garlic powder, thyme and Parmesan cheese.  Your kitchen will smell amazing as they roast!  Watch them carefully as the size of the beans vary and it may take anywhere from 10-16 minutes.
Enjoy!

Roasted Green Beans and Carrots
Lightly seasoned Haricots Verts green beans and carrots are roasted to a tender crisp.
Author:
Gluten Free Spinner
Recipe type:
Side Dish/Vegetables
Ingredients
3-4 cups French Green Beans (Haricots Verts)
3 Carrots, peeled and cut into spears the same thickness/length as beans
¼ of a red onion, sliced into 2-3" strips
Drizzle of olive oil
Fresh ground black pepper
¼-1/2 tsp sea salt (less if you use table salt)
¼ tsp Garlic powder
¼ tsp Thyme
1-2 Tbsp Grated Parmesan Cheese
Instructions
Preheat oven to 425 degrees
Place the beans, carrots, and onions on a large sheet pan and drizzle with olive oil, just enough to lightly coat them, not drench or wet.
Sprinkle a very light dusting of pepper, salt, garlic powder, and thyme, over all. Then sprinkle the grated Parmesan cheese over and toss all to combine.
Roast in a preheated 425 degree oven for about 15 minutes, shaking the pan ½ way through. Remove when vegetables are crisp and lightly toasted. Let rest 5 minutes
Serve piled on platter. Pretty tasty leftovers too....if you have any.