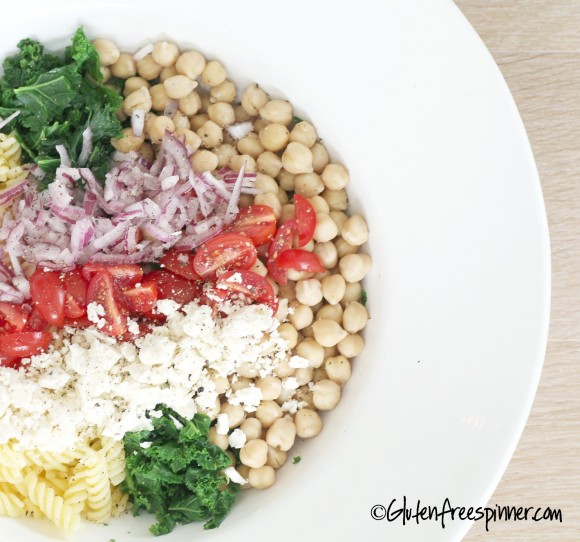 Kale and Chickpea Salad
Lowfat, healthy, low carb, protein-packed, vitamin rich….and gluten free of course….it's all here, and it's delicious!
I started with a bunch of kale that I couldn't resist at the market, $1.98 for a bunch.  It was beautifully green, bright, and fresh….looked like a summer garden.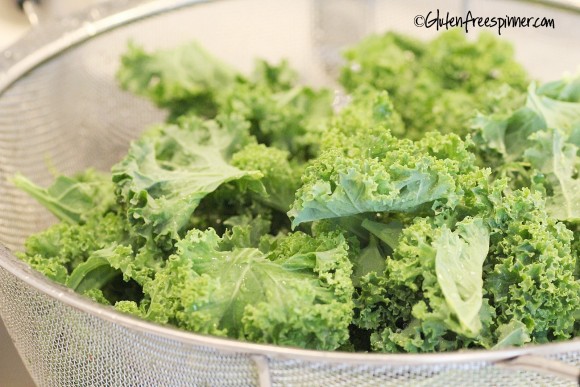 My goal for this salad was flavor, flavor, flavor.  I also wanted it loaded with awesome goodness and filling enough for a meal.  Adding the pasta was a random debate, it contributed to the meal requirement but did I want the carbs in this salad?  I decided the texture was a nice addition and I only used a cup of dry.  It proved a wonderful decision.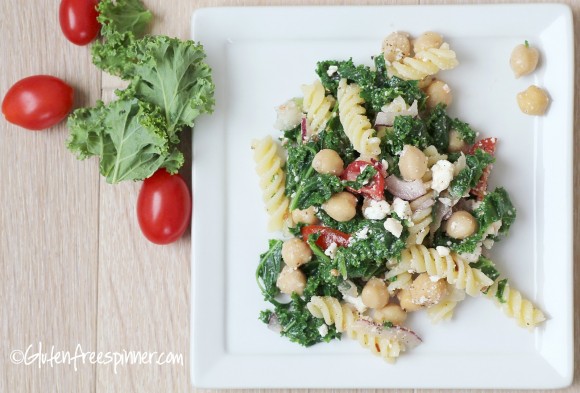 I chose to use my dressing for one of the most popular healthy salads on my site, my Chickpea Salad.  It uses just a few ingredients, no mayo, and it's bright and fresh.  It was a tasty decision.
Here's a little tease of the flavor and textures….slightly crisp kale combined with tender rotini pasta and buttery chickpeas surrounded by creamy salty french feta and Parmesan cheeses.  The peppery-sweet red onion and fresh pop of grape tomatoes add a colorful contrast while the dressing balances the entire salad marrying the flavors together .  Joy-Joy!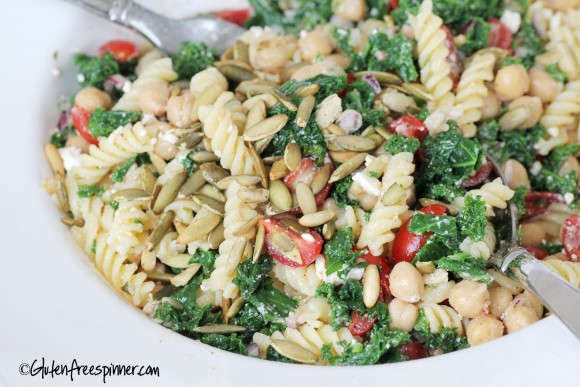 And as I sat down to eat my salad, I had a last minute add-in, roasted & salted pumpkin seeds.  It adds a little light crunch to all the textures and flavors and 'completes' the salad.  It's totally optional and it certainly doesn't need it, but the little crunchy finish was yummy.  (See how skinny those little pumpkin seeds are?  I got them at Trader Joe's, give them a try.)
Here's to healthy deliciousness!
Enjoy.
Kale and Chickpea Salad
Ingredients:
A bunch of Kale, rinsed, drained and stems removed.  Tear into 2-3″ pieces (about 4-5 cups)
1 can (15 oz) chickpeas (garbanzo beans), rinsed and drained
1/4 cup thin sliced red onions, chopped
15 grape tomatoes, quartered
1 cup dry GF Rotini Pasta – (yes, measure just 1 cup)
1/3 cup good French Feta cheese, crumbled
3 Tbsp Grated Parmesan cheese
Fresh ground black pepper and little bit of sea salt
Optional – salted and roasted pumpkin seeds for top
Dressing:
¼ cup olive oil
½ tsp ground cumin
1/8  tsp onion powder
1/8 tsp garlic powder
Juice of ½ lemon (Meyers if you can find it) or Lime Juice
1 tsp honey
5-8 dashes of favorite hot sauce
½ tsp salt
½ tsp pepper
Whisk all ingredients together and pour over salad.
Directions:
You have the option of lightly blanching your prepared kale before making this salad or using it raw.  I chose to blanch mine to make it a bit more tender. Either way will work.
Blanching:  Bring a large pot of water to boil and add the kale all at once pushing down with wooden spoon.  Once submerged, remove after just 30-40 seconds…that's it.  No longer or it will break down too much.  Pour into mesh strainer and shake to remove all the water.  Use paper towels if needed to get water out. Set aside.
Prepare the pasta as directed on package, rinse with cold water and drain well.
Salad:  Add the kale, chickpeas, onions, tomatoes, and pasta to a large salad bowl and toss to combine.  Add the dressing (you'll need all of it) and toss to coat, it's a light coating, just enough.  Sprinkle the crumbled feta and grated Parmesan over top and lightly toss.  Add fresh black pepper and pumpkin seeds if using.  Enjoy!
This salad stores well in a tightly sealed container in refrigerator for 1-2 days although you may need to add a Tbsp of olive oil (or a light dressing) if it seems dry the next day.  I enjoyed it just as it was.