Winter Pear salad
I've been craving this salad and it tastes especially delicious during the winter months.  I think it's due to the fresh crisp greens followed by sweet fruit and salty feta cheese….its light and flavorful.
It's also the prettiest salad you will ever make….it looks like a holiday, doesn't it?
Have you tried Red Anjou Pears?  My favorite.  They are sweet, crisp yet tender, juicy and bright.
Did I mention beautiful?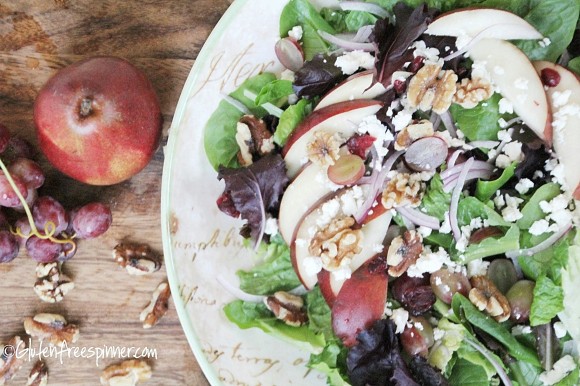 I'm making this salad for someone special today, my Mom.  You've heard me talk about my mom, right?
Yep, a very special lady.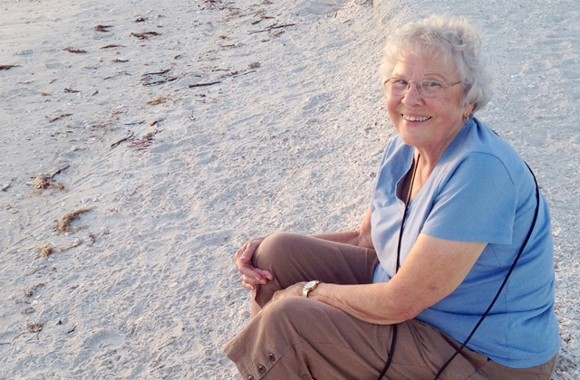 We're making her famous Spiced Nuts today and she's sharing her secrets so I can pass them on to you.  They are requested at every gathering and you'd better grab some the minute she puts them out or you won't get any!  Stay tuned, I'll post soon.
So for my Winter Pear Salad, I use a combination of greens to add different textures; Baby Romaine or Spring mix and Hearts of Romaine for added crispness.
Then it's the red Anjou Pear sliced, red grapes halved, thinly sliced red onion, a few dried cranberries just cuz they're sweet and pretty, raw walnuts, and crumbled feta cheese.   You don't need candied walnuts on this salad, there's plenty of natural sweetness going on and the tender raw walnuts are a great balance.  Finish with a little cracked black pepper and Pomegranate Dressing.
For the dressing I love Simply Dressed brand Pomegranate Vinaigrette  , it's the perfect balance of sweet and you don't need much to enhance this already flavor-packed salad.  It's very available in the produce section of your market, however if you can't find it, you can easily make a cranberry or pomegranate vinaigrette (see below) which comes together quickly and would be equally good.
This salad has a great presentation making it perfect for guests, holidays, or……..someone very special, your Mom.
Enjoy!
Winter Pear Salad
Serves 2-4 depending if a side salad or main meal
Ingredients:
3 cups Baby Romaine Leaves or Spring Mix
2 cups Hearts of Romaine Lettuce
1/4 cup very thin sliced red onion
2 Red Anjou Pears, washed, seeded, and sliced (if making ahead, squeeze lemon juice on pears)
1/2 cup red grapes, washed and halved
handful of dried cranberries
1/2 cup raw walnuts
crumbled sheep's milk feta cheese
Simply Dressed Pomegranate Dressing
Fresh cracked black pepper
Make your own pomegranate or cranberry dressing:  Simply whisk these ingredients together and season with more honey or S&P to taste.  3 Tbsp pomegranate juice or cranberry juice, 2 Tbsp red wine vinegar, 1 Tbsp honey, dash of Dijon Mustard, Salt and freshly ground black pepper, 1/4 cup light olive oil.
Assemble:
Toss the salad greens together in a large salad bowl.  In layers around the bed of lettuce, arrange the red onion, pear slices, grapes, cranberries, walnuts, and feta cheese.  If making ahead, first squeeze fresh lemon juice on the pears before placing on the salad.  Cover with plastic wrap and refrigerate up to 6 hours before serving.  Don't add the dressing until ready to serve.
Serving:  Toss with just a bit of dressing at first…you don't want to over-dress.  Best to offer a side of dressing on the table for guests to add more if they choose.