Peppercorn Sauce
This sauce came together in honor of a very special person's birthday, my Stepfather, Pat.
'Stepfather'…it's such an impersonal title, isn't it? How about 'bonus-father'?  Yah, I like that one.
Pat…he loves and appreciates good food….especially beef…which was his request for dinner and we were very happy to oblige.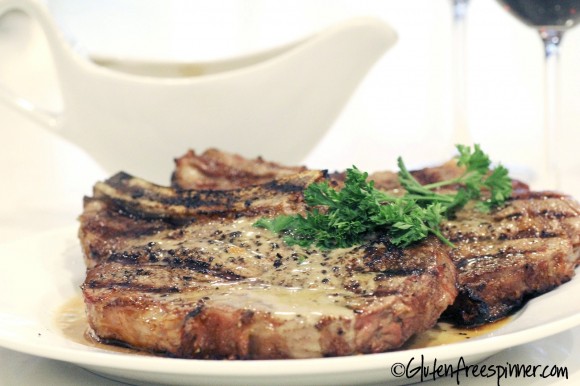 So to make it extra special, I made this Peppercorn Sauce and it's to-die-for!  It took a while to reduce, about 35 minutes, and at first I was a little worried it wouldn't thicken.  But as it did, the flavors melded into one beautiful silky sauce.  It's not a light sauce by any means, we're talking bacon and cream!  But you only need a very small amount…it's about flavor….beefy, bacony, creamy flavor and everyone loved it.  There wasn't a drop left.
Mr. Spinner and I have made it three times since, most recently on a filet….so very good!
I list the option for Red Onion or Shallot…I've made this with both, given what I had on hand…equally good.
Be sure to cut the bacon small enough so it pours easily with the sauce.
Also, this isn't a gravy so you don't want it to be thick….it's a sauce.  It should just coat the back of a spoon with silky texture.
Ingredients:
4 slices regular sliced smoked bacon cut in 1/4″ pieces (lardons) (Don't use thick cut)
1/4 cup chopped red onion or Shallots
1 Tbsp black peppercorns, ground course but not too big of pieces (no-one wants a big piece of peppercorn in their sauce)
1/2 tsp minced garlic
1 cup beef stock
2/3 cup heavy cream
Salt and pepper to taste
In a medium skillet fry the bacon lardons until crisp.  Remove to paper towel, you should have 1- 2 Tbsp bacon grease left. In the same pan over medium heat add shallots or red onion and cook 1-2 minutes.  Add ground peppercorns and garlic and cook additional 1-2 minutes.  Whisk in the beef broth, allow to simmer on medium 5 min.  Reduce heat to medium-low and slowly whisk in heavy cream.  Allow to simmer for 25-40 minutes, whisking often…until thickened to a sauce consistency.  Turn off heat and add 2 Tbsp butter, whisking to combine.  This makes it extra silky.  Taste for seasoning.   Add the bacon back in. Serve over beef filet or other steak – you only need about a Tbsp for each person.  This recipe served 6 guests.
Can be made ahead too.  Keep in refrigerator and heat before serving.  You will lose a bit of the thickness, but the flavor remains and is still delicious.